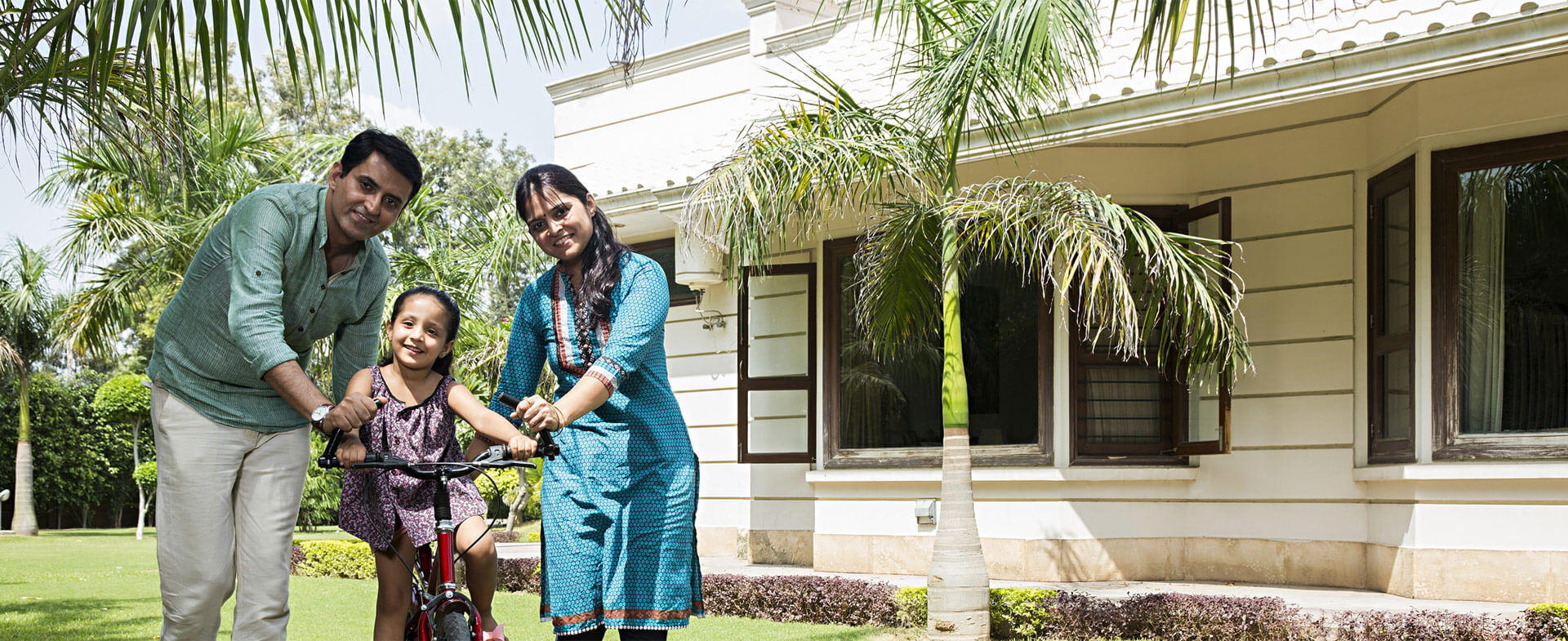 Your dream home should last for generations

use the best quality Cement.
A room by room guide to lighting
For so many, lighting is an afterthought when it comes to our home design. This is a result of our basic understanding that light is purely utilitarian which is seen as a requirement. But if you're planning a renovation or are building, the right lighting in the right spaces can do wonders for your interior. Besides having a huge impact on the aesthetics of your home, indoor lighting can affect the users' mood.
These guidelines will provide a general idea of how to place different lighting fixtures in different rooms in your home. Remember, that light temperature and colour can make a profound impact on the room's ambience as well as your mood. The different types of lighting are as follows:
General or ambient lighting: This is the lighting that is used to make a space visible. This sort of lighting provides general light for the room and are compulsory.
Task lighting: This is light which is directed towards a specific area to give more detail to the objects or even provide safe passage through an area. This is lighting is also used for close range work.
Accent lighting: This is as it sounds, to "accentuate" features or add visual interest to an object, to add that extra "something".
Individual spaces and rooms in the house need to be treated differently, keeping in mind their unique requirements. You can enhance the mood of a space by using light temperature and different fixtures to create a particular atmosphere.
Entryway:
The entrance of a home needs to be dramatic and inviting. Choose an overhead chandelier or hanging light to add pizzazz. Be sure to measure the ceiling height correctly and allow around six feet for foot traffic. Make sure you visualise the light fixture with the context of your home. Since the hanging light is all about creating a visual impact upon entry, try and play it up with accompanying general lights. The idea is to draw interest and hence the light temperature can be chosen based on what fits the lighting fixture for maximum visual allure.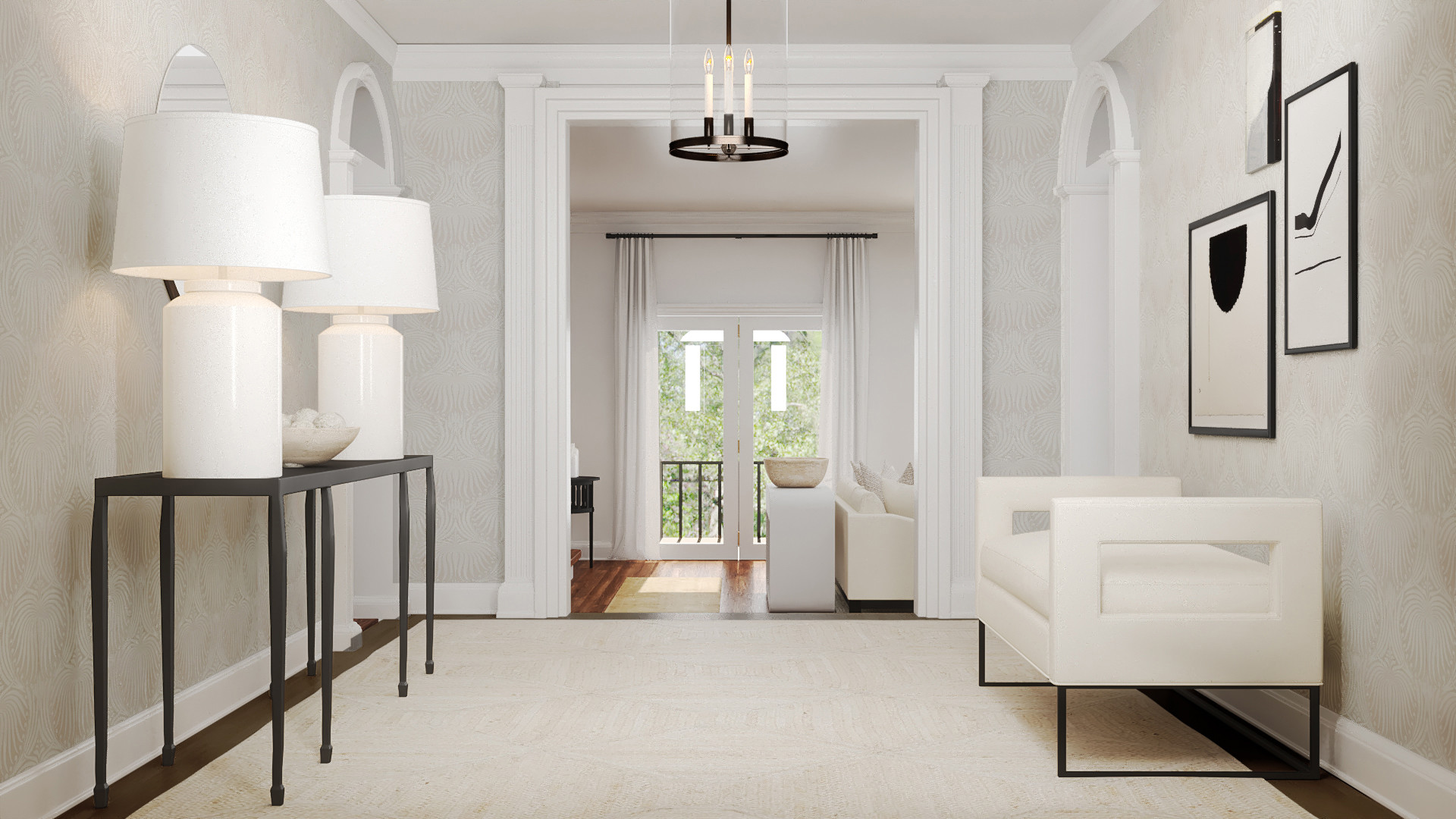 Main Hall:
This is the central hub of the home, the centre of activity for the family. This is where the family gathers, for entertainment and even get-togethers. This requires an ambience for television viewing and also good light for gatherings. Recessed lighting which is installed into the openings of the ceiling is popular for false ceilings. Fans with a combined light chandelier design are ideal to capture visual interest and provide an ambient light in the living room. LED lights can be installed additionally to provide light and brightness and this is what will light the entire hall. If you require a space for reading then an additional floor lamp that works with your interiors may be added to use when reading.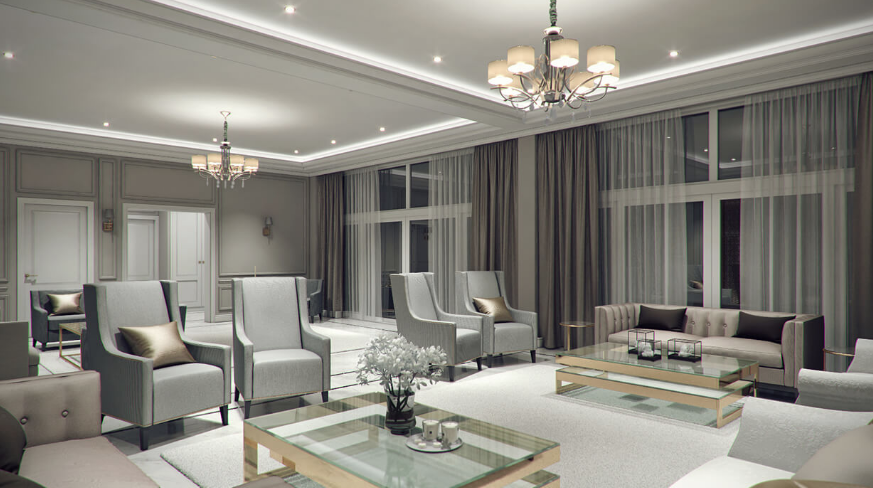 Staircase:
This is a great space to amp up your homes interiors, with a statement lighting piece. The main purpose of the staircase being ascending and descending draws the eyes up linearly. So a lighting fixture that is sculptural and has a linear structure will do well in this space. Keep in mind that the scale is proportional to the size of the staircase. The light fixture should complement the space and not overwhelm it. Another way to add an extra dimension is to run strip lighting along the nose of the steps or the railing or even the wall along the stairs. Here too, ambient and accent lighting is what fits the bill.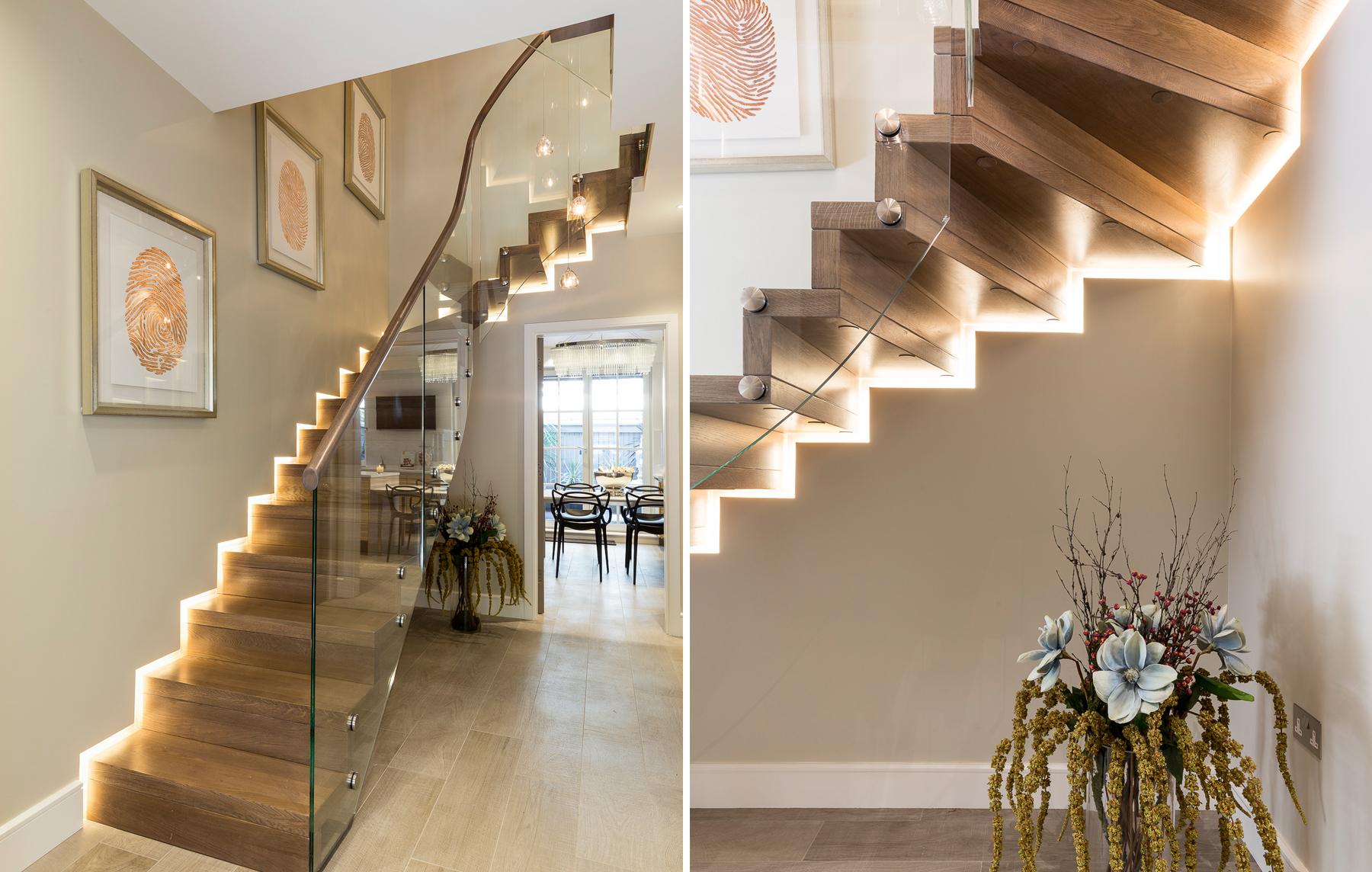 Dining:
Since the dining room's design revolves around the table being the centre piece, so does the lighting. Sitting around the table for meals requires good lighting. So the main source of light should be placed at the centre and above the table. The rest of the dining room can have ambient lighting. Carefully placed strip lighting resting within the false ceiling cove can add a partnering look along with the main dining light. Keep the dining light the centre of attention while the rest of the accompanying light should be dim and ambient. For an extra touch, a dimmer may be added to control the light in the space according to the requirement.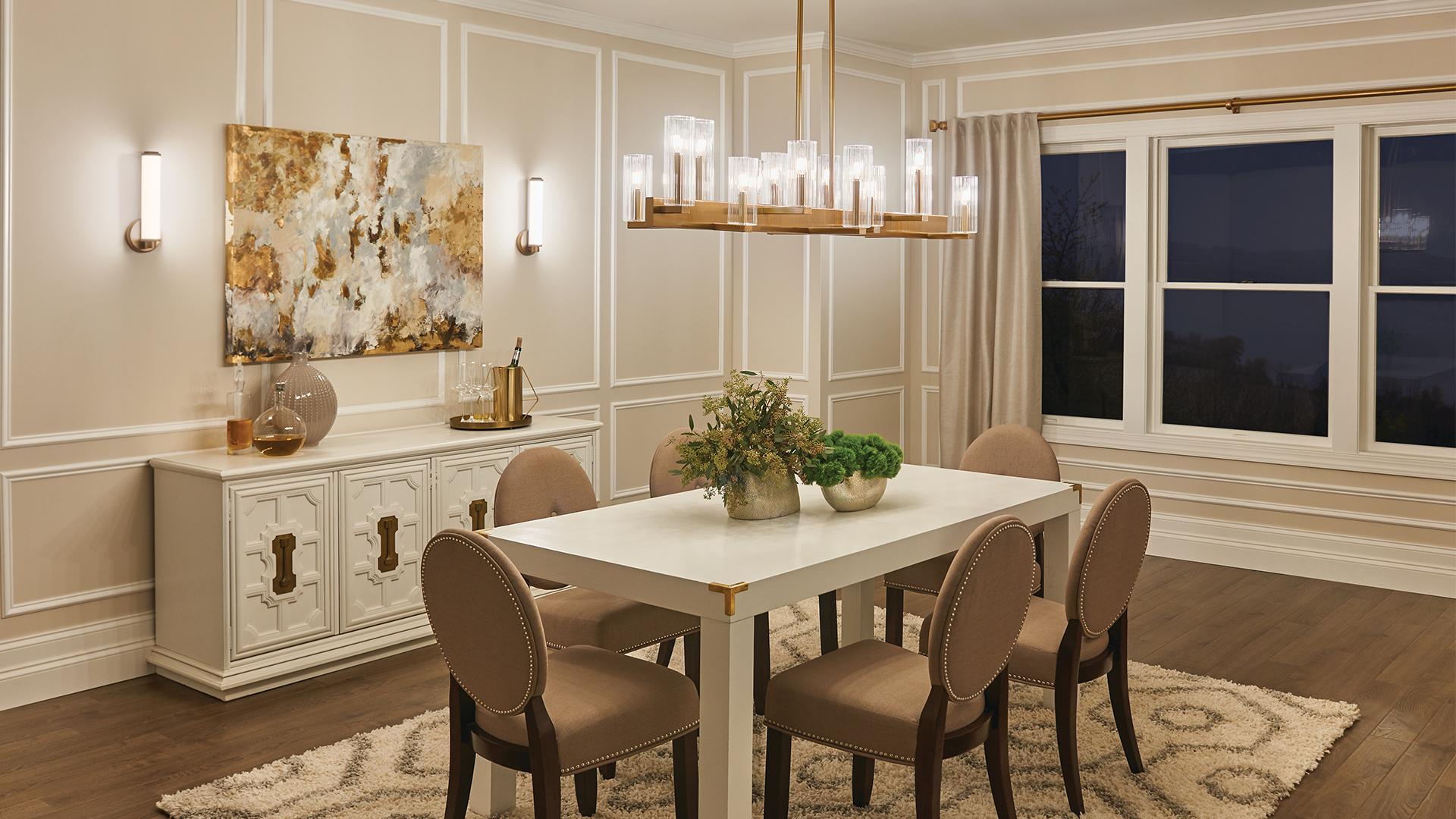 Kitchen:
The kitchen is a high function area which runs morning, afternoon, night and even in between. High functioning areas which are task oriented require adequate light to perform tasks efficiently. LED lights are the heroes of the kitchen lighting plan. These bright lights are perfect for a good visual of the detailed kitchen tasks. Recessed strip light can be added to emphasize the false ceiling, if your home has an open kitchen for optics. Finally if there is a breakfast table located in the kitchen, and it is open, then consider placing overhead pendant lighting to give attention to that place in the room.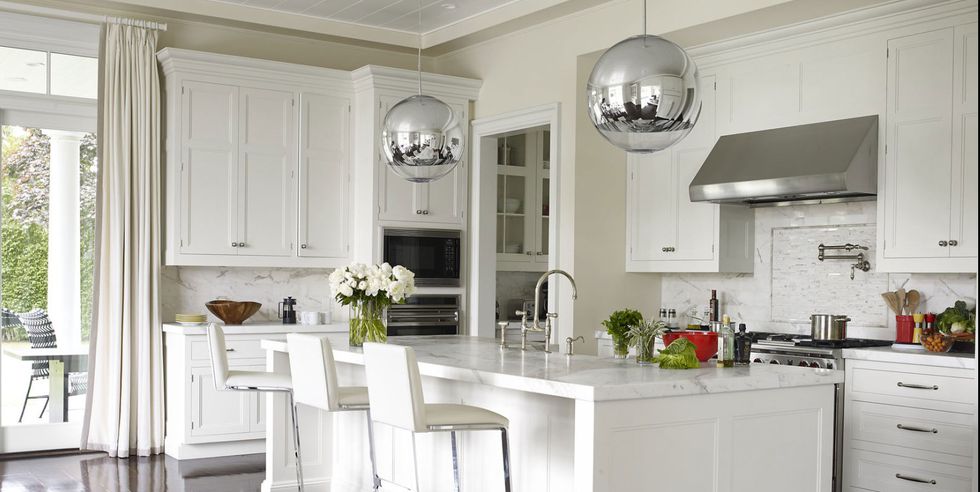 Bedroom:
The bedroom is not task oriented, this is where you go to rest and get a good night's sleep. So the lighting should not be over stimulating, meaning light which directly hits the eye from above wouldn't be the right choice here. Overhead lighting may be placed but should be dim and ambient. Recessed cove lighting and table nightstand lamps are an ideal place to start. If there is a study table or two chairs for seating, then they may have direct overhead lights as well.
The rest of the light should invoke a peaceful ambience and so, subtle warm lighting with fixtures to defuse the light can provide just the right amount of light along with a warm visual interest.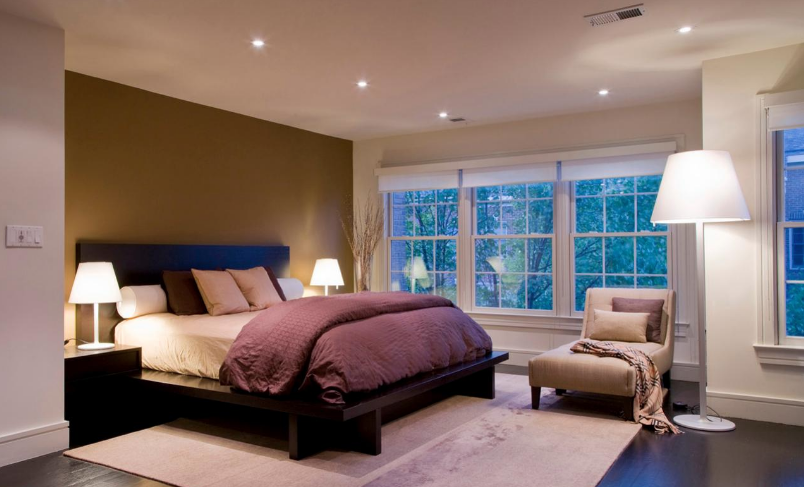 Bathroom:
The bathrooms in most houses are relatively smaller and utilitarian. Along with the regular hygiene related uses, this is where most of us get ready to head out for the day. (Unless of course you have a walk-in closet) Hence, choosing a brighter lightening here is a good idea. Opt for day light temperature lighting which is bright and avoid incandescent bulbs. They are prone to overheating and can have issues in humidity.
Opt for a strip of lights along the mirrors where the sink and vanity is placed. This light can be hidden behind a track. These lights are perfect for men as well as women to groom and get ready. Make sure there are no dark corners of spaces un-lit in the bathroom, as that may be unsafe.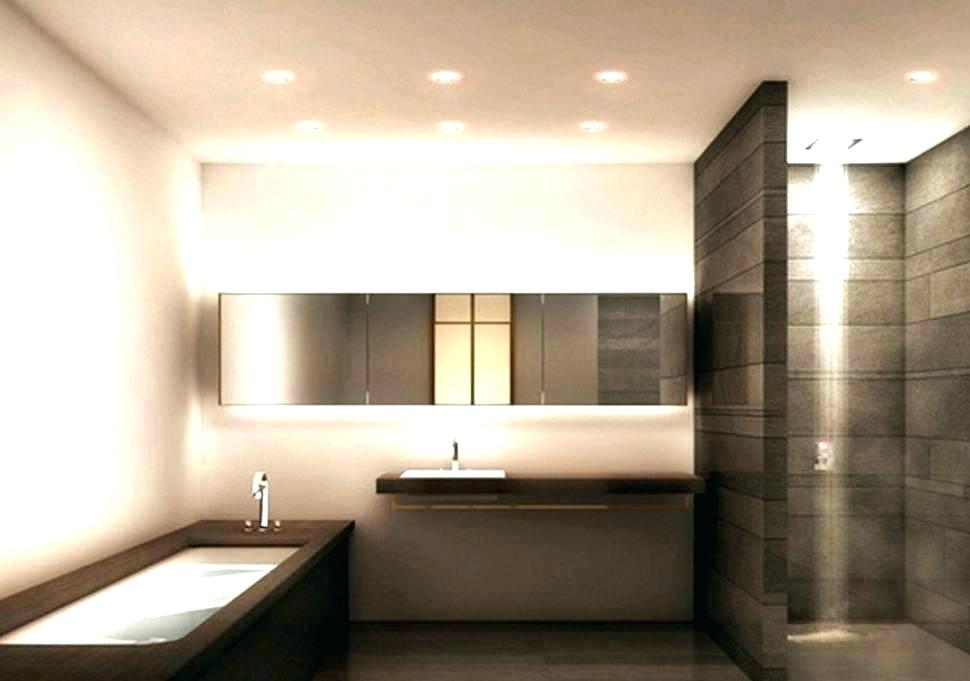 Additional tips:
Lighting is a small but very important part of the design process for a home; make sure you get a lighting plan before execution.
Lighting fixtures for the most part aren't meant to garner attention, they are meant to light a space and do so eloquently.
This means, other than centrepiece chandeliers and floor and table lamps, avoid over the top light fixtures.
Pay great attention to the temperature and electricity consumption to save money and effort.
Where there is textured wall or a focal wall, try uplighting to bring in an interesting visual.
Keep lamp shades light in colour to maximise the light output.
Smart lighting is all the rage now, and it is a great idea to look into it if possible with a professional.
If you want to dabble, it's worth a shot trying lighting with Alexa or Google home.
Lighting systems vary in price and look and ease of installation. Look for a professional to guide you. Most lighting stores will help if you are getting all your fixtures at one place by creating a layout. If you are looking into a smaller renovation, it is best to do your research and also ask an expert to help determine certain aspects of your lighting based on your application.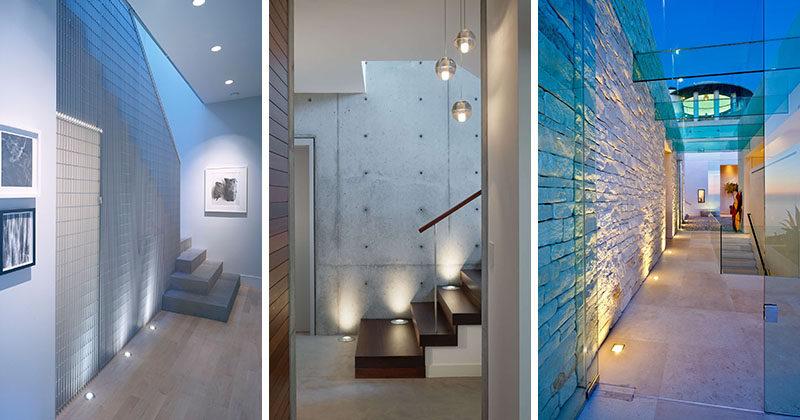 Image Source
Image source: https://cdnb.artstation.com/p/assets/images/images/010/337/691/large/sean-leake-entryway-03-ver1.jpg?1523900377
Image source: http://abcdeledition.com/classic-interior-design-for-the-vintage-house/sign/
Image source: https://www.ecoledlight.co.uk/files/All%20Projects/Admiral%20Square/AS3.jpg
Image source: https://www.kichler.com/globalassets/images/photography/4.-horizontal-promos/diningroom-cleara-44317fxg-night-1920x1080.jpg
Image source: https://hips.hearstapps.com/edc.h-cdn.co/assets/cm/15/04/1600x1199/54c1e084b088f_-_mellon5.jpg?crop=1.00xw:0.670xh;0.00170xw,0.0886xh&resize=980:*
Image source: http://www.najwabedroom.com/lighting-in-bedroom-interior-design/
Image source: http://groutemt.info/wp-content/uploads/2019/04/small-led-bathroom-lights-small-led-vanity-lights-vanity-ideas.jpg
Image source: http://www.contemporist.com/wp-content/uploads/2016/07/indoor-uplighting_310716_01-800x420.jpg
Ar. Mrudula Reddy
Master of Landscape Architecture