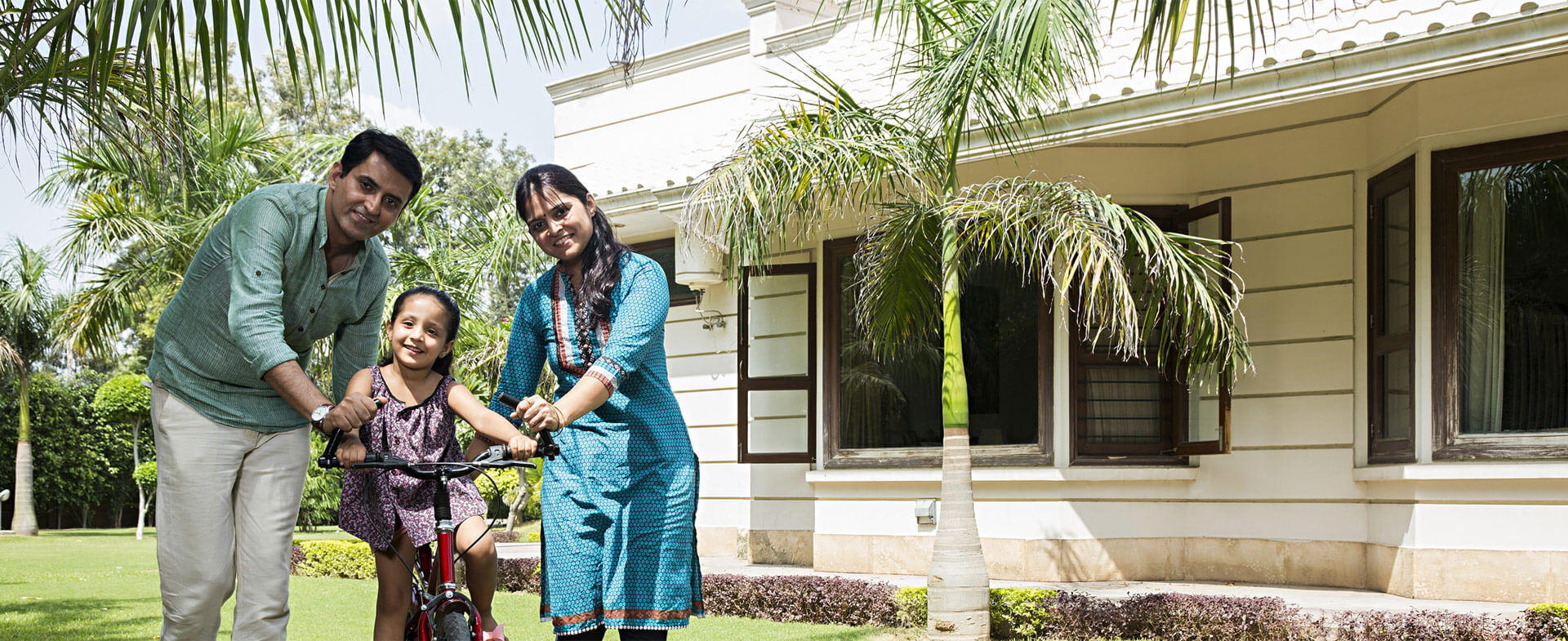 Your dream home should last for generations

use the best quality Cement.
Top mistakes made in living room design
When you want to create the perfect living room, usually the layout starts with things that you already have. Later, the layering of other things that you are drawn too in the market begins. What most of us don't understand is that interior design takes things into consideration like, scale, colour, space, light and placement. The amalgamation of all these principles along with careful planning and a trained eye for aesthetic is what designers use to create our interior spaces.
There are some mistakes that everyone makes when designing their interior space. Here are some of the most common mistakes made and how to avoid them:
Upholstery:
When you are upholstering your furniture with a brand new piece of fabric, there is always one thing to keep in mind. It better be comfortable and plush, because it is there for the long run. This fabric usually sets the tone for the whole living room.
Find someone who specialises in upholstery so the work is neat and tidy and can stand the test of time. Remember to not skimp; go for an expensive material that has a neutral tone that complements the room.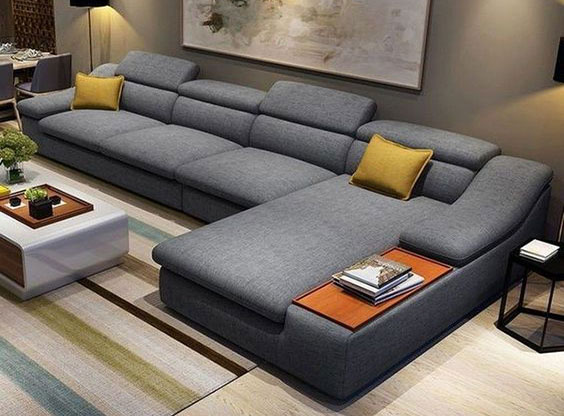 Cater to routine:
So you're heading down a path to create the perfect aesthetic, armed with the right tonal palette and beautifully built furniture. But is this all there is? You want the perfect look; but aim for the perfect feel.
Get furniture which is cosy and nice to lounge on rather than that minimalist sofa that isn't all that comfy. Try and opt for furniture that serves a purpose before just optics. Find the right coffee table; get that floor mount reading lamp. Make sure you set things up according to each activity's specific needs.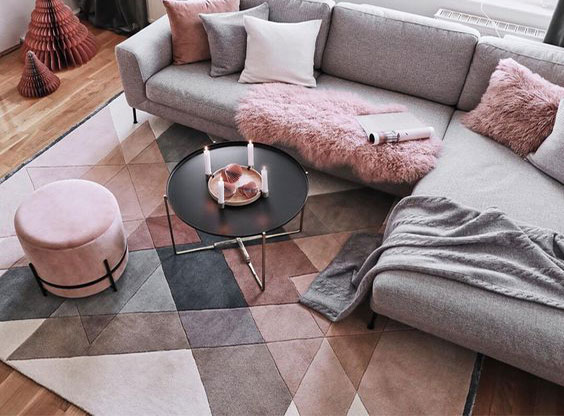 Too much:
Do you have a souvenir from a recent trip or a candle or two? Or do you have every space you can find filled with memorabilia? These items that serve as a fond reminder of a memory of a loved one can be a task to maintain. (Read: Dusting)
The more the items the more clutter and this leads to an overall distasteful look. These items often collect dust and are just taking up space which is better left open. Try and keep things on display to a minimal. Your living room will surely look better for it.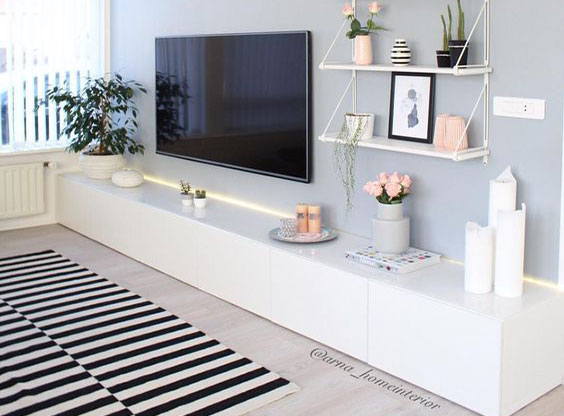 Too little:
On your journey to keeping your living room clutter-free, do not make the classic mistake of too little. Just because you have a space for your family in the living room, don't forget that, at times, this space does have to cater to others as well.
As a simple rule of thumb, always aim to accommodate a few guest spaces as well. Make sure the coffee table is to their reach as well. Keep your furniture spaced out and ready to cater to your family as well as friends.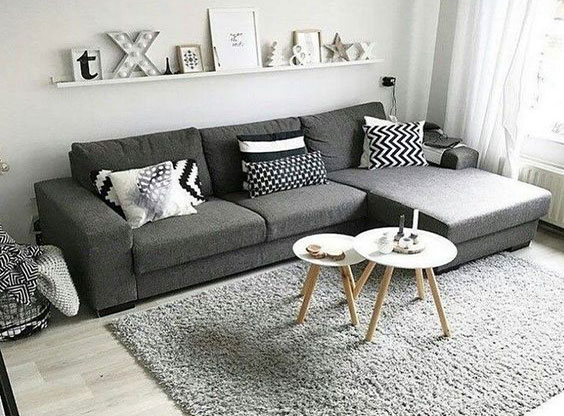 Against the wall:
This is one of the biggest pet peeves for interior designers. Though it may seem counterintuitive, the room will look bigger if the furniture does not touch the wall. Even in a smaller room, try and keep furniture away from the wall and create small intimate areas that create spaces for conversation and fun.
To avoid a cavernous look to your living room, aim to follow this simple tip. In most circumstances, seating should never be to the wall. Arranging everything flush against the wall creates a very formal feel.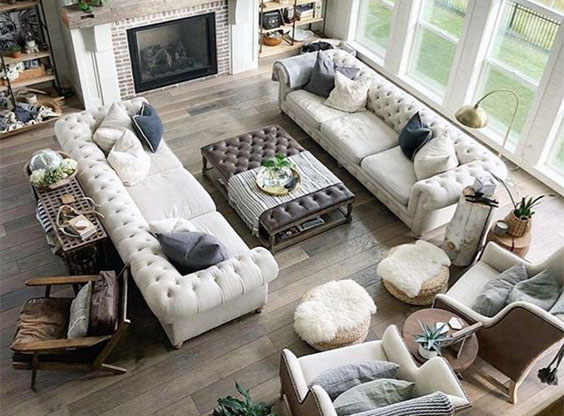 Wall hanging:
This is the first thing to consider before you put that nail into the wall. How high should you hang up that picture or artwork? Well the answer is simple yet complex. Aim to hang everything at eye level. But what exactly is eye level? 60inches or 5 feet from the finished floor level to the center of the image.
The size of the piece should complement the wall size. If you have a sofa, then use it to center the wall art above it. Do leave a bit of space above the furniture and the art. Take measurements and consider symmetry as your guides.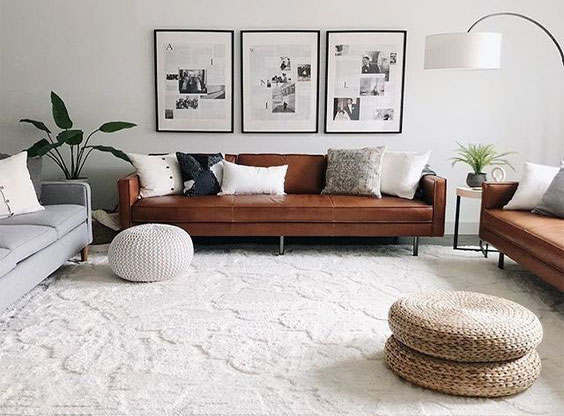 Windows:
Natural light is the most important factor for any room. If you have good size windows, don't diminish the might and keep the drapes simple and clean. Hanging the drapes above the actual size of the window and letting the drapes touch the floor is a way to make the room bigger.
Try and place furniture away from the windows and especially not directly in front of it, if it were to block the light.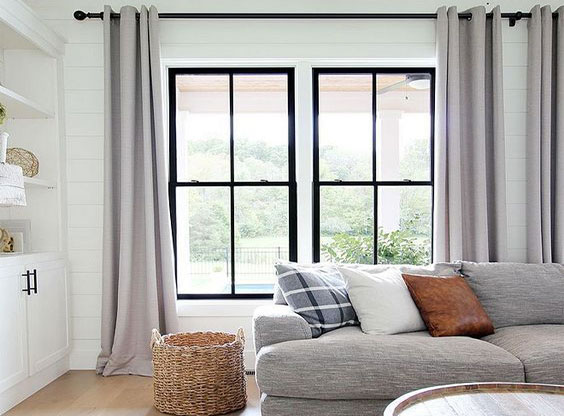 Odds and ends:
The little details are where the quality of your living room truly shines. For example, the best place for a TV is a blank wall, which isn't in front of or directly adjacent to a window.
Small rugs make a room look lop-sided, so choose the appropriate size that flatters the size of your living room.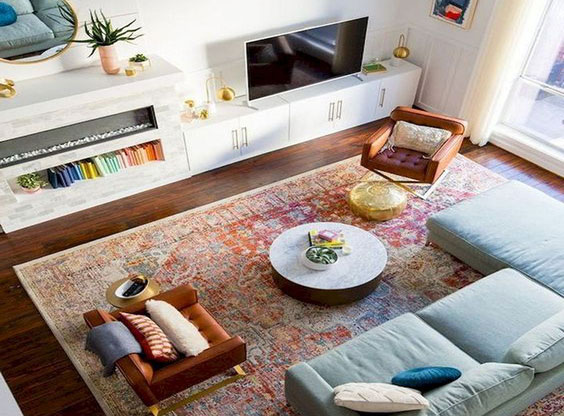 Choose a bright accent, an artwork, decorative mirror, or themed wallpaper, anything that can attract attention for the room to be designed around.
Image Source
Image source: https://i.pinimg.com/564x/e5/17/ee/e517ee13cbba2f5519ca1264d1b81354.jpg
Image source: https://i.pinimg.com/564x/33/8e/c4/338ec4d4d36d54f478ab09429653e5d8.jpg
Image source: @arna_homeinterior
Image source: https://in.pinterest.com/pin/785807834962946569/
Image source: https://in.pinterest.com/pin/120541727513990398/
Image source: https://i.pinimg.com/564x/af/09/85/af09851ae0448f3c17b8645c99aa4c4f.jpg
Image source: http://www.homebunch.com/beautiful-homes-of-instagram-plank-and-pillow/
Image source: http://www.homebunch.com/beautiful-homes-of-instagram-plank-and-pillow/
Ar. Mrudula Reddy
Master of Landscape Architecture