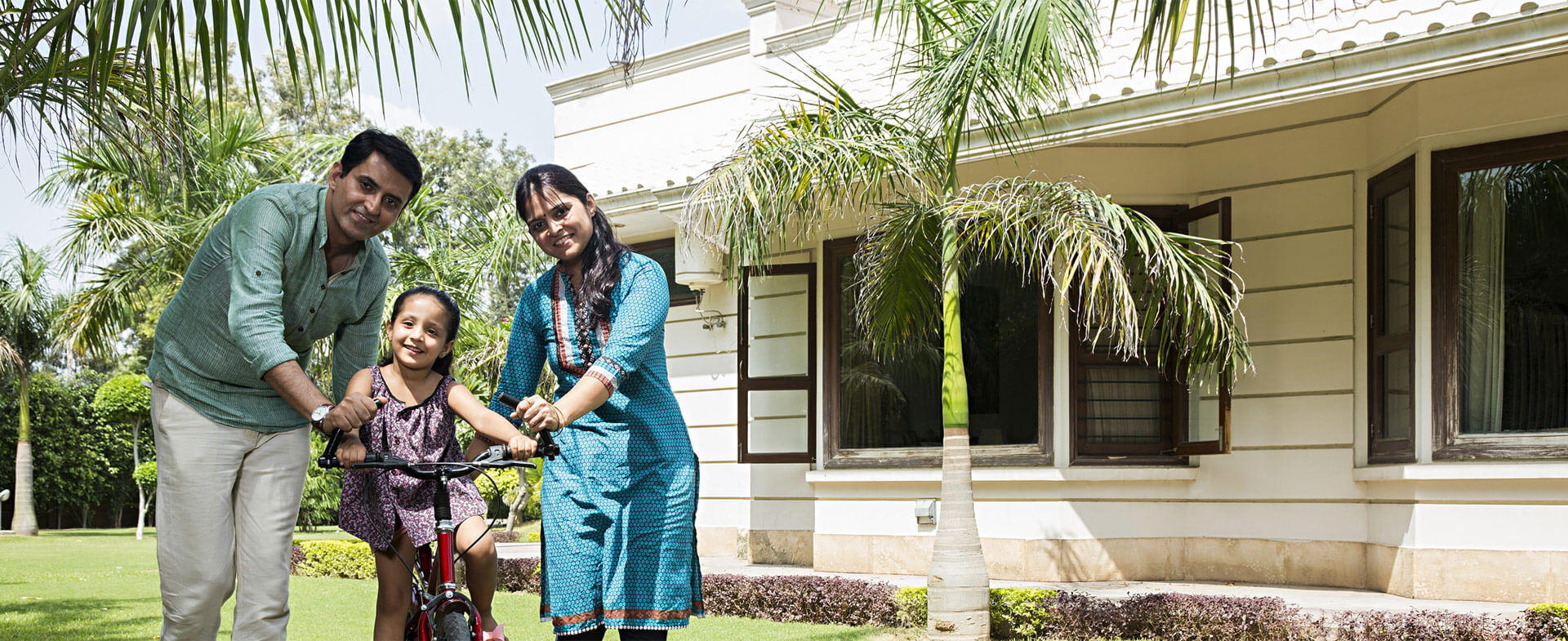 Your dream home should last for generations

use the best quality Cement.
10 classic rules in Interior design to unfollow
If you want to succeed in designing your home, following guiding principles and design rules are foolproof ways. But at the same time, breaking those rules can lead to some unconventional, yet memorable designs. By going against the norm, you can give your home an unexpected edge. Now as an architect, I would advise that you take these with a pinch of salt. Trying to un-follow these rules should be done with a bit of restraint, do not attempt to change everything.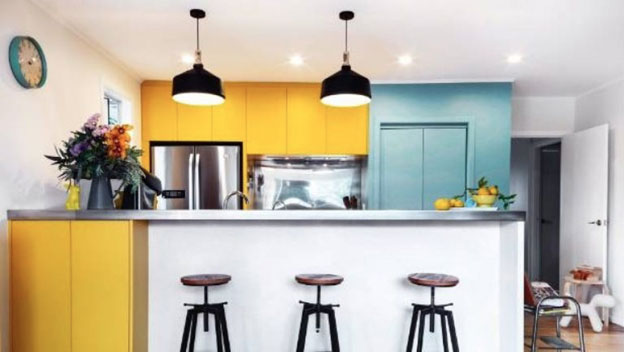 Rule 1: Match your wood finishes: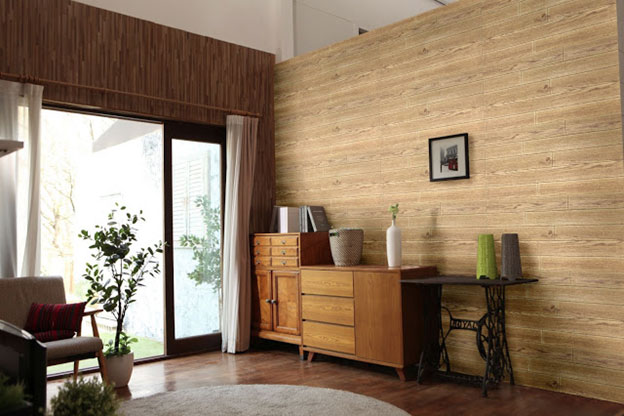 A decor style in a home needs to complement and create a similar sense of tone for space. This is what has been told in the case of wood finishes as well, but this can leave a space looking one dimensional or flat. There is merit to mixing finishes as it gives a depth and layered look to your furniture and interiors. Whilst matching finishes is not required, there should be a homogenous median for how many different finishes and patterns you can mix in.
Rule 2: Symmetry is key: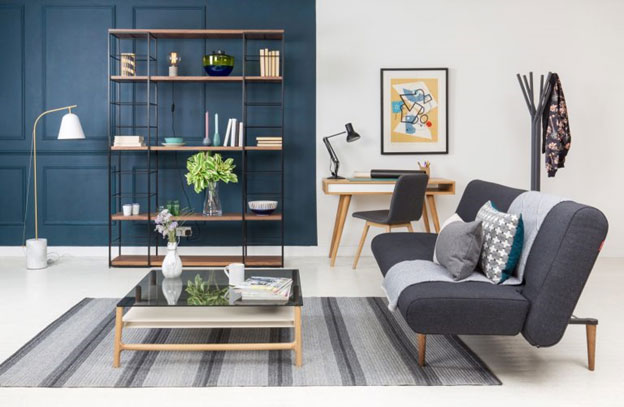 Symmetry is found all around us, even in nature, which is why we have always been attracted to it. But as attractive as it may seem, symmetry doesn't always make sense in every room. Sure it evokes a sense of calm, but off-center arrangements and spaces have their own charm. If you tend to lean towards symmetry but want to avoid a monotonous look, arrange space in complete symmetry and offset a statement piece like a mirror to the side.This automatically tends to create visual interest.
Rule 3: Small rooms should be painted light colours: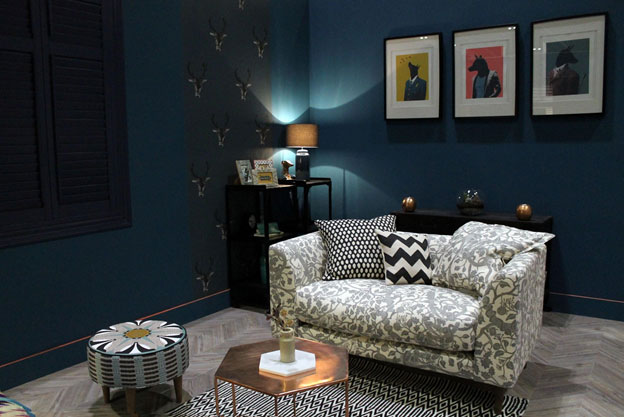 It is often thought that small rooms do not benefit with dark colours, and this tends to leave the space looking small and claustrophobic. Darker coloured paint may not make a place feel spacious and airy like brighter colours do, but it can create depth. Balance darker colours in smaller spaces with metallic accents or mirrors and it will create quite a look. If not dark colours, other colours which are neither too dark nor light in the colour spectrum may be used when trying to make a statement wall in small spaces. You can also experiment with all sorts of colours, leading to a cozy space.
Rule 4: Harmony through proportion: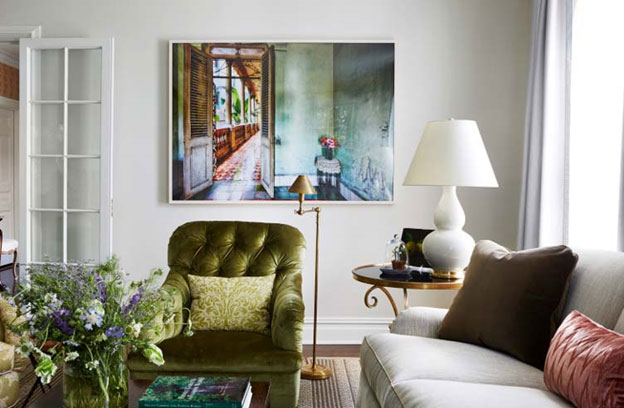 In small spaces, we are often led to believe that furniture, paintings and other accents should reflect the size of the room. When it comes to furniture, if you overfill a small room with small furniture it can feel a little cluttered. By adding the right size, even if oversized, it can make the space look clutter-free and spacious. Here is an example of an oversized painting that gives an illusion of space to an otherwise small area. The key here is to combine smaller items with large statement pieces like pendant lights or a large armchair to make a feature.
Rule 5: Don't pair your patterns to clash: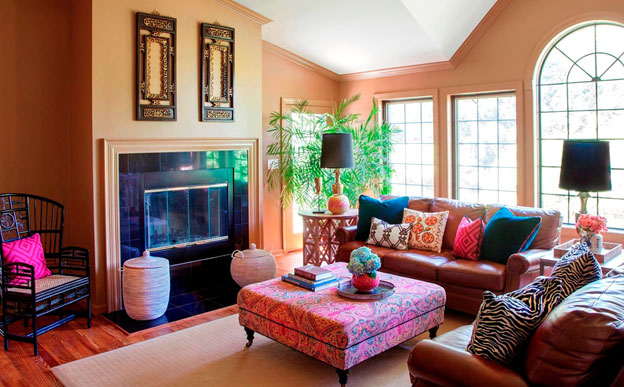 This interior design rule is not as abiding as the rest, but nonetheless, something that most people prefer to follow. Mixing patterns, especially things like argyle rugs with animal patterns and florals can be scary for some. Most tend to believe that this can leave the room feeling uncoordinated and disheveled. However, there is no reason why you shouldn't experiment with different patterns. If done right, it can give you an opportunity to try out different styles. Mastering this art truthfully will take some time; there is a balance to be achieved even whilst clashing patterns. To unfollow this rule, find rooms that have a neutral background and use your furniture to display the various patterns. This will let you switch it up as you want later on.
Rule 6: Ceilings should be neutral: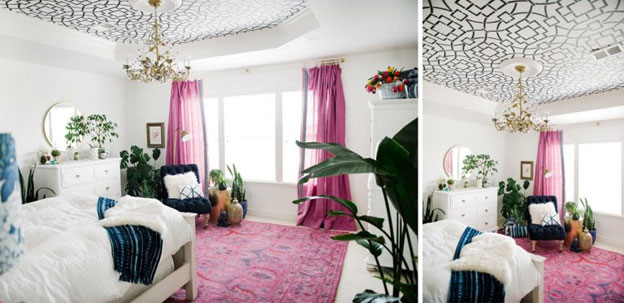 When we paint our houses, we seldom ponder over how the ceilings should be painted. This is usually an afterthought and the decision confined to a plain light neutral cream, beige or white. However, ceilings can be another surface to have fun with. Alternatively, you can choose to keep your walls plain and amp up your ceilings with a fun pattern or bold colour. Here is a contemporary house with a pop of fuchsia and a bold ceiling design which adds a lot of character and interest to space. In fact, it istrue that if you paint a low hung ceiling, it will bring attention to the height of your room, but when good ceiling height is present, you don't need to play it safe.
Rule 7: No mixing the old with the new: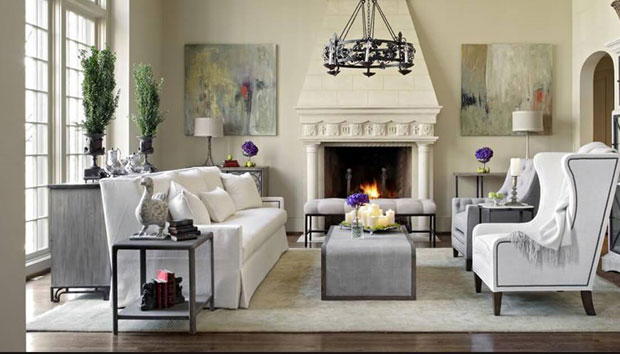 When it comes to every interior design magazine and article, the author tells you to pick a style and stick to it. This may sound like a safe way to design your home to guarantee safe results. Unfollow this rule by mixing old furniture with newer items to give the home a layered well thought out appearance. The best way to combine from different eras is to not overdo it and to have a common factor tying the whole room together. You can have a contemporary house with little bits of heritage antique pieces. Going with a neutral palette will help the room be a perfect background for you to impose a myriad of the foreground of items, making them the center of attention.
In every way, our home is a reflection of who we are. Don't shy away from expressing yourself just to appease design rules. After all, design is an expression of oneself. Break rules and make your space feel like a part of you, to create a one of a kind space that is personal to you.
Image Sources
Image source: https://static.domain.com.au/domainblog/uploads/2017/10/24122819/2_gz6wo7-768x433.jpg
Image source: https://2.bp.blogspot.com/-kwRwDNLeA70/WzxqT8DOu2I/AAAAAAAAN5I/2GierCrAnSMgbx9KtdzbG_rLKptMQg7FQCLcBGAs/s640/Brown%2BPanelling.jpg
Image source: https://www.heals.com/blog/small-space-ideas/
Image source: https://blog.brabantia.com/wp-content/uploads/2014/05/floral-sofa2.jpg
Image source: https://d1h3pk8iipmcfn.cloudfront.net/blog/wp-content/uploads/2017/08/08165130/mcgrath-ii.jpg
Image source: http://www.elegancia.co.in/wp-content/uploads/2017/09/Design-for-bohemian-interior-design-history.jpg
Image source: https://adorable-home.com/wp-content/uploads/2018/09/Stencils-768x373.jpg
Image source: https://i2.wp.com/www.designlike.com/wp-content/uploads/2018/02/Home_Design.jpg
Ar. Mrudula Reddy
Master of Landscape Architecture