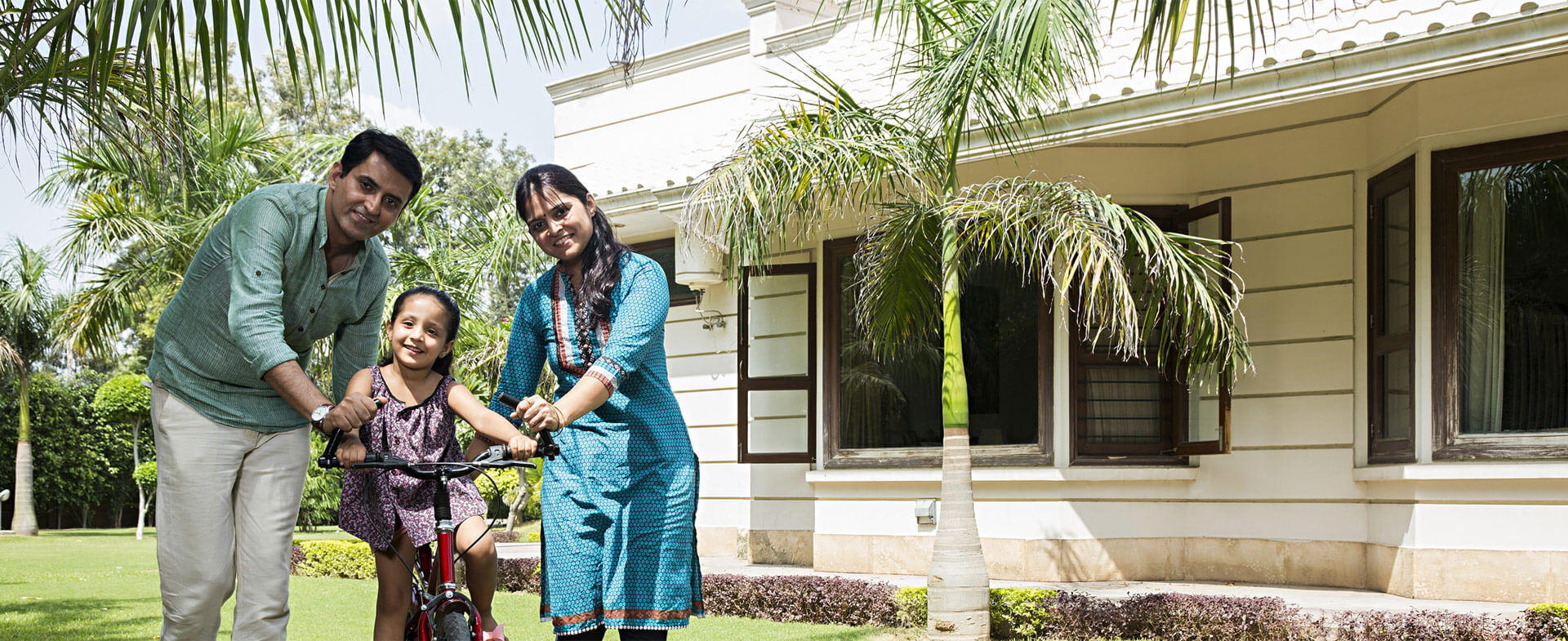 Your dream home should last for generations

use the best quality Cement.
The Crittall style is back
With the advent of open plan living, internal screens and efficiency in space are big contenders while also considering aesthetics. This has resulted in the comeback of the classic Crittall style, but not just as windows and doors, but also as dividers, skylight treatments, and other versatile implementations. In most trends these days, there is a pattern of reverting to classic timeless styles, lasting trends and classic materials that influenced the way we designed back in the olden days.
Crittall style is an old technique; it is a metal casement treatment that was developed in 1914-18 by a British company of the same name. Striking but minimalist, the steel-framed grid-like style of Crittall, complements all sorts of styles, from modern to contemporary even swaying on industrial.Let's explore the many ways you can use Crittall to enhance your home.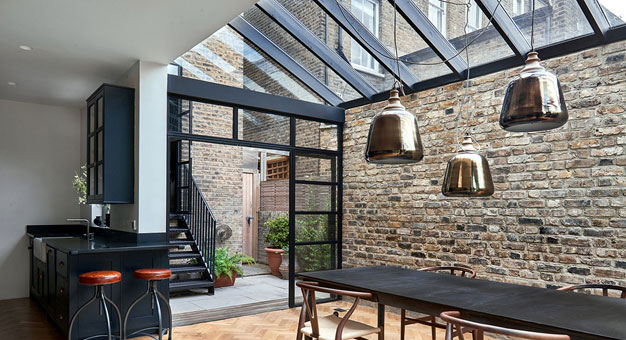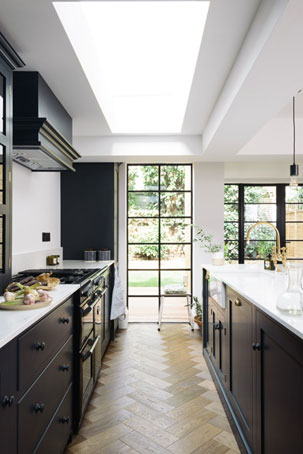 1. Doors and windows:
The most classic way to use this trend is to inculcate this style into your doors and internal windows. Especially if you have used neutral colour tones in your interiors, then you can offset the look with black framed doors and windows. They gently let the light in while still providing a sense of separation. A great place to use these doors is for your kitchen, dining space or doors leading to your backyard which create a gentle transition from one area to another.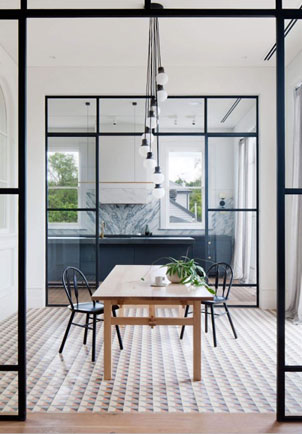 2. Dividers and separation:
The Crittall framed glazing has a great style and requires very little space, so this makes it a great divider. Rework a large space in your home such as your living room into a smaller seating arrangement or even a corner for seating and use glass screens and carefully planned furniture to divvy up the space. The seamless design makes your living space appear larger and more inviting. This Crittall style frame creates a barrier that makes it easier to furnish both spaces.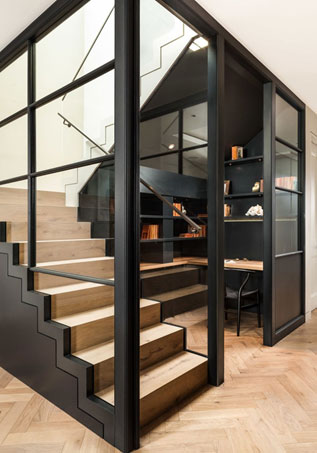 3. Treat your staircase:
Crittall style can be used against your staircase to harness the natural light onto different areas, working as a light well that brightens up the space. Replacing banisters with this sort of glass balustrade is a simple and more efficient option in most homes. Architecturally you save a lot more space and invite a lot more light. The visibility makes a seamless extension to the house.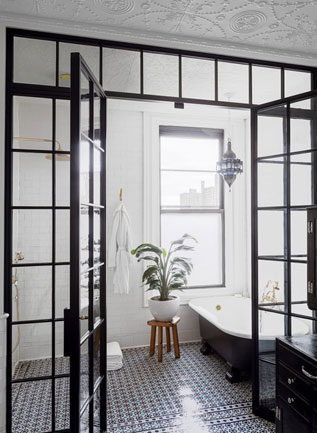 4. In wet areas
Fit a bathroom space with a Crittall style shower partition. This helps to divide the wet and dry spaces in your bathroom creating a contemporary look. Offset this addition with a play on white walls and deep dark cabinets, tub or vanity unit. The bold tiles here help fuse the entire look all together. Avoid a cold industrial look with the addition of brass toilet fixtures and hardware.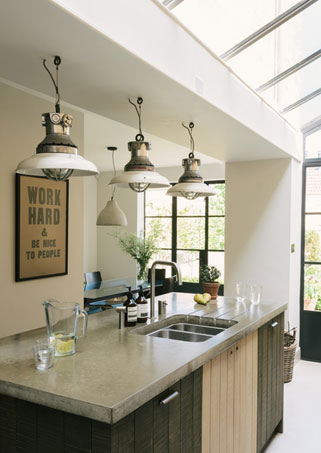 5. Kitchen:
Here is a great example of how Crittall style doors and windows bring a sense of lightness and size to a kitchen. The double doors lead to a green space beyond the kitchen while bringing in a peek into the landscape of the house. Another way the space is maximized is by using a Crittall skylight over the island kitchen counter. Crittall enclosures for the kitchen mean light while blocking out the sounds.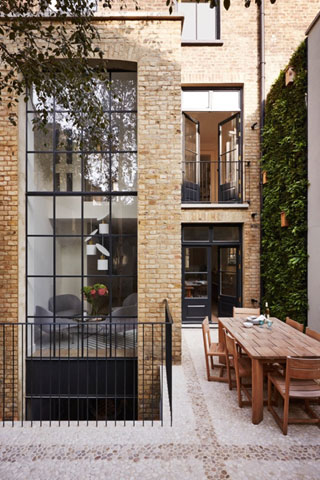 6. Add height:
The element in which the Crittall element truly shines is to take a double height and accent it with a window. The façade of the house can also benefit with a continuation of the pattern as shown in the image. The door and the balcony along with a smaller window above accentuate the Crittall theme while adding an extra dimension of space which would have otherwise been overlooked in a house missing girth.
Architectural trends have been something that has always been around. The Crittall style despite being around for nearly 160 years, still feels as contemporary as ever. The beauty of the Crittall style is that something as old and traditional can be brought into the modern era whilst bringing in a great sense of utility and style.
Image Sources
Image source: https://cdn.decoist.com/wp-content/uploads/2016/10/Framed-glass-doors-and-a-steel-structure-give-the-Victorian-London-home-a-smart-modern-vibe.jpg
Image source: https://i.pinimg.com/originals/17/0a/55/170a55fb1eba571f4d8c52af2b8cfaaf.jpg
Image source: https://nonagon.style/trends-you-cant-ignore-steel-frames-inside-the-house/
Image source: https://i.pinimg.com/originals/ac/95/14/ac9514d8a3f7ba86771a6485bc47b0aa.jpg
Image source: https://ksassets.timeincuk.net/wp/uploads/sites/59/2018/07/DSC_7090_168954381_264392032-723x920-1-723x920.jpg
Image source: http://www.copperline.co/wp-content/uploads/2018/06/6.-The-Sebastian-Cox-Kitchen-by-deVOL-Low-Res.jpg
Image source: https://leticheblackdotcom.files.wordpress.com/2016/10/suzy_notting-hill-14.jpg?w=1000
Image source: https://leticheblackdotcom.files.wordpress.com/2016/10/suzy_notting-hill-14.jpg?w=1000
Ar. Mrudula Reddy
Master of Landscape Architecture