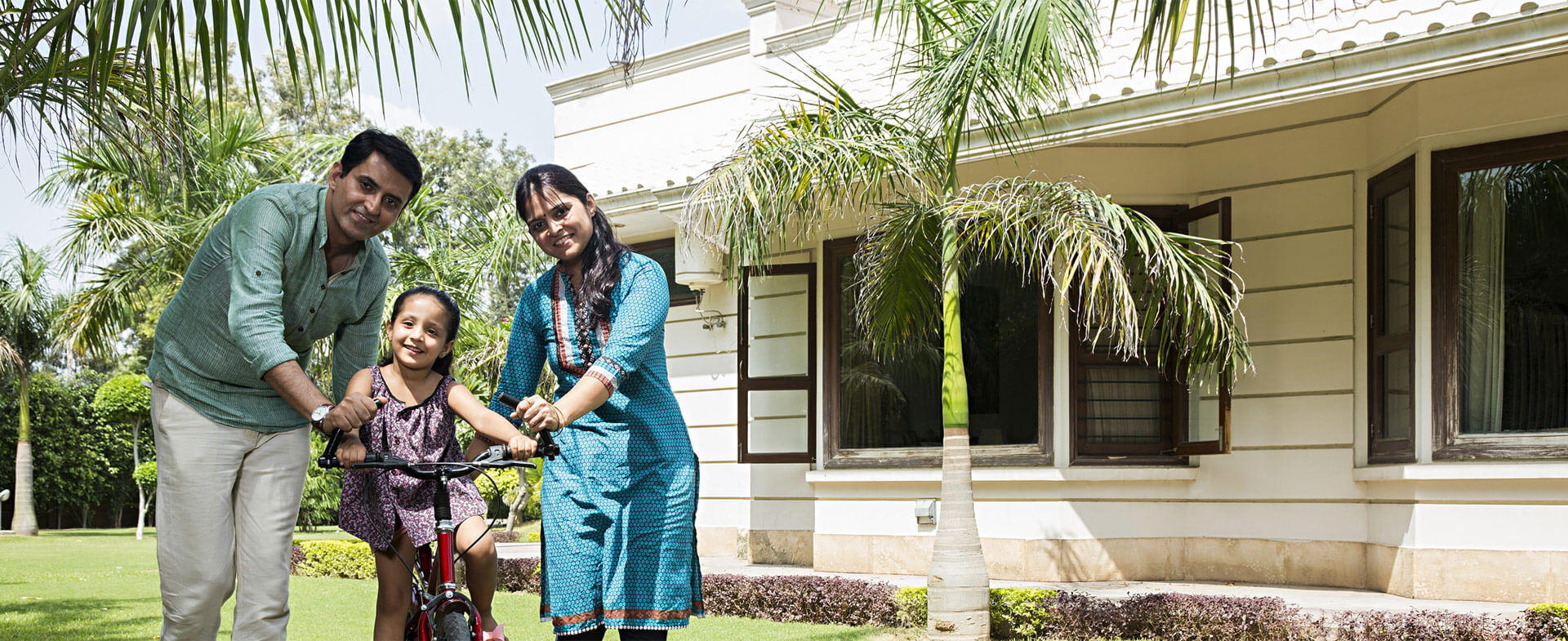 Your dream home should last for generations

use the best quality Cement.
Copper in Interior Design
One of the top interior design trends for this year is copper. The combination of copper and modern decor is a trend to keep an eye on, at the moment. This copper trend seems to be going strong with no signs of slowing anytime soon. Copper colours involve various shiny hues and tones, from rich orange to soft honey colour and dark brown colours. All these colours bring a warmth and cosiness into design and decor. These varied tones of copper have a manner of blending seamlessly with other typical interior material accents, such as wood or stone.
Lighting around copper details, when reflected, produces a warm, rosy glow, which is what initially drew people to this trend: The reflective colour of copper tends to lean towards 'rose gold' which makes contemporary interior design and furnishing look chic and fashionable. The best part of this trend is that this metallic hue is both reflective and surprisingly attractive in most spaces. Additionally, it is an eco-friendly, recyclable material that makes it sustainable, with interior design trends being ever-evolving.
1. Lighting and copper
Hanging lights and lamps are easy ways to introduce a metallic note (or any material, for that matter) to a room without a major revamp. The important thing to consider before doing so is how such metallic accents will reflect your space and how the fixture will accentuate it. One of the best ways of incorporate this copper theme is by installing copper light fixtures, which can slowly introduce your space to this material, while providing a warm, rosy quality to the space.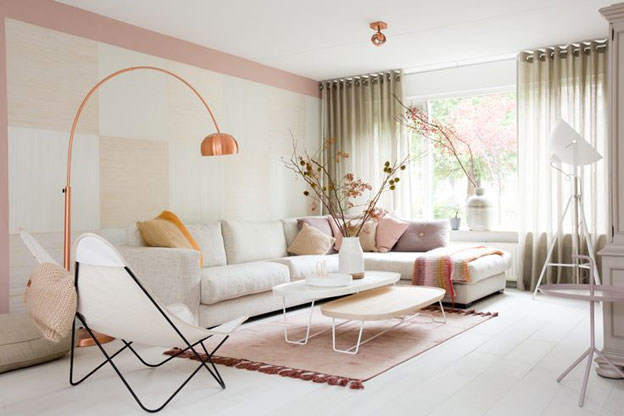 Most lighting manufacturers seemed to have incorporated copper into their newer collections. Unlike other metals, copper is extremely versatile, making it easy to integrate in both contemporary and traditional interiors. Floor lamps, desk lamps… copper is great if you're looking to add a touch of warmth to your lighting!
2. Other Metallic Fixtures: Hardware and Beyond
Copper usually works best in kitchens and bathrooms, but, when integrated correctly, can become a credit to any room in the home.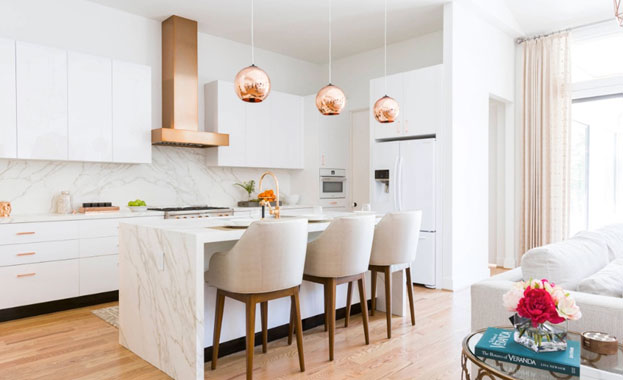 When it comes to the kitchen, one can start by opting for copper cupboard door handles, kitchen utensils, or even taps and faucet fixtures. While using copper, brass or bronze faucets, it is important to choose one that is scratch resistant. Copper is rust-resistant and antimicrobial, and these properties make it perfect for use in kitchen sinks.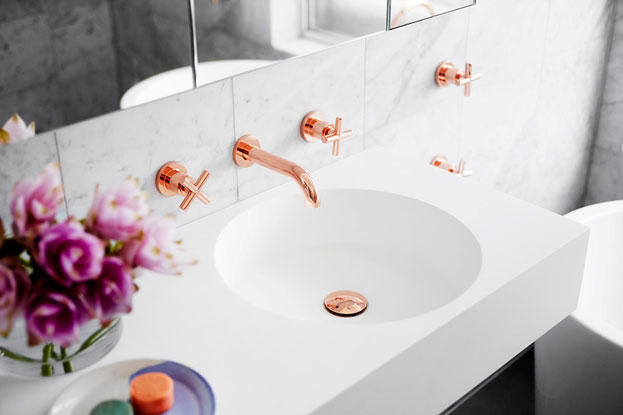 For centuries, bathrooms have included copper piping. Even today, we use it in gas pipes and A/C fixtures. As a result, exposed copper pipes included in your faucet fixture or bathtub fittings are a smart and easy way to inculcate the copper trend. If you're looking for something completely different, opt for a free-standing bath in copper for a show-stopping piece.
3. Copper Touches Throughout the House
Beyond lighting and hardware, introducing copper items in your private space is arguably more challenging: You need to bear in mind the overall colour scheme of the space, avoid grouping multiple hues close together, and be careful with quantity of colours and metallic touches. But of course there are all sorts of other accessories and decorative tricks. Here are a few:
Kitchenware– copper kettles, pots and pans are all the rage again, so those who like their kitchenware on display are in luck! In this case, the style of these utensils will predetermine the atmosphere of your cooking space.
Trays – a really simple, cost-effective way to bring the copper trend into any room. Copper trays can be used on a display shelf for maximum effect.
Small touches – copper is a readily available shade for many accessories: baskets, soap dispensers, candle holders—there is something for every taste; adopt several for a coordinated effect.
Don't be afraid to mix your metals. Copper is a great material to experiment with, regardless of the room you're looking to incorporate it into. If copper is your dominant metal, use others sparingly. Typically, it is small pieces of furniture or other accessories which will create interesting contrast.
Image Sources
Image source: https://designcampus.com/wp-content/uploads/2016/06/Blush-and-Copper-Interior-Inspiration-Living-Room-Lamp.jpg.jpg
Image source: https://cdn.freshome.com/wp-content/uploads/2017/08/copper-kitchen-1.jpg
Image source: http://www.dontcrampmystyle.co.uk/wp-content/uploads/2016/10/copper-bathroom-taps-1.jpg
Image source: http://www.dontcrampmystyle.co.uk/wp-content/uploads/2016/10/copper-bathroom-taps-1.jpg
Ar. Mrudula Reddy
Master of Landscape Architecture