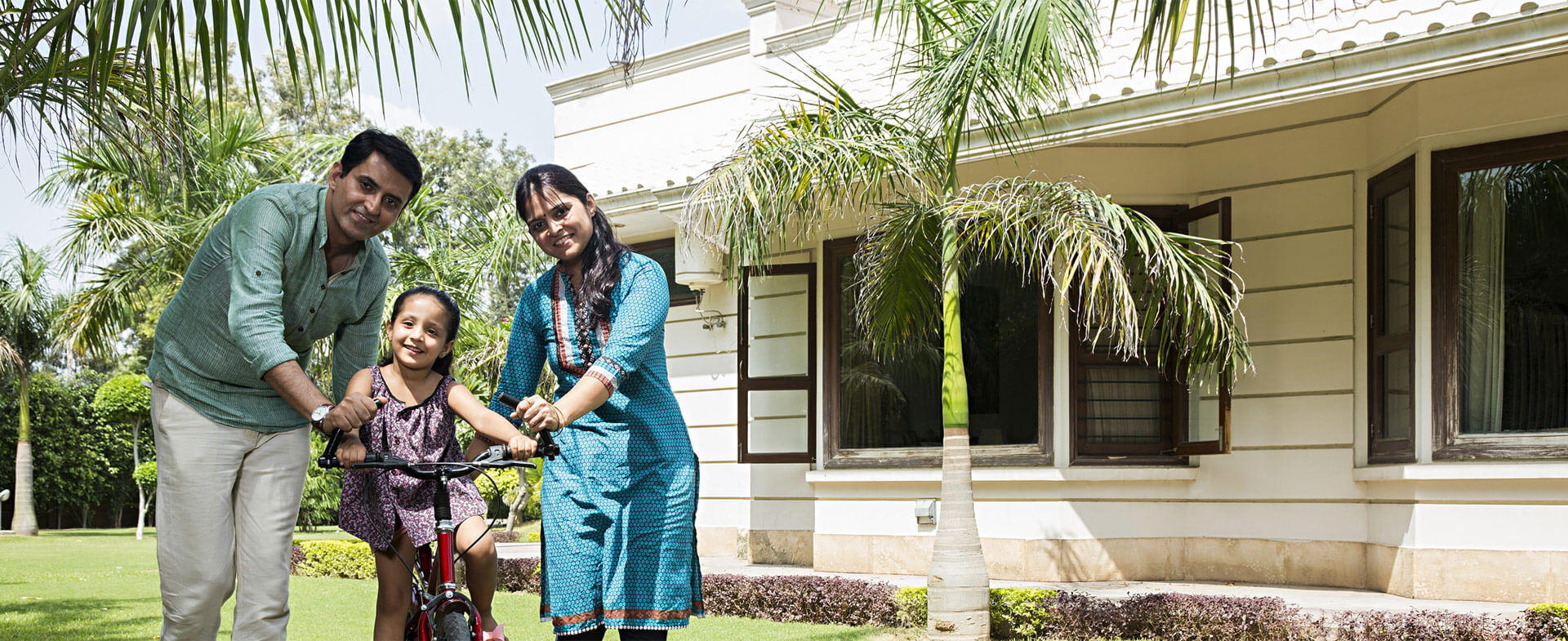 Your dream home should last for generations

use the best quality Cement.
Traditional terracotta with a twist
This earth-born material has been used in architecture for over 5000 years, yet it inspires us even today. With its rustic charm, terracotta (terra cotta, meaning 'baked earth' in Latin) is a natural material with an earthy tone. Its unique colour spans shades of browns, reds, and oranges. These colours lend warmth and cosiness to even the coldest spaces. Terracotta has been used for centuries. Since it is very malleable, it is a very user-friendly material to use first-hand. Terracotta can be found in various décor elements, including tiles, pots and earthenware, wall colours and many other accessories.
In India, this unique material has traditionally been used in West Bengal—specifically, in their specialty temples. Historically, terracotta has also been used in Mangalore tiles as well as for Guna tubes, a unique type of vaulted roofing. Both of these instances harness the natural ability that this material possesses to absorb heat and insulate a space. This timeless material, which has endured throughout history, is making a comeback in modern interiors
Here are interesting ways in which we can use terracotta to lend a cosy feel to any interior: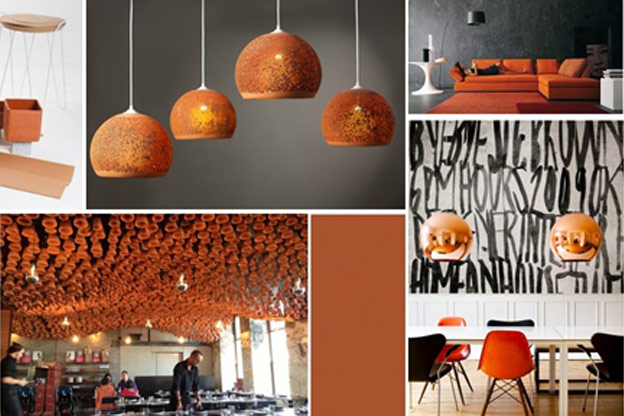 Colour, furniture and accessories
Terracotta is usually available in reddish-brown, red, pinkish-red and yellowish-orange hues. These are natural, muted, earthy colours. So contrary to popular belief these shades don't necessarily need to be used as accent colours, they may be melded into another set of pared-down neutral colours to create a unique effect. Since there are many shades and variations of terracotta, enveloping your space in this colour can create warmth within it. Black and shades of grey can make a more elegant, luxurious-looking statement along with metal fixtures layered with furniture.
Typically, when we think about terracotta, the first thing that comes into mind is terracotta pots. In modern interiors terracotta is, at times, considered to be too traditional and has thus been dwindled to such small accents. Terracotta pots can be painted, wrapped and transformed to fit any desired look. If you prefer to keep the look of a space sultry, use hits of yellow, orange, and red in large, curvy pottery, vintage-looking dishware or rustic pattern-inspired throw pillows, linens, and area centre rugs.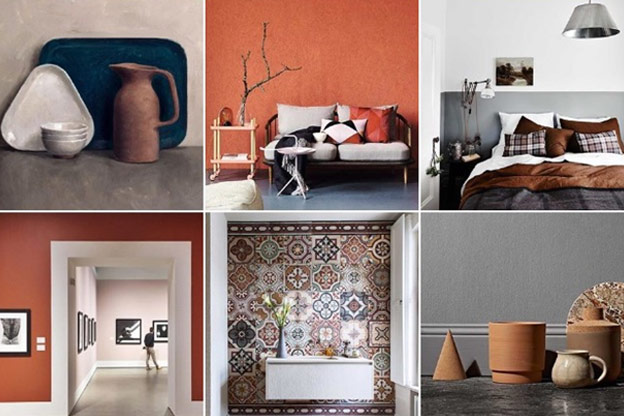 Walls and other vertical surfaces
As a material, terracotta works well with walls in modern day interiors. It can brighten spaces in both living and dining areas by creating an ambience of homeliness through its earthly tone. But a little known fact is that terracotta can also be found in other colors, but is notoriously famous for the warm shades it represents.
Too many walls in a room can feel small and cramped. Using a partition wall in the form of bricks or tiles of terracotta is the perfect solution to divide living and dining spaces. Alternatively, terracotta can be used as a space divider in balconies or verandas to transform semi-open spaces too. Terracotta jali patterns in particular can be used to make impressionable space dividers. Additionally, multi-coloured wallpaper or a mottled, textured paint treatment with a lot of white and grey and a little terracotta can pull together a space with ease.
Lighting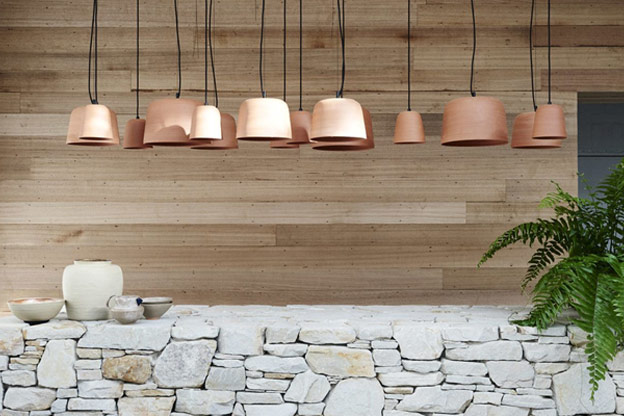 Lighting is one the best ways in which to incorporate terracotta into your home. Nowadays, we get lighting fixtures made of terracotta from hanging lights to table lights. Used correctly, they add a handmade, warm touch to an otherwise modern space.
From floors to ceilings
Terracotta can be used in more traditional places like ceilings. For centuries, this was the main purpose of this material. Additionally, terracotta tiles make for warm, earthy flooring. Square tiles specifically are always a classic; however, newer, matte-finish tiles add both a splash of warmth and a contemporary style to a space, especially when intermittently combined with other patterns or colours to break up any monotony. Whether the stylisation is Native American-inspired, Mediterranean or a fusion of eclectic Indo Western, terracotta has secured its place as a transcendent material in architecture and interiors.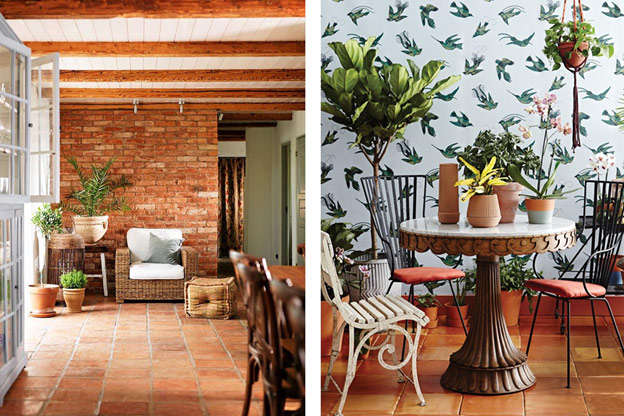 Terracotta's recent resurgence in modern architecture is not restricted to the material itself. As an iconic colour, terracotta can be used for paints, textiles and accessories. This distinctive shade of burnt orange continues to add a richness and depth to many interior schemes.
Image Sources
Image source:http://michelleogundehin.com/wpcontent/uploads/2017/03/FullSizeRender1.jpg
Image source:https://i.pinimg.com/originals/1e/e5/b3/1ee5b3c121c25d05f2f4e0907861d81b.jpg
Image source:https://i.pinimg.com/originals/1e/e5/b3/1ee5b3c121c25d05f2f4e0907861d81b.jpg
Ar. Mrudula Reddy
Master of Landscape Architecture