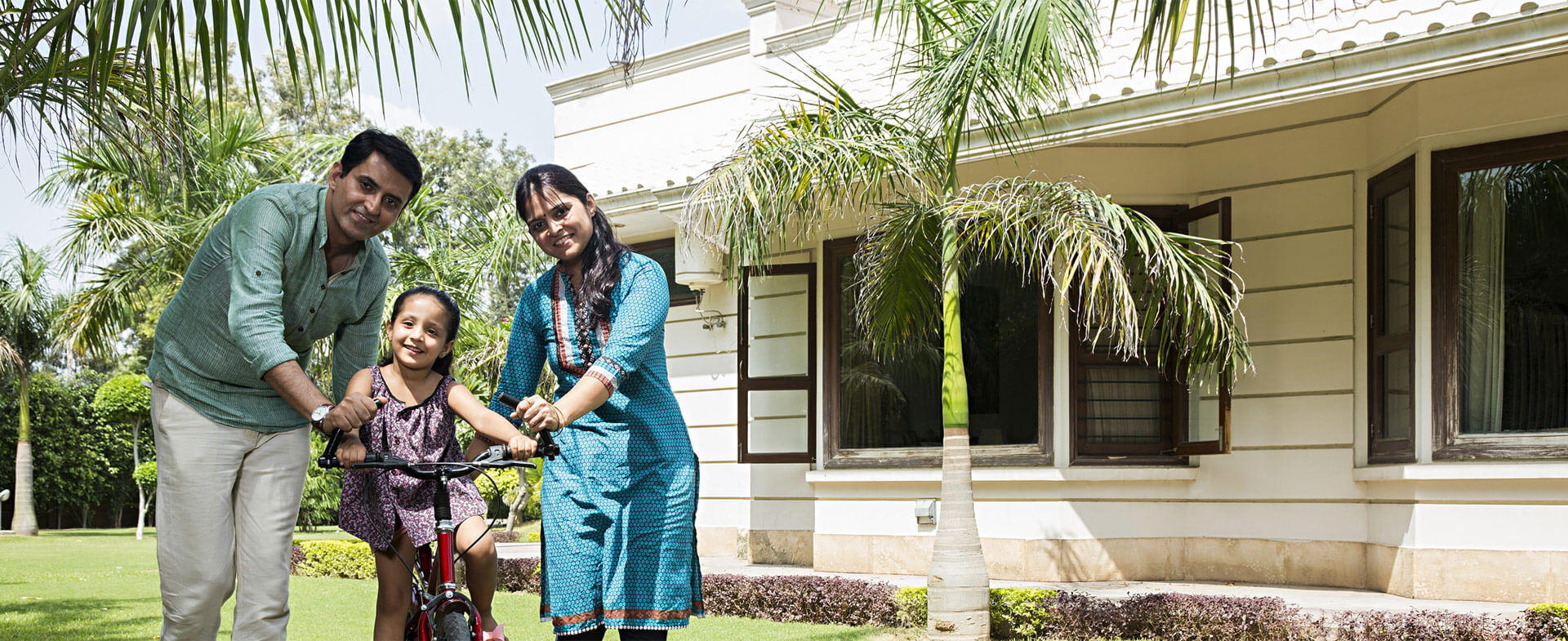 Your dream home should last for generations

use the best quality Cement.
COVID-19 - work at home solutions
Going to work is a luxury that none of us can afford during the ongoing global pandemic. Daily rituals, from waking-up, to having breakfast; to going to work for the day have to be put on hold to adopt a new daily ritual for most.
Classes and schools have been cancelled for kids and college students. All of these issues have a common solution that most of us cannot afford - more space!
When you have a dedicated space for work; to sit and concentrate, your output will definitely be at a different level to that when you sit among distractions at home.
There are solutions like making schedules, and picking times to help you and your partner, or family members get their own time to work so that the others can go about helping around the house or dealing with distractions. But in terms of architecture, what's a better way, than to make a workplace at home?
Many don't have extra area, let alone rooms that can be allocated for 'working from home'. There are steps however, that can be taken to make the transition from working at an office, to working from home, a bit simpler. And in these times, it's safe to say, we can all use a bit of 'simple'.
Dining table or Kitchen Island:
So; a space that most people have access to is the kitchen. Will you stroll on up to your kitchen table and use it as an office workspace? Yes you can, but there is more to it than that.
First situate the table against a wall making sure it still accommodates the number of people that are required to fit into it to dine for breakfast, lunch and dinner. Make sure there is a power point on access nearby to ensure that your laptop or mobile can be conveniently charged. The wall you choose to prop the table against should ideally have a plug point, so you don't have wires flying around when you are working. This leads to a tidy workspace.
Lastly, the most important change is the table itself. What differentiates a worktable to a dining table? Storage space. You can't shuffle around your work things between all the meals. You need to choose a table that has storage built in (ref. to photo) or make storage atop, which is makeshift, to store your pens and books and papers while the table is being used for other purposes. The only thing to move around ideally is the laptop. Invest in a cable management box and a multi level paper and pen storage rack so you can have a work space which will help you keep tabs on the house and children, as well as work.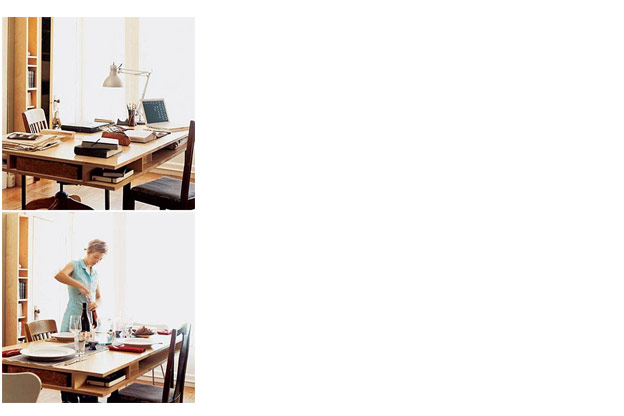 Bedroom:
When you need to attend those pesky meetings with a bit of solitude, the first solution may not be the right fit for you. In terms of utility the bedroom and home office usages don't generally overlap. Especially if you have a master bedroom.
Choose a thin profile table; which most are; generally on the more affordable side and prop them against a wall. Choose a bare wall and put the table against it. Or choose a corner. First allocate the space and later make sure you can squeeze in a chair and table in that area without it being moved around much to accommodate sleep.
The width of a table generally should be around 40 inches. But that's quite a bit of space, so go for 24 inches as a thumb rule in tight spaces. But remember that a table with such a small width cannot situate too many things on top. So make sure when choosing a small table width; to balance it with at least two pull out drawers close to the tabletop to have space to put items inside. Stick to a laptop and a few bits of stationery to keep the room looking neat and tidy.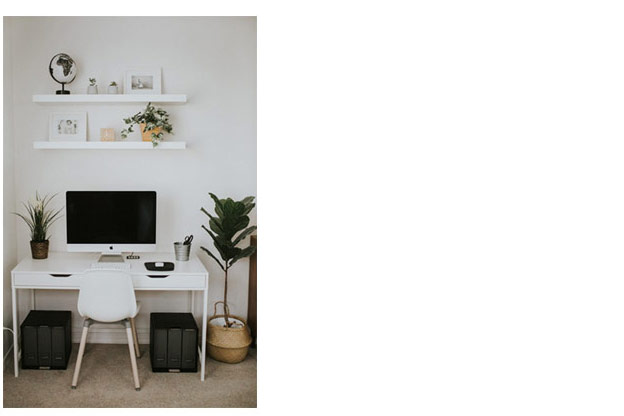 Convertible furniture:
Look through your house, take a walk and find a wall or a corner which offers some space. A plain wall has quite a bit of potential. Folding desks are a great way to save space. The floating wall desk mounts onto any wall and can fold up when you don't need it. This offers a great way to save space and still have the perfect area to work at.
Make sure you choose the color closest to your wall. So that when the desk is folded up, it doesn't take away any attention to the other pieces of furniture and functions that have already been set into the place. If you want a thin profile then go for a desk with no storage, this will afford space in most any case. If you choose a desk with storage, there will be a slight change in the wall profile, to up to 8 inches. This is a call that you may take based on your situation. Usually they are durable enough to hold multiple books, so that after the pandemic too this rack can be used for some good book storage.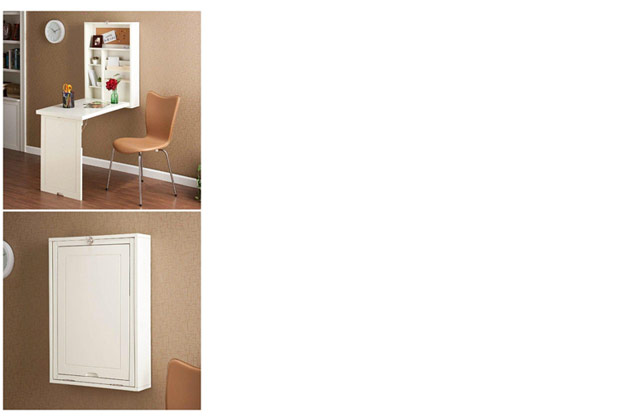 Planning your work space;
The most important aspect of working from home; is to understand your surroundings and what they have to offer. It is harder to stay productive at home, especially amidst the pandemic when all distractions, including kids and family members are around you, making it a very work-unfriendly space. Based on your requirements; such as, does your work involve extensive laptop use? Then use a space which is a bit more permanent and non-makeshift so that moving the laptop isn't a chore. Do you have a lot of calls and meetings? Opt for the bedroom solution so that you can find the time and peace to get to work without any noise distracting you. Or do you have on site work that takes you away for long periods of time and brings you back a couple hours, then adopt the folding desk solution.
There isn't a one size fits all solution for such a varied and user specific conundrum. Architecturally there are quite a few ways to get around to working from home, since staying productive can be a real challenge when trying to get work done at home.
Image Source
Image source: https://i.pinimg.com/originals/29/b5/ed/29b5edb23e73a668d05f2d0be0284185.jpg
Image source: https://livingincolorblog.com/2018/04/how-to-create-a-cozy-workspace-in-your-bedroom.html
Image source: https://ik.imagekit.io/ryjkjxnzq/wp-content/uploads/2018/11/fold-down-desk-1.jpg
Ar. Mrudula Reddy
Master of Landscape Architecture