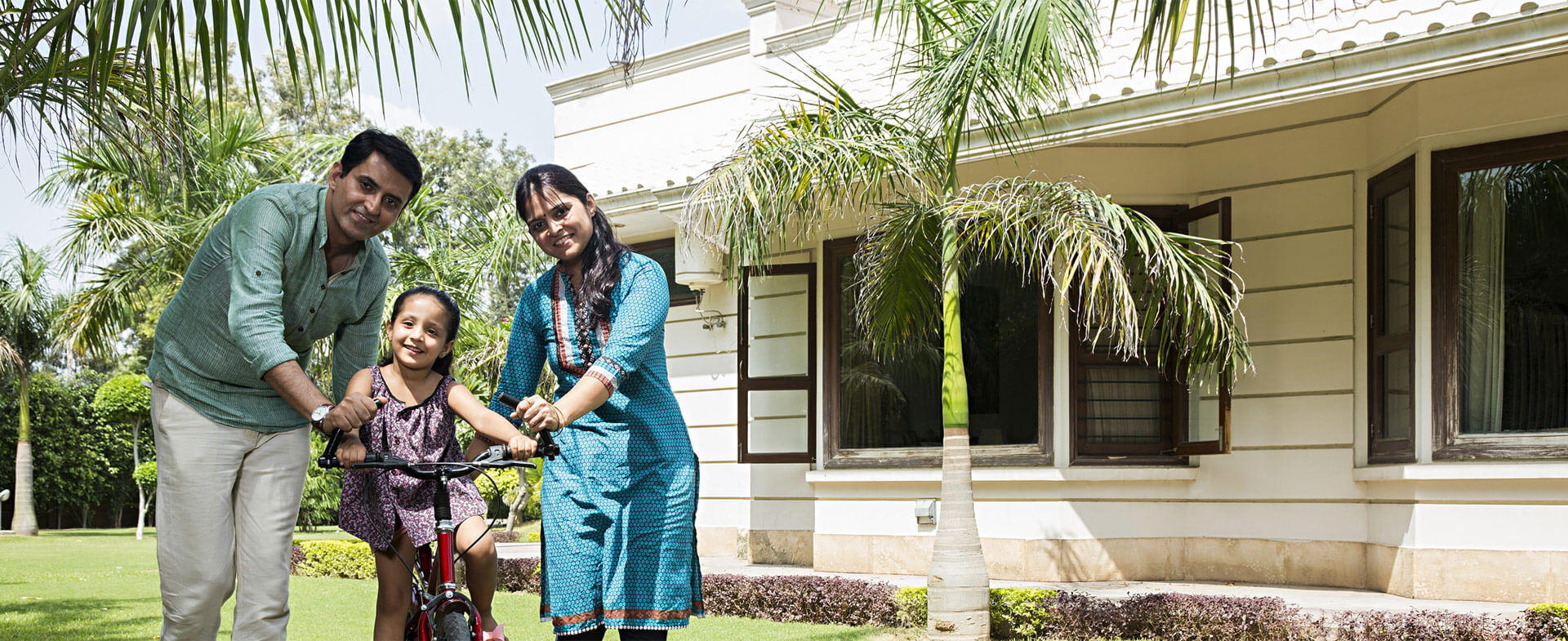 Your dream home should last for generations

use the best quality Cement.
Traditional Indian Woodcrafts
The craft of working with wood in India has evolved and been perfected over time. It has been used for making buildings and furniture. The following are some interesting designs in wood, from around the country, that has survived the test of time and that contribute to a unique beauty of the architecture and interiors of the building.
Pinjarakari from Kashmir
Pinjarakari is a craft of making screens of interwoven wooden laths forming intricate geometric patterns. These screens are traditionally used for windows, balconies and ventilators. These laths are cut to interlock with each other and hence no glue is used in the process. These screens create an exquisite play of light and shade inside the house.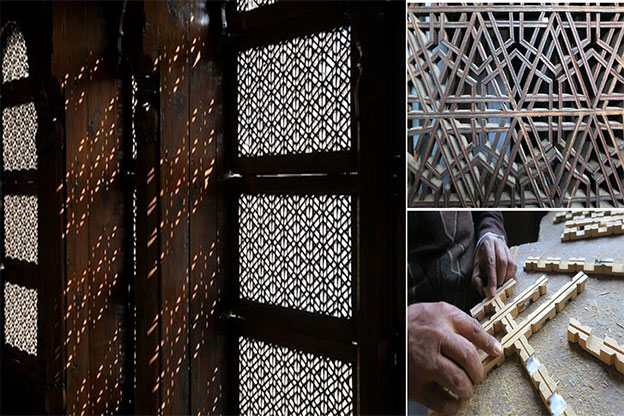 Khatambandh from Kashmir
Khatambandh is the art of making a decorative ceiling. In this art form, pieces of polygonal wood are set together and held by beadings. The beading and the flower motif are assembled together without glue or nails. Glue or nails are used only at crucial points to anchor the interlocked grid to the base-wood of the ceiling. Its functional and decorative qualities make it a popular false ceiling. Khatambandh is generally made of fir, deodar or walnut wood.
By the time the ceiling is complete, the polygonal pieces of wood transform into a unique and seamless geometrical pattern. These beautiful geometric patterns on the ceilings have a magical quality. If stared at for a while, it assumes the quality of a large dynamic installation.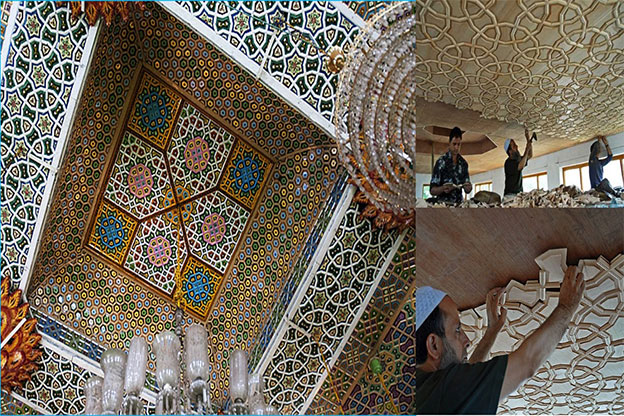 Woodcarvings of Gujarat
The woodcarvings of Gujarat are a unique blend of the Hindu and Islamic cultures. Though wood is not naturally available in Gujarat, it is imported from neighbouring timber producing regions and used. These woodcarvings from Gujarat use a lot of geometric patterns of Islamic tradition along with parrot, peacock and elephant motifs and mythological characters.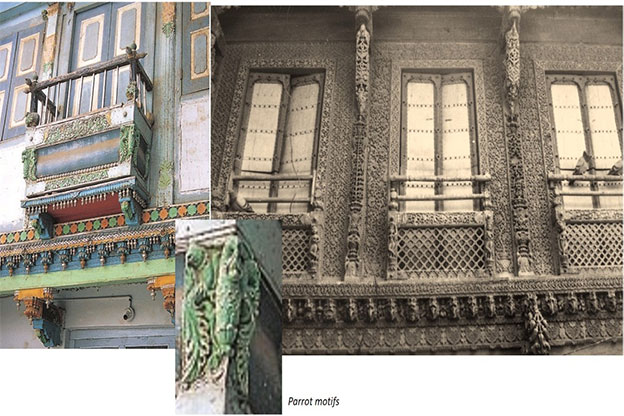 Wood furnitures from Gujarat
-Sadeli
The decorative technique of Sadeli is a type of micro mosaic with repeating geometric patterns. The technique has a simple concept but needs a lot of skill. A stick is made up of long thin rods of many materials in the desired pattern in cross section. This is then cut with a sharp instrument and the thin slices are inlaid to form a repeat pattern. It has had a long history in India and the Middle East with early examples dating back to the 16th century.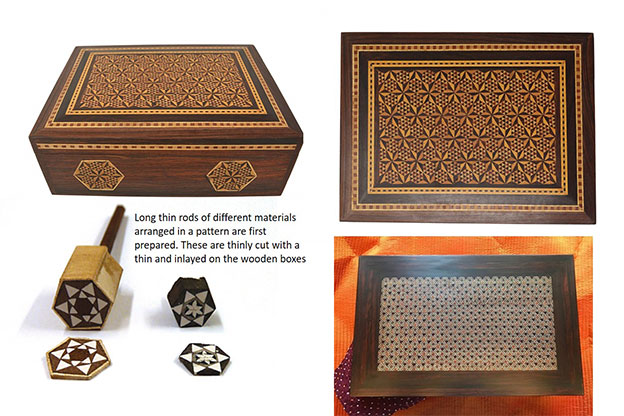 -Sankheda
This village got its name from the word 'sanghedu' meaning lathe or the turning machine, in Gujarati language. Sankheda furniture is colourful teak wood furniture which is made of turned lacquered wood and later hand painted with traditional motifs. This furniture is considered auspicious and is used in occasions like marriages and pujas.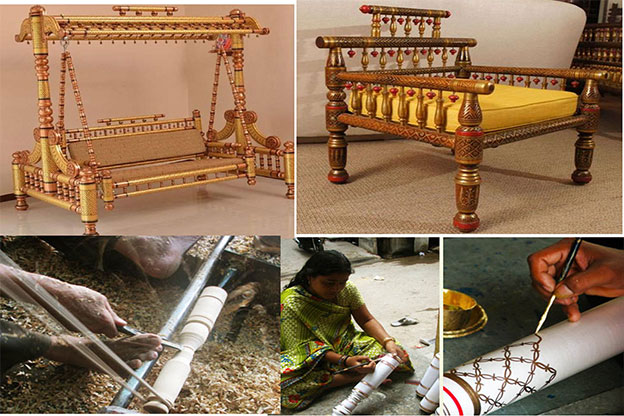 -Jasdan handicrafts
Jasdan is an important centre for the production of brass-ribbed chests called pataras or pataris, boxes embellished with metalwork. A patara is typically made of teak wood and contains eight or more drawers. Traditionally covered with brass and copper, now white metal is being increasingly used in their making. The box is strengthened with thick black metal pieces and decorated with thin pieces of white metal, embossed on the wood. Often on wheels, these chests were traditionally used for storage of dowry and trousseau. Other items which are made in metal are dry fruit boxes, trays, pooja items, business diaries, flowerpots, wall pieces, wooden temples, etc.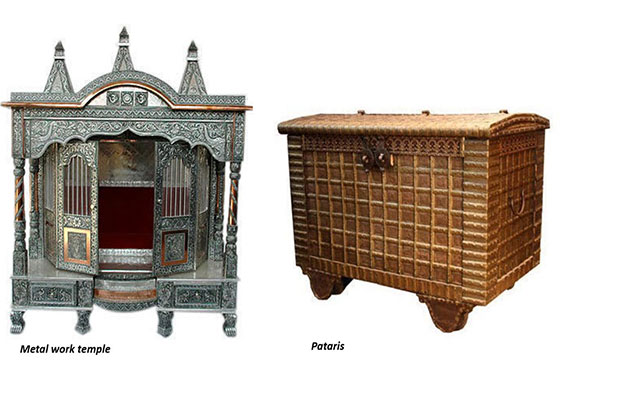 Wooden elements in Kerala architecture
The architectural style of Kerala is unique and has evolved from Kerala's peculiar climate and long history of influences of its maritime trading partners like the Chinese, Arabs and Europeans. The open verandas around the house, the slit windows, pitched roof, the columns and the railings with a seating, are some of the features which have influenced the houses outside Kerala wanting a traditional look.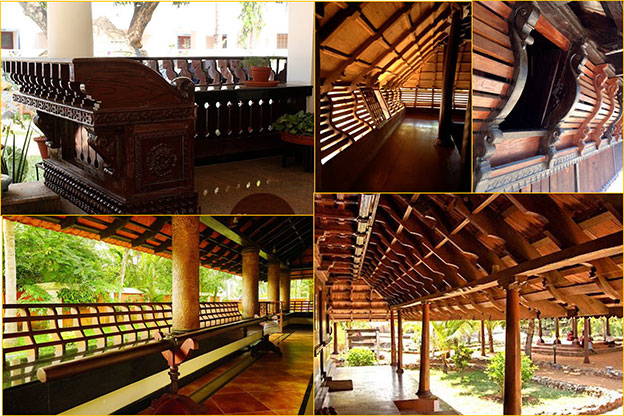 Use of wood in the interiors adds a certain feeling of warmth and comfort. There are still more traditional woodcrafts existing, like Chettinad woodwork from Tamil Nadu, Persian influenced woodcarvings from Goa, and woodcrafts of Andaman and Nicobar Islands. Apart from this, our country also has a tradition of bamboo furniture widely used in the north eastern parts of our country. This is an attempt to kindle the curiosity and interest in the rich heritage of Indian woodcrafts.
Image Source
Image source: roundglass/magazine
Image source: alanainkerala/blogspot
Image source: gaata.com
Architect Gouri M Kasinathuni