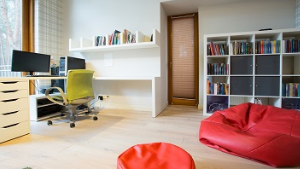 The English Dictionary defines the word 'den' as a small part of the house where people can pursue activities in private. It can act as a study room, library, home office or even the home cinema. While living rooms are mostly used for entertainment purposes dens are the more private, more informal sections of the house. A den may also refer to the section of the house that has a restricted access for the children.
While there is an ever growing fondness for westernised living in the Indian panorama, a great way to make your home stand out in the crowd of designer homes is to incorporate previously unknown elements. Dens can serve the purpose- a place for men to gather after a hard day at work and unwind. The design then requires being distinctively masculine. You could incorporate lots of teak and mahogany, darker shades, leather and soft lights. A large flat screen LCD for the game freaks and a computer station to catch up on all the pending work while not quite being in the strictly formal working atmosphere.
While a women's den is a different story all together. Soft pastels on the wall. Vases, paintings, curtains – the options for decorating a woman's den are endless. Throw in a couple of beanbags or large, soft cushions and one is set.
For all the bibliophiles, a den is the perfect solution to get away from the hustle and bustle of day to day life, each day, to find some uninterrupted time with their books. Shelves, built-in wall cabinets, maybe even a reading desk fits the bill. Dens should mostly allow natural light during the day so heavy curtains and small windows are a big no-no!
Privacy is the main aim when it comes to dens. Some people go as far as to make their dens sound-proof and music enthusiasts can set up customised music systems and audio enhancers to enjoy their time in their space to the fullest.
A den can also serve as a children's playroom. Brightly painted walls, lots of cushions to break the inevitable falls, innovative lightings and miniature slides or swings for the adventurous ones can ensure a gala time for your kids even if they don't get to spend a lot of time outside.
With the help of skilled experts one can convert any unused part of the house into a den. If you are not looking forward to making huge investments regarding building or introducing new areas in your home, the options of wooden or fibre partitions is always there.
Architects these days are adept at handling client wishes, no matter how incredible it might seem. It is always in the best interest of the client to hire a patient consultant. However, refrain from taking up the task yourself and ending up with an ill managed section of the house that is stuffed with things and does little other than to occupy and obstruct space.
Make the best use of space available to you and build a den for your place that you can relax in and your friends admire.