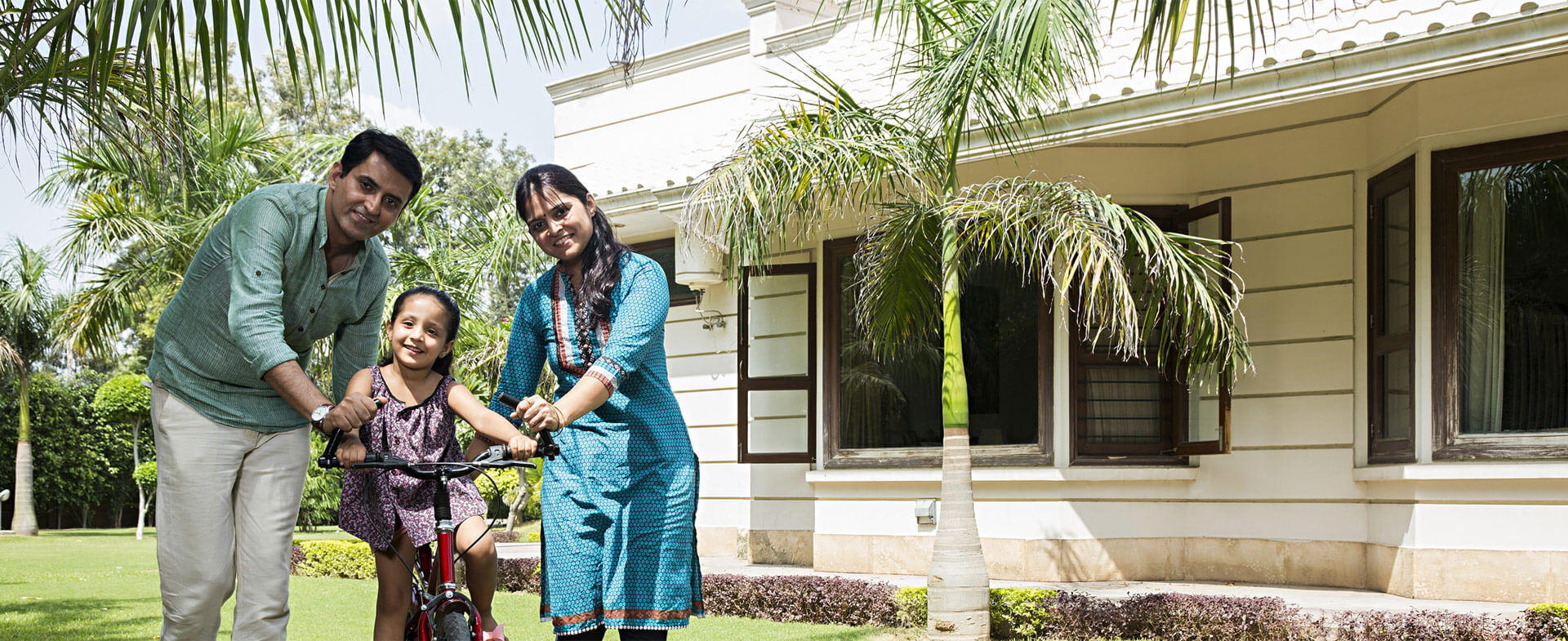 Your dream home should last for generations

use the best quality Cement.
Common design mistakes in the bedroom
As with any facet of life, each of us has our own taste in interior design. While there are rules to follow when it comes to interior design, you can still inject your personality into your design without making everyday mistakes that one sees non-professionals making.
Let's take a look at the most common interior design mistakes people tend to make, and how to prevent them from disturbing your bedroom design and layout.
1. Scale of the furniture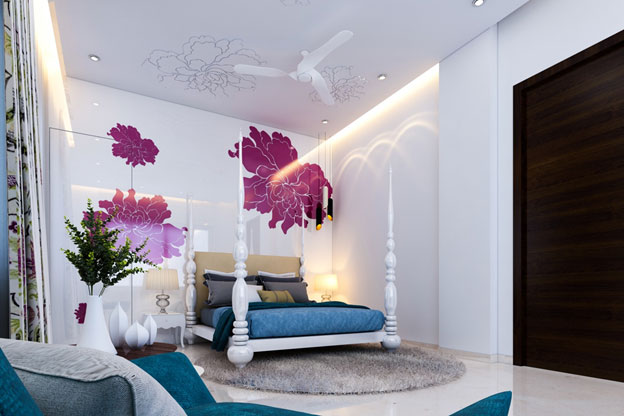 No two bedrooms have the same layout, but the one anchoring piece of furniture that is the crux of any bedroom design is the bed. Be it a king sized or a queen sized, the styling of the bed is what will set the tone for the entire room. A bed that is too large for the room might cause footboards or post corners getting in the way of movement. Choose the size of the bed keeping the room size in mind. To help you steer clear of any mistakes, measure the room and mark out the size of the bed that you have chosen within the space to help you assess the space how much space you have left for other furniture. The idea here is to be realistic about the dimensions of your room, and to choose the largest bed that fits in proportion to the space.
Apart from the bed, most bedrooms have clothes storage. Choose a space that is not on the opposite of the bed; preferably a wall that gives you access to the most amount of space. Remember that you will probably need to fit other storage and seating in the room as well.
2. Circulation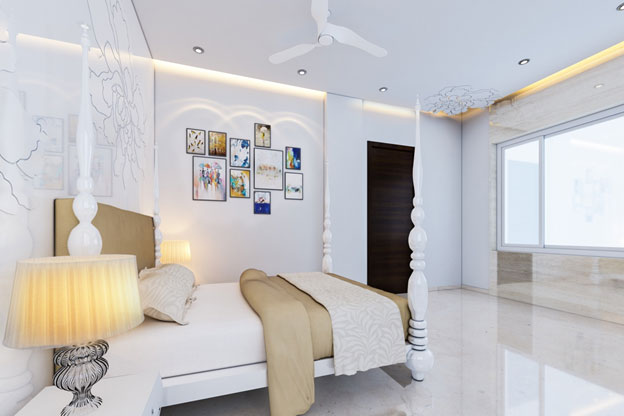 Scale and proportion go hand in hand. Especially if there is more than one occupant for your bedroom, circulation must be accounted for when planning your bedroom design. Open doors and drawers lend to a haphazard look, as do large window curtains and small spaces between furniture pieces. Therefore, it is important to think about how you move around the room, and accordingly move or remove any pieces which obstruct movement. Adding features like sliding doors, or rolling curtain blinds substantially reduce the amount of dead space in a room.
Interior designers often suggest centring your pieces and pulling items closer together to create a flow that doesn't 'box' the design in, and keeps the room circulation intact.
3. Storage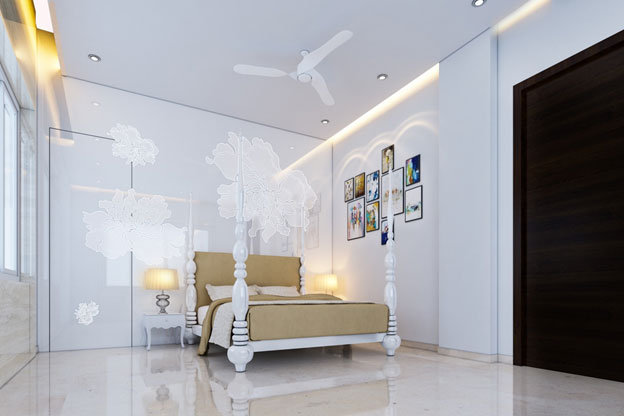 One is the biggest mistakes people tend to make is opting for open storage, like coverless baskets and holders, or open shelves. This not only invites dust to settle onto your things but also leaves clutter out in the open for everyone to see. Fitted wardrobes can solve a lot of storage problems. Where possible, take the wardrobe all the way up to the ceiling, this way the top of the wardrobes may also be used to securely store luggage and other less frequently used items.
Before you finalize your design plan and furniture against a wall, assess wardrobes and their prime locations to avoid any problems with layered furniture. Consider investing in a platform bed that comes with built-in storage, for things like linen and throws. Another great idea is to invest in an ottoman for the foot of your bed that can double as storage as well as seating.
4. Cluttering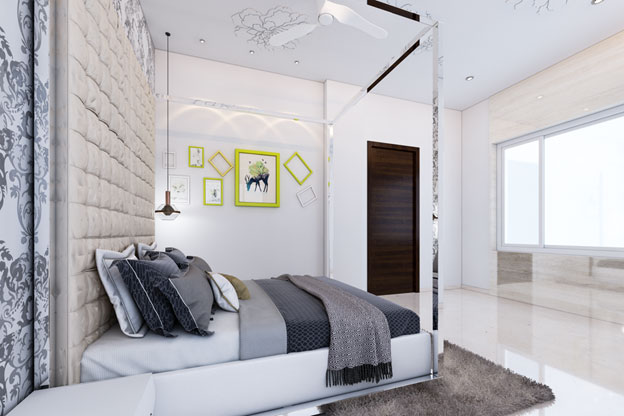 One of the biggest and by far the most unnoticeable mistakes people tend to make is cluttering their spaces. This tends to happen over an extended period of time, with a lamp here and an accessory there. Before adding to your space, ask yourself if you really need that accessory. While side tables and wardrobes are the common culprits for cluttering a space, don't underestimate the clutter of overcrowding the bed with decorative cushions.
You may stumble upon an interior design magazine which has many cushions on top of the bed, but think about the utility: Are all these pillows adding to your user experience or your visual experience (illustrated in the render below)?
If not, consider having designated areas for things, and keeping them there. Try and minimise the amount of activities in your bedroom: it is where you sleep, store clothes, lounge or even work at your table if you need to. But, don't add extra activities that can be accommodated in another room, this helps keep the items associated with those activities housed in the room.
5. Lighting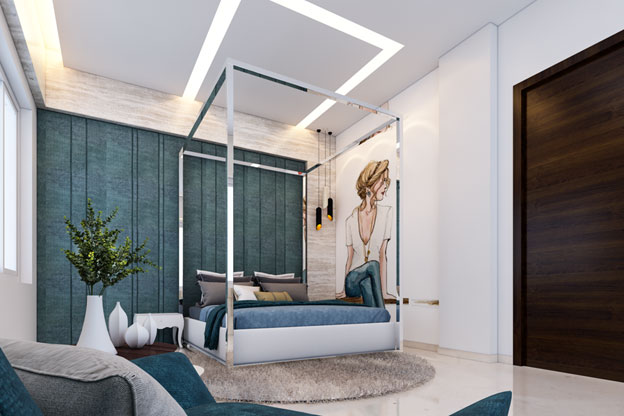 Last, but not least, we come to lighting. Common mistakes in lighting considerations include having just one overhead light that is bright and nothing more. Because layering is key to any bedroom ambiance, it is important to have many different lights; little styling touches make a space look and feel complete.
Have one main light, and consider adding a spotlighting in front of your wardrobe or dresser. Additionally, add a bright diffused light atop your study. Moreover, consider adding dim lighting too; it will add an element of relaxation to your space. Bright light can be extremely deterring before drifting off to sleep.
Whether you select an old school chandelier, or modern led lights, the style should align with the overall ambiance of the room.
All of the images above are renders of the same bedroom in different conditions. They have been illustrated to show you the way a space can change based on the interiors. Follow these tips before you start you next bedroom project and you will be sure to notice the depth and character your new bedroom will acquire.
Image Sources
Image source: All the images are property of Frontiers syndicate pvt. Ltd. Designs.
Ar. Mrudula Reddy
Master of Landscape Architecture