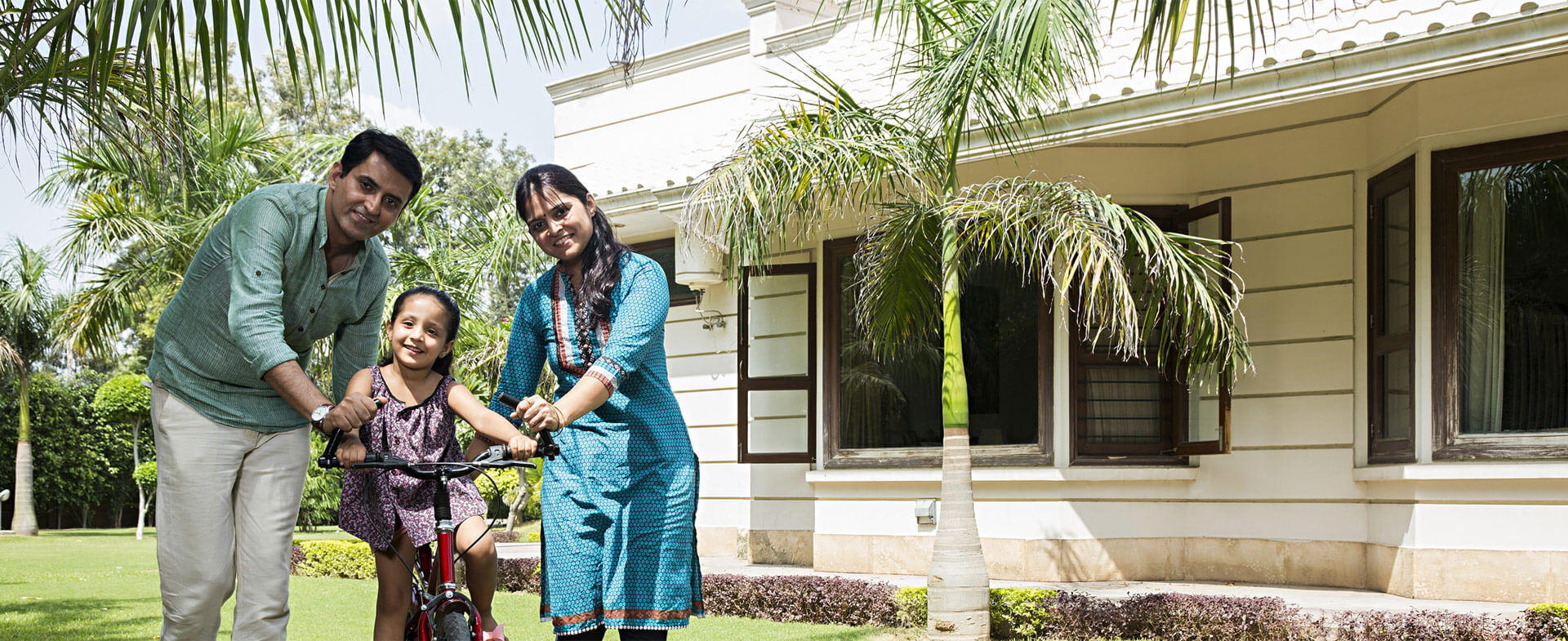 Your dream home should last for generations

use the best quality Cement.
Materials to protect your home in style
When making a lasting impression with architecture, we must always remember that everything starts with the exterior. When planning the exterior, compound walls are often overlooked. While a visually appealing gate is the usual choice, investing in the compound wall can make a bold statement that also sets a tone for the rest of the home. Here are some of the materials that will protect your home, while adding an architectural flare.
1. Metal: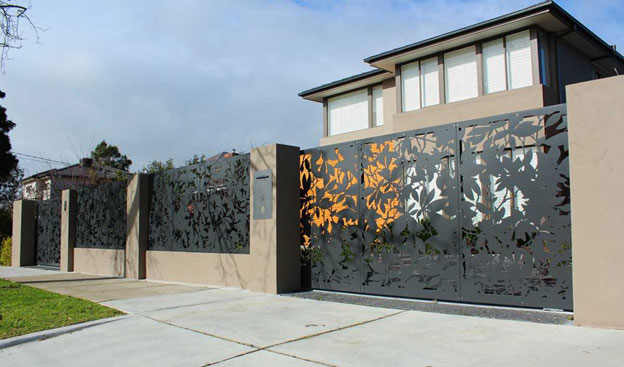 Metal is an unusual choice for a compound wall material, but it is long enduring. Being malleable, metal retains design well, especially intricate designs such as, jali patterns or geometric patterns, which can be potentially laser cut into metal sheets. Now most modern houses have elements of metal additions onto the façade, or grills and railing edges. This creates a more alluring reason to make interesting vignettes along the length of the compound wall.
Metal sheets may be added into the wall intermittently for a visual break from the monotony of the concrete. Or another great option is to run a continuous metal sheet above the concrete wall which can help lighten the overall feel of the wall whilst retaining privacy. Although cutouts are a popular choice, perforated metal sheets are readily available in the market for use with different sizes or alignments to create a geometric pattern. It is important that you weather proof your metal sheets to help them last longer.
2. Stone: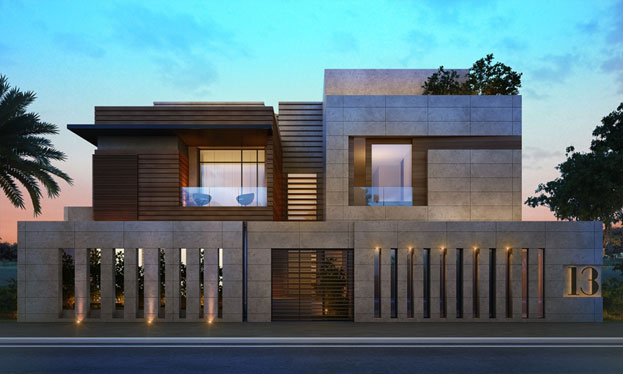 When there is an existing wall with no visual interest, it may be emphasized with cladding. Stone is the best material for cladding. And is available in every fathomable size on the market; ranging from manmade to natural, the options are endless. Stone has a rustic quality to it that also creates a visual tactile sensation due to its texture and endless colour choices. Additionally, easy maintenance makes stone an ideal choice. This evergreen material has been in vogue since a long time. As the intricacies take a backseat with stone, there are other ways to ramp up the look, like adding vertical vegetation along the wall which is best when paired with stone. This ensures that as the plants grow it will not damage the wall.
3. Brick: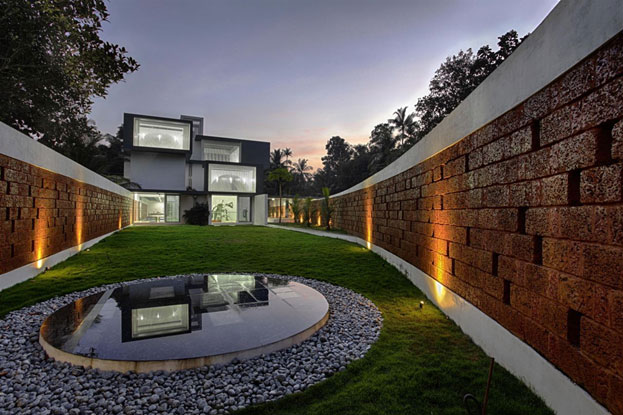 Brick is probably the most underestimated material in this list. The humble brick when used correctly and left without any surface additives makes a bolder statement than most care to admit. A famous architect B V Doshi is well known for his use of this basic material while making design statements that have stood the test of time. Although admittedly, brick has a rustic charm, it has to marry with the house that it stands by. Bricks can be laid in many different angles and bonding styles, in continuous or jali styles.
The architecture of the house should lend to using brick in the wall, and then designs with alternating brick to create perforations along the wall are a great choice. In spite of its practicality and widespread use, brick does present a challenge for architects. Also, maintenance is crucial when using brick for your compound wall. Beyond cleaning and repair, there are products for protecting against moisture which are essential for its longevity.
4. Wood: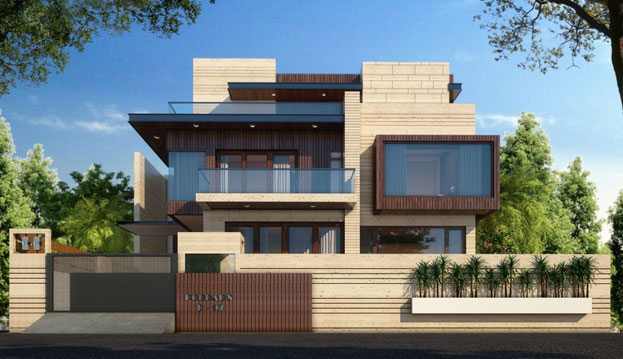 While wood is a strong durable material, it is not the first material that comes to mind for the exteriors of a house. Apart from gates, usually home owners are wary of using wood; due to the extremes of heat and cold with our climate which makes wood to expand and contract, causing gaps in the panels. There are alternatives to wood in the market that come with the added benefit of the aesthetic of wood without its shortcomings such as wood plastic composite (WPC).
Readymade treated wooden planks available in a number of shades and grains can be directly put onto your compound wall. When the feel of your interior is warm and inviting with wood accents, you can take that theme to your exterior walls as well to create a well-balanced design harmony.
5. Glass: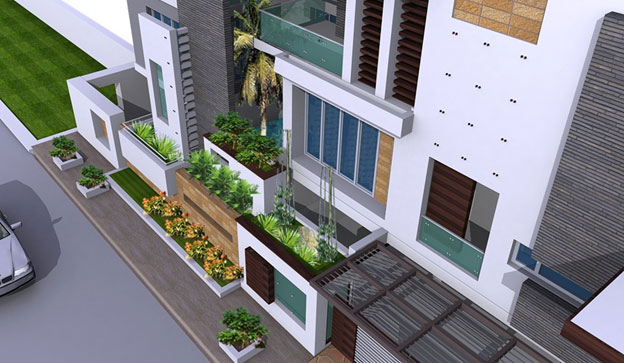 Using a material as delicate as glass for your external wall may seem like an alien concept without merit, but moderation is key here. Glass additives to a strong compound wall with the use of cutouts or crowning the wall allows natural light in without compromising safety. Polycarbonate panels can also be used for distinctive design applications as an alternative to glass. Although the look of glass is incomparable, different cutouts with lighting may be installed into your wall which can be covered with glass for a glazed modern look.
Polycarbonate panels are a great alternative in cases where the owner requires specific application of a translucent material which is to be cut into delicate shapes or molded into forms that glass may not be able to structurally withhold.
There is no need to be univocal with your cladding material when designing your house's compound wall. The combinations of the material mentioned above are as endless as the architectural designs themselves. So don't be afraid to combine metal with wooden accents, or stone with glass cutouts. The unification of the external and the internal architecture may be done with a multitude of different material options.
Image Sources
Image source: http://thenhhouse.com/wp-content/uploads/2018/05/unique-wall-fence-designs-fan-finish-2018-with-beautiful-ideas.jpg
Image source: https://i.pinimg.com/originals/88/52/8e/88528e2db64e008909dd4849ca6ddb4d.jpg
Image source: https://cdn.freshome.com/wp-content/uploads/2013/12/runningwallresidenceLIJO-RENY-Architects.jpg
Image source: https://i.pinimg.com/originals/14/b0/c8/14b0c8eaa6d6db8cc6b80c09dffd30ab.jpg
Image source: http://www.artnak.net/im/2018/01/07/railing-design-wall-compound-new-projects_f0153965ef77e0d1.jpg
Ar. Mrudula Reddy
Master of Landscape Architecture