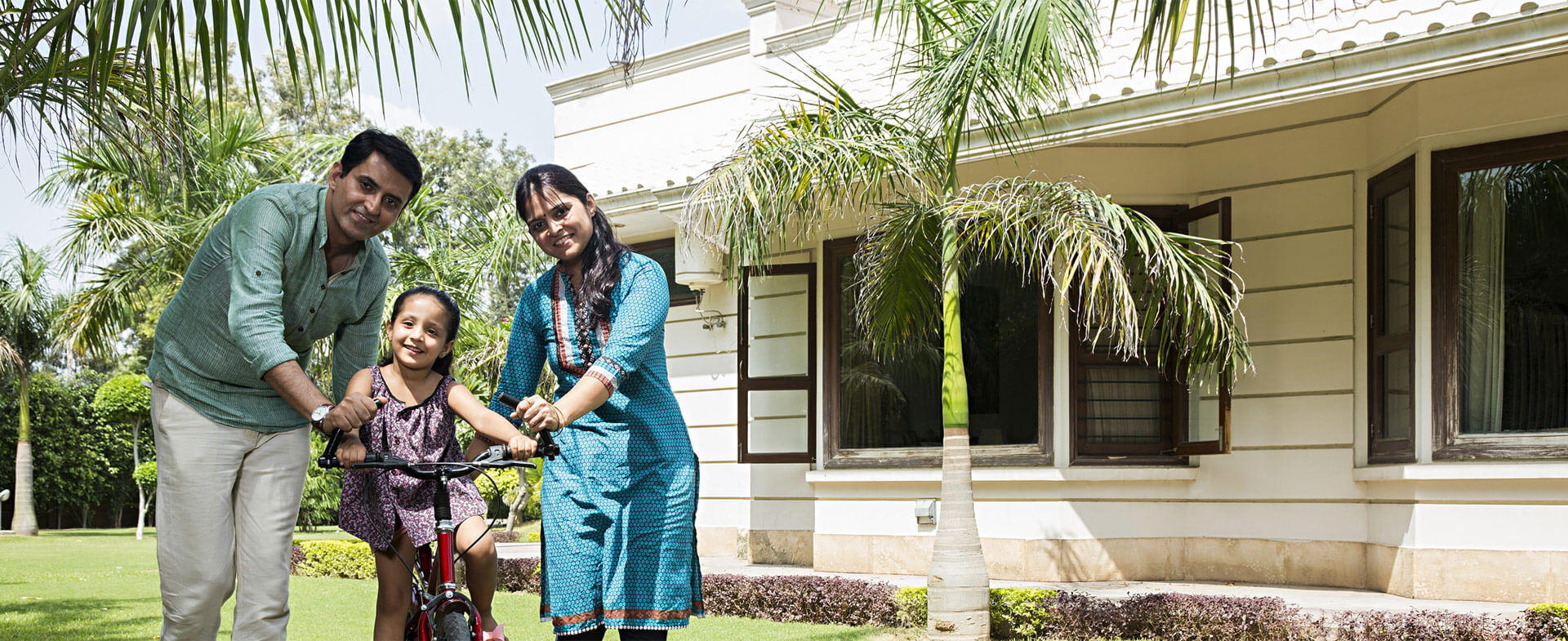 Your dream home should last for generations

use the best quality Cement.
Concrete at its versatile best
We have spoken about a lot of polarizing interior design trends in this article series. But when you think about it, what is one of the most basic materials that you absolutely need to build your house? Concrete, of course. The concrete trend brings a subtle edge to your interiors.
As a conventional material, concrete is readily available and a great medium for creating designs suited to your tastes. Taking an ordinary material, to create something extraordinary is the key here. Let's take a fresh look at concrete and how it can change your space.
1. On your walls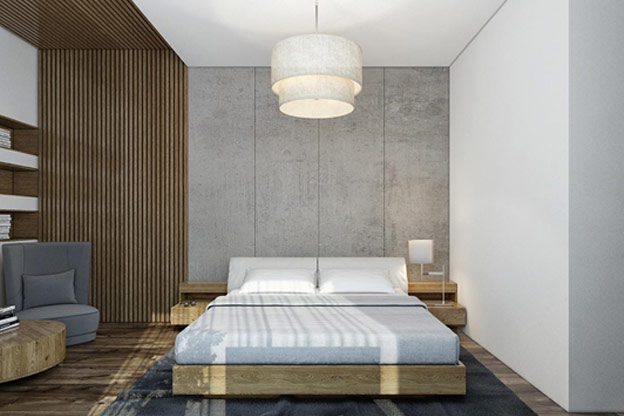 If the look of concrete is suited to your taste, consider adding concrete accents to your walls, or rather, treat an entire wall with exposed concrete. The finish may be smooth, or rough, depending on how bold you want to be.
This doesn't necessarily give warmth to space, but it will make your walls pop and give any space an edge. If this is too big a commitment, there are other ways to inculcate this trend. However, don't discount the fact that concrete walls may be used in your bathroom, dining or living rooms. It can also be used all over for a seamless, uniform look.
2. On your floors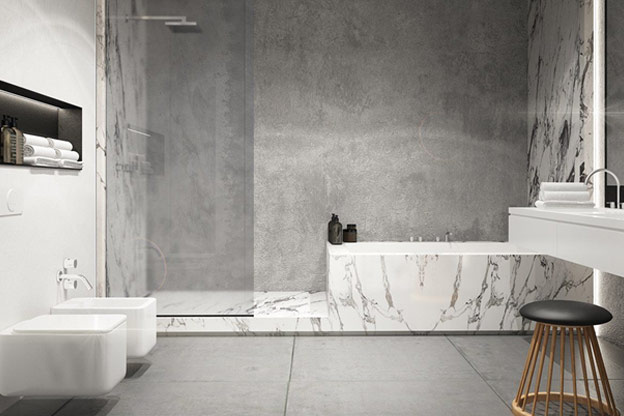 With concrete being fairly neutral and unobtrusive while still having a stone-like hardness, it is a great option for a flooring material. To personalise your concrete floors, you can make impressions on it whilst it is still damp. Additionally, there are ways to colour concrete, so you don't have to stay within the grey colour scheme.
Concrete floors are not as labour-intensive as most market options nowadays and are durable and impermeable to liquids. The flexibility and the ability to customize poured concrete floors make them most attractive to potential buyers. You can add stone tiles, metal trim, or grout, to enhance concrete flooring. Also, teaming concrete walls and floors in your bathroom can create a beautiful uniqueness.
3. On your counter tops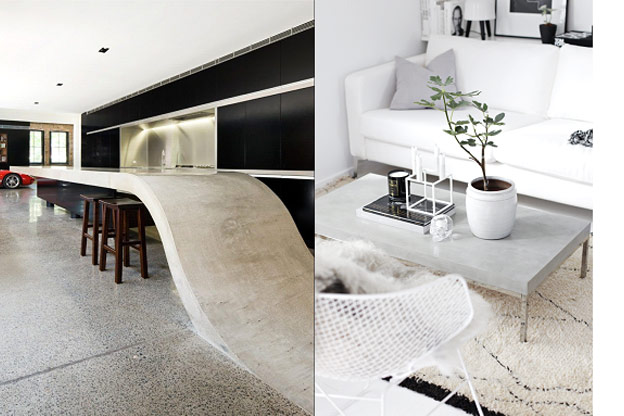 Concrete permeability to liquid makes it a great choice for all sorts of countertops. The key to using concrete for kitchen countertops is to seal it properly to make it stain resistant. The biggest benefit of a concrete countertop is its ability to mould into any shape you want. This ensures it looks sleek in modern homes and can be easily paired with regular modular kitchen cabinetry. A concrete coffee table or a dining table is a great pairing against a modern interior. The table will be the centre visual anchor for your dining or hall.
4. On your fixtures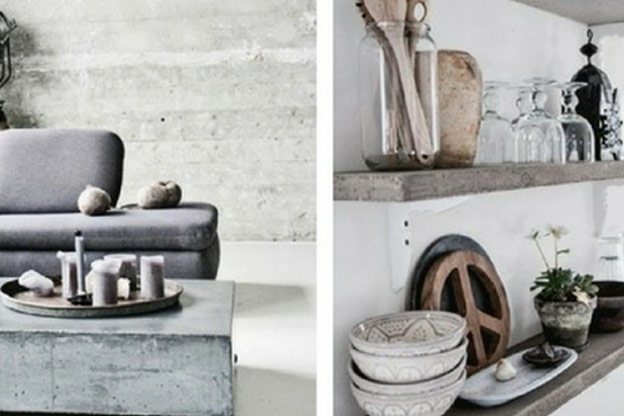 Concrete light fixtures are an easy foray into the concrete trend. Adding concrete lighting accents will add a unique twist since concrete is viewed as a heavy material. Seeing the juxtaposition on lightweight fixtures is an interesting take on this trend. So if you like the Concrete trend but aren't looking to completely restyle your space right this minute, fixtures are a great alternative. Details such as candle holders, plant pots, and bookends are pretty easy to find and add to most interiors. But if you would like to make more of a statement, look into concrete seating stools and small shelves--these lend to an overall bolder effect in your home.
5. On your vanities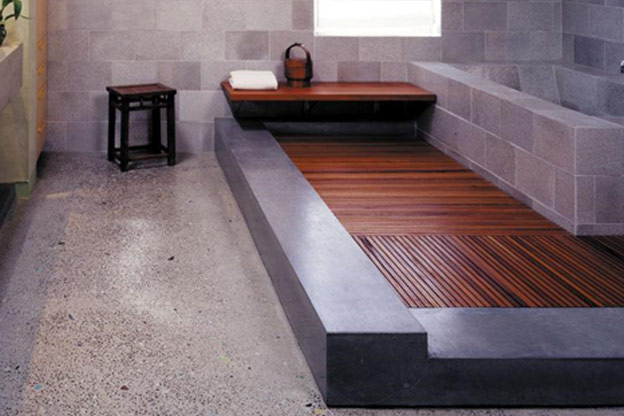 Since moulding is one of the biggest benefits to concrete while still being a strong material, concrete becomes ideal when you need to create a vanity along with a sink in your bathroom. It can essentially replace your sink and countertop material, whilst fusing both of them seamlessly.
Continuing this theme all around the bathroom, in concrete grey tones gives an optical illusion of a larger space due to the continuity in material. Mix it up with other materials to highlight spaces like the bath.
Concrete is a great way to keep things fresh and new in your interiors. It is exceptionally versatile and highly underestimated. If you are still struggling to envision how concrete will look in your home, start small and work your way up to larger things once you have gained confidence in this material.
Image Sources
Image source: http://cdn.home-designing.com/wp-content/uploads/2017/01/precast-Concrete-wall.jpg
Image source: https://in.pinterest.com/pin/378020962455448919/?lp=true
Image source: https://i.pinimg.com/originals/f5/87/53/f5875353d01a22d60ed38069e143d2fe.png
Image source: https://www.therugseller.co.uk/blogwp/wp-content/uploads/2016/11/3-2.png
Image source: http://totalsitebookmark.club/data/cement-bathtub/images/cement-bathtub-Concrete-bathroom-sink-floor-and-tub-surround-by-fu-tung-cheng-cheng-design-how-to-make-a-cement-bathtub.jpg
Ar. Mrudula Reddy
Master of Landscape Architecture