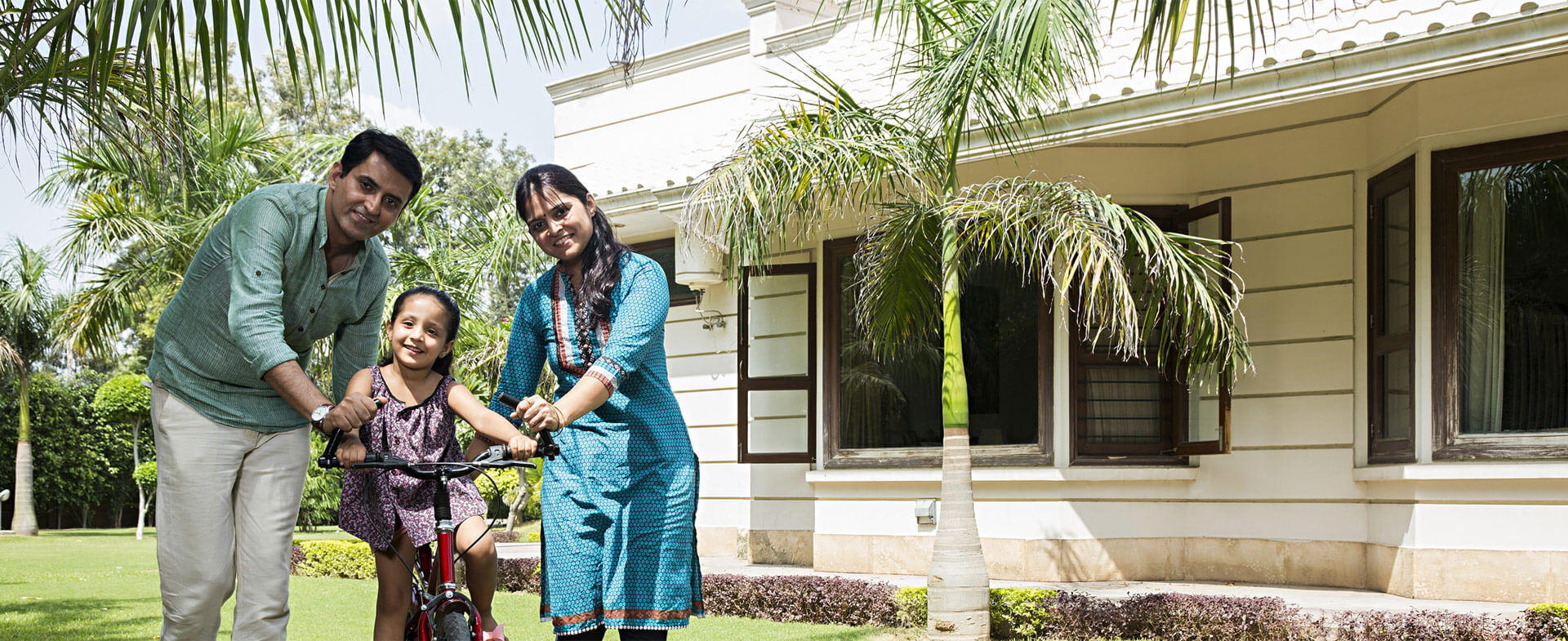 Your dream home should last for generations

use the best quality Cement.
Create a timeless children's bedroom
There is no space like the children's room in any house. This is a space that needs to be constantly redone, from when the room is a nursery, to a toddler's den, to a kid's room to a teen's room. Along with their growth, their tastes change and so parents indulge their children's choices in décor. This leads to the children's room being constantly redesigned or upgraded. And with the way kids grow, how do you pick a scheme that's flexible to their changing interests? Sure, change the textiles and the accessories, the general design and the furniture should be a constant. Use these tips to design a bedroom that will grow with your child and still let them express who they are.
1. Keep the Walls Neutral: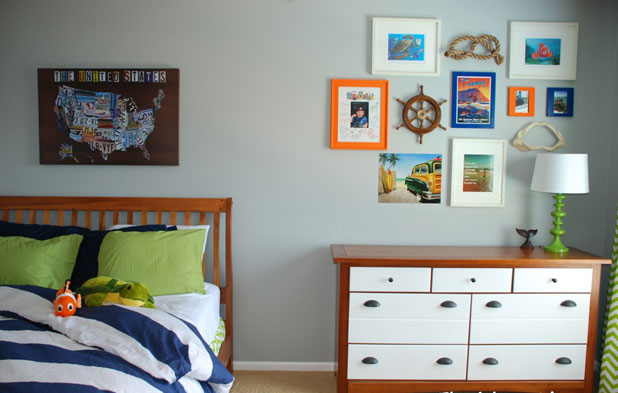 Your walls in any child's room are like your canvas. The walls don't necessarily need to be painted blue for a boy and pink for a girl. Make sure the paint in your children's room is not a choice you leave up to your child's gender. This must be a decision that you take, as adults, keeping the future of the room in mind, choose neutral tones. To personalize their spaces without anything as permanent as the paint, is a challenge. So, make sure you accessorize the walls of their room with neutral frames which hold their art work. At the beginning as a baby's nursery, you can have images of soothing things and as they grow up you can replace them with their art work, later in their teen life they can place their photos or their musical interests or such, which is personal to them. This keeps things fresh and interesting.
2. Be Playful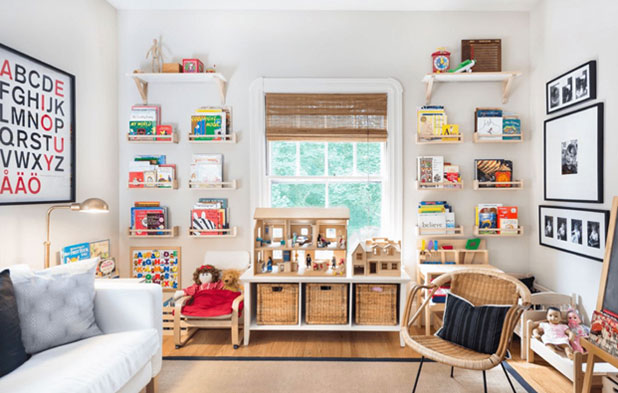 Although you may be tempted to give your child an elephant theme or a princess theme room, restraint is key. Though, this doesn't mean you cannot accessorize. When your kid's childhood is connected to memories, it's usually through their toys and things. So give them the freedom to express themselves with accessories such as bed textiles and curtains which may contain themes as well.
Textiles with patterns and themes draw a huge impact theme wise and can change the character of the space, which can evolve as your children grow older. When it comes to your children's room, there is no such thing as over accessorizing. Make sure there is plenty of personality injected through their choices. These aide in providing splashes of colors to their bedroom as well.
3. Invest in Quality Pieces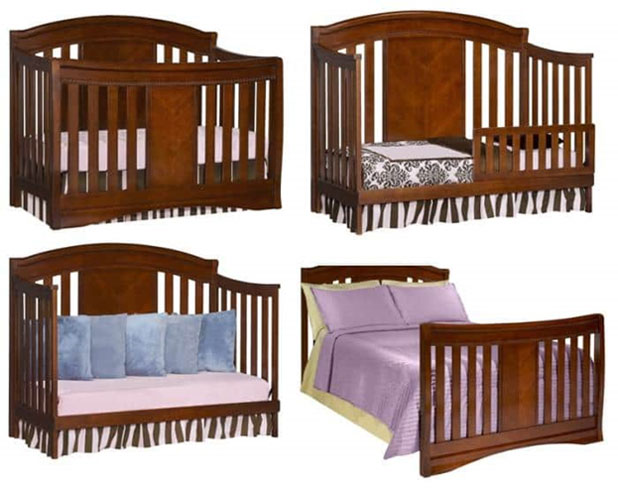 This may sound counterintuitive when it comes to a child's room, but the benefit of planning your child's space is that you may invest in quality. So when sourcing furniture, pick pieces that will work for their current phase, their next phase and anything that might come after. Rather than spending money every few months or years to replace the furnishings in your child's room, when you choose the right pieces of furniture, you'll find that they last for many years.
Make sure you don't buy a car shaped bed which will be a passing fad of age. Instead get a beautiful full grain wood bed, buy a good cabinet as well, which should be chosen by the adult. There are cribs that convert to a toddler bed. After which investing in a proper 'grown-up' bed is essential. For their work space choose a table that can be height adjusted so you can change the chair and keep the table top constant through their growth. Every piece of furniture in this room will be good quality and can be used to go in a grown-up room, so therefore it's more timeless.
4. Storage is Essential: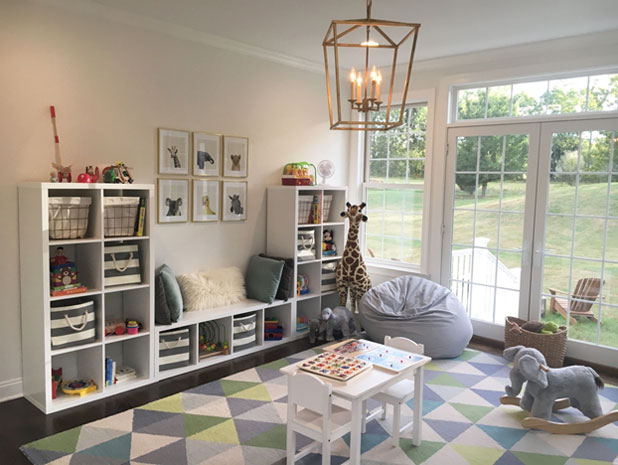 Providing ample storage for little knickknacks such as toys and books is important. This will be a necessity that will be used for many years to come. Consider ways to integrate cleanliness into their bedroom, with ample storage. This gives them a place to store their things, whilst keeping the room tidy.
Multifunctional furniture is ideal, especially when looking to transition a room from a space that is fit for a baby and later a child. Think of a dresser that may be fitted with a changing station, which can be used for diaper and changing storage, later transitioning into a clothes drawer.
Don't be afraid to talk to your children about which decisions you will make and which choice they will have a say in, this clears up any future confusion. Talking about things will help make the kids feel involved and also give them a sense of ownership and so they will take better care of their room. Your child's bedroom is the area in which they will be spending most of their time, so it's critical that they feel at home in their space.
Image Sources
http://idolza.com/a/f/e/easy-teen-room-decor-ideas-for-girls-cool-diy-photo-and-nautical-boy-bedroom-decorations-modern-home-decorators-collection-coupon_decorating-a-girls-room_ideas-for-apartment-decor-desi.jpg
https://cdn.freshome.com/wp-content/uploads/2016/09/kids-rooms-neutral1.png
https://decoratw.com/wp-content/uploads/2018/03/childrens-furniture-8.jpg
https://in.pinterest.com/pin/404901822743583049/?lp=true
Ar. Mrudula Reddy
Master of Landscape Architecture