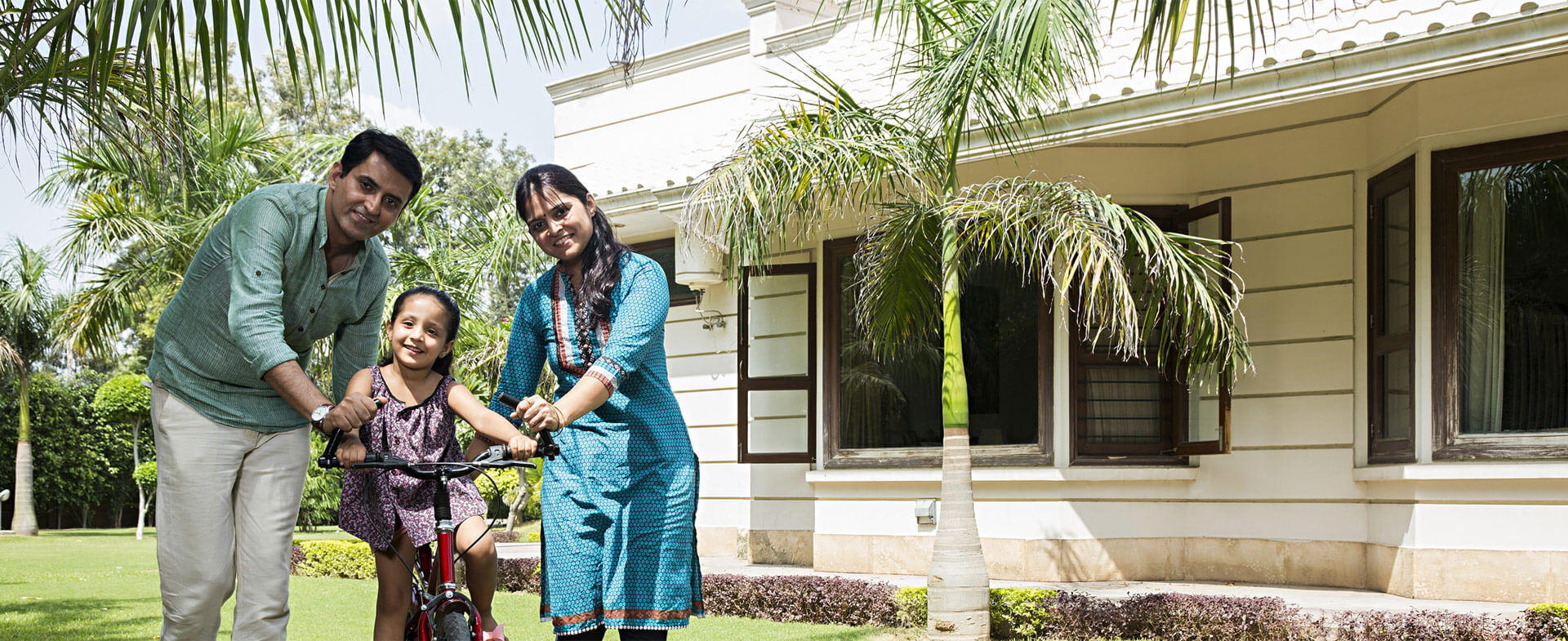 Your dream home should last for generations

use the best quality Cement.
Mastering that Moroccan Mood
Moroccan-style home décor is one of the most popular interior design trends this season. This trend is all about embracing rich, exotic, bold look and patterns. Cultivate the feel of this style in your own home with bold new additions, which fit your style and taste to experience your own slice of Morocco. This trend takes its roots from a wide range of cultural influences. Read on to find out how you can foray into Moroccan décor and modern furnishings.
1. Colours, patterns and textures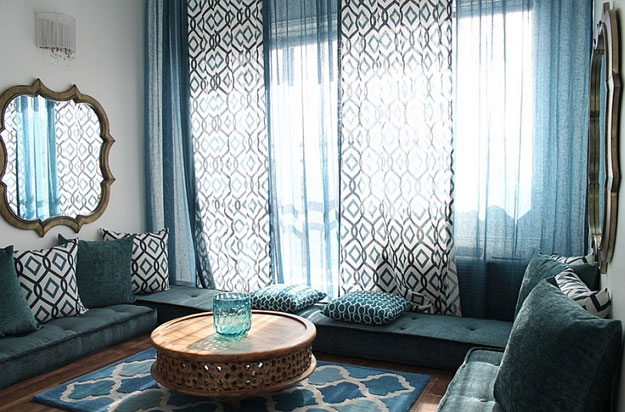 At the heart of Moroccan design are a range of bold colours, vivid patterns and intense textures. There are modern interpretations of Moroccan décor that makes this trend more design compatible today. Layering is the key mastering this look: be it colour on colour, or pattern on pattern, you can mix and match furnishings to reflect Moroccan culture while staying true to your own personality.
Colour, specifically, is an important factor in achieving this look, along with patterns, both prominent and intricate to add visual interest. Intense colours are the key here: Jewel tones like blues and deep greens are commonly utilised in Moroccan interior accents. These colours and patterns with textures lead to the depth and richness closely associated with this style. Consider combining textures with drapes and other tapestries along your space to add to the look.
Here is a great example of a single-colour Moroccan design, albeit mixing patterns and textures, to achieve a rich robust feel.
2. Accents that agree with one another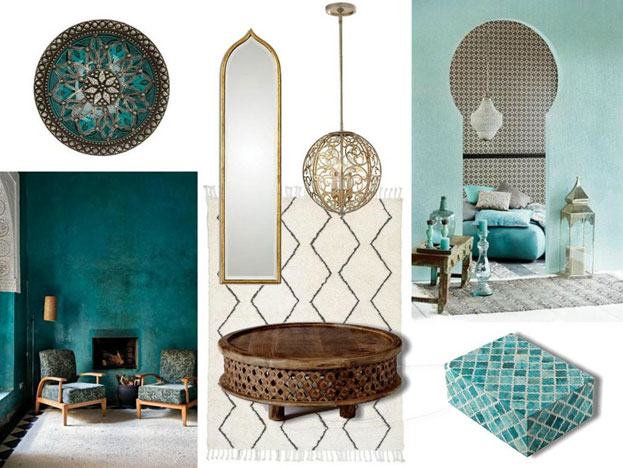 If accessorising is your cup of tea, then Moroccan interiors are for you. The myriad of choices for doing up your space with flare are endless. Don't restrict yourself to big statement pieces, and don't underestimate the power of a few small pieces in conjunction with bigger pieces to change up your décor.
Lanterns are quintessentially the most Moroccan décor elements. Usually made out of brass or other metal, these lanterns are very detailed and intricate, with a jaali type pattern highlighted with rich-coloured stained glass detailing. Another accessory that goes hand in hand with this theme is mirrors. Intricately designed metal mirrors with dome shaped frames, not only open up a space but create warmth by subtly reflecting light around the room.
3. Textile talk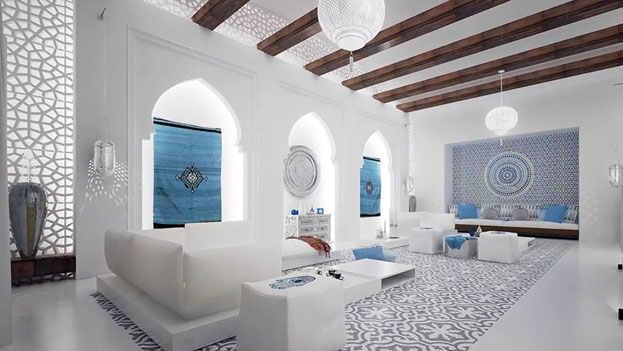 For eons, Moroccan rugs have been filled with symbolism in their intricate handiwork. Today, they can instantly add depth to any room. Use rugs as a starting point to anchor your theme through a colour or a color scheme.
Wall hung tapestries are also synonymous with Moroccan design. Tapestries, combined with rugs, can balance each other by adorning your space both vertically and horizontally. A traditional Moroccan design rug may set you back quite a bit as far as budget is concerned, but are an investment since they set the tone for the space and are often the most essential part of setting up a room, especially a living room.
When you're looking into textiles and Moroccan design, you would think adding curtains with patterns might make sense. This is not the case: When you have an overwhelming amount of patterns, make sure you keep the curtains simple. At best, you can add a detailed curtain tie or curtain rings in keeping with the theme to embellish. Additionally, pillows and throws which speak to your colour palette with tassels are also an option in the textile department.
4. Lighting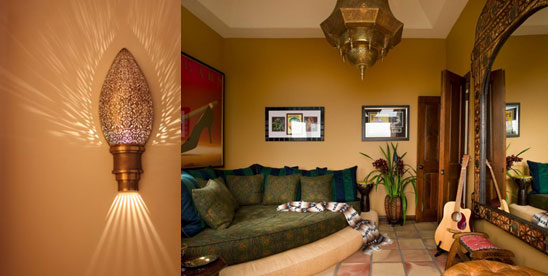 Lighting is a major Moroccan interior element. An effective, Moroccan-driven lighting solution can be used throughout the house. Hanging lanterns as well as table-top lamps are a great way to jazz up any space. Choosing a central theme for hanging lights, with stained glass detailing, will add an extra layer to your ambience.
Layering lights, especially hanging lights, are a huge nod towards the minimalistic Moroccan style. Balance this bold statement with wallpaper that also complements the accessories as light bounces off their surfaces. Table top lamps that have metal work with great detail can brighten up any dull corners of a room. A beautiful layer to add to coloured lighting is jaali lighting, which casts intricate patterned light and shadows onto walls.
Image Sources
Image source: https://blvd13.com/wp-content/uploads/2017/12/5.jpg
Image source: https://blog.sampleboard.com/wp-content/uploads/2017/04/Trend-Alert-MoroccanInspired-Interiors-1024x768.jpg
Image source: https://i.ytimg.com/vi/JI38wKMcxLY/maxresdefault.jpg
Image source: http://iscsisantarget.com/i/2017/03/inspiring-moroccan-bedroom-design-ideas-lighting-living-room-interiors-decorating-pictures-dining-uk-themed-pinterest-1024x768.jpeg
Ar. Mrudula Reddy
Master of Landscape Architecture