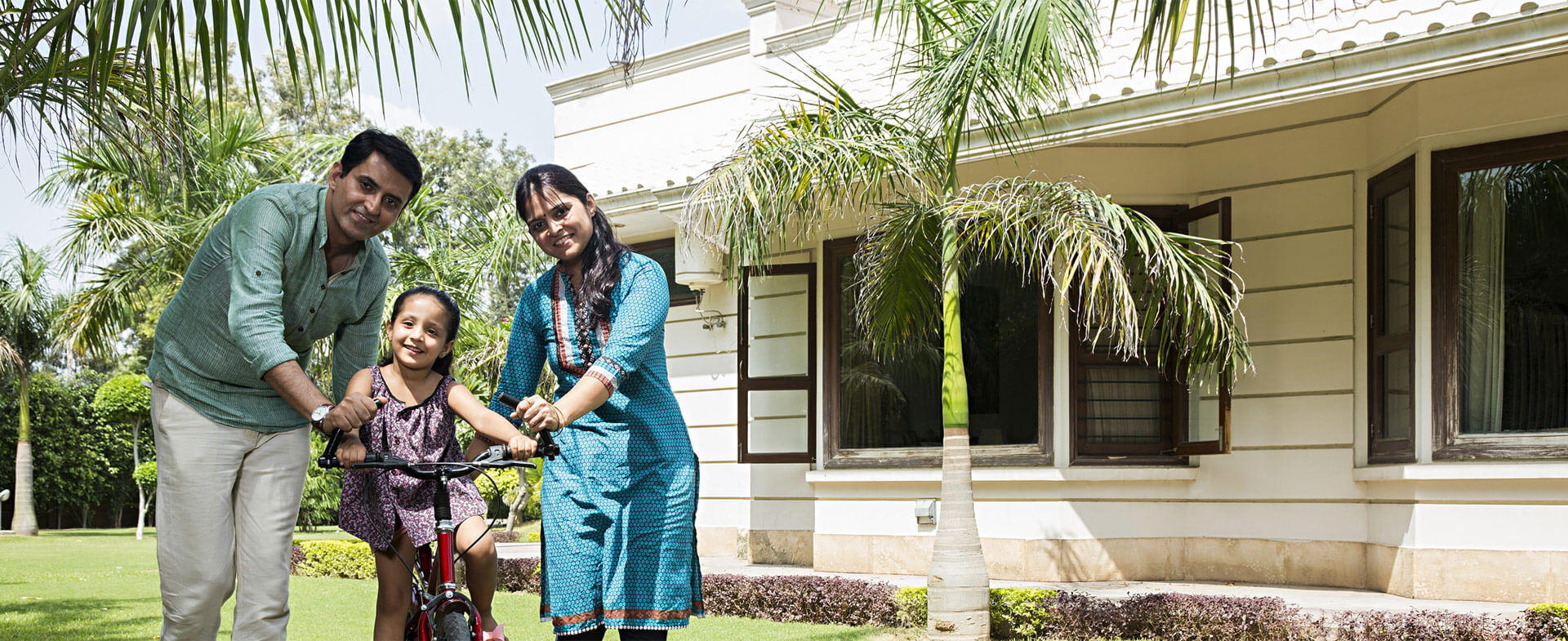 Your dream home should last for generations

use the best quality Cement.
Skylights- Maximize natural light in your home
A skylight is a feature that makes a major impact in both interior design and exterior design. Skylights are energy efficient design elements that use natural daylight to illuminate a space, and, therefore, also save energy, which is always a bonus!
Skylights increase the utility of internal spaces that are poorly lit or require artificial lighting and ventilation. Due to their placement, a skylight can allow three times more light than a vertically placed regular-sized window. You can enhance dimly lit spaces by simply letting natural light shine into that space. Here is a massive skylight, accented with a glass stained pattern that lets light shine in beautifully along with the patterned silhouette that creates a striking impression.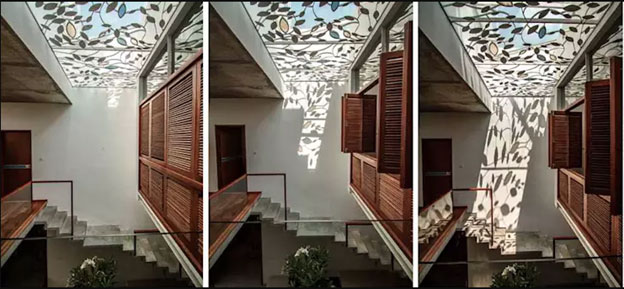 1. Location, location, location!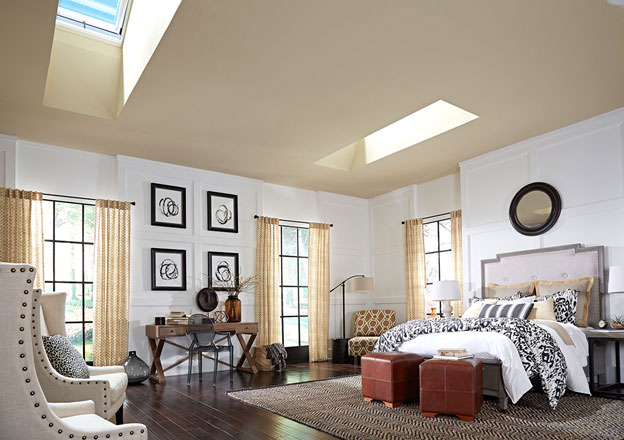 A skylight may seem like a feature dependent on the light required in a space, but the light is itself dependent on the direction of the natural light and location. Choosing the best place, especially if your skylight is completely on the roof, is critical.
North: This direction has the coolest colour temperature and can produce the most light, even in indirect sunlight, in comparison to the rest of the directions.
East: This is usually intense light that is produced by the morning rising sun, but will be slightly cooler with time, although not as cool as the North direction skylight.
South: The light produced in this direction is the brightest and most intense, with potential to overheat your spaces. Making a window that is glazed or curtain operable can curb this issue.
West: Similar to the south, this directional light is prone to being intense and therefore hot. Later in the day, however, it does cool down. This direction should also be covered with operable curtains to avoid heat.
Regions with intense weather conditions, such as ours with respect to heat, should be wary when choosing the location for their skylights to avoid over-heating a space.
2. Treatments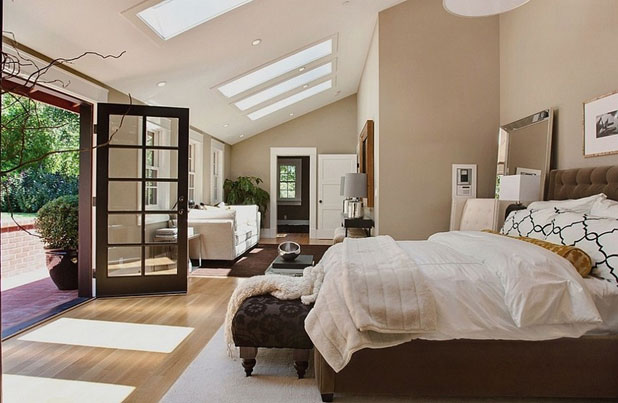 Skylights are typically made of glass, acrylic or glazed molded units. Additionally, the topcoat glazing may be clear, tinted, polycarbonate or glass. They may also be non-vented, fixed, or even operable. But, most times in certain situations in interior design, the owner may not have the choice of orientation. In such cases, skylights have options of being built in whilst having shades which are remotely operated. Skylights in all orientations can benefit from these shades to always maintain control over the amount of light being let through, and to control how much heat exists in a space.
When planning for a skylight in a space, consider how it will be integrated with your design and think about the best treatment to reflect the overall ambience of the house: etched glass, stained glass, sand blasted glass or even molded poly sheets. Along with obvious character-adding features such as frames, these treatments are what add character to your skylight and make them symbiotic with the space.
3. Why use a skylight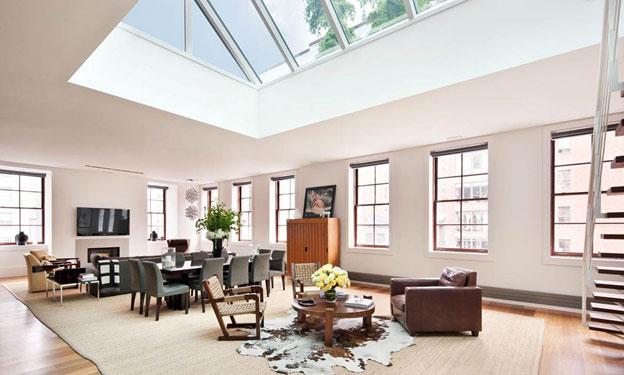 A skylight can illuminate a space, but apart from this attribute, it has several different uses. For starters, its visual potential is essential: light draws us. Long, uninterrupted skylights incite movement between spaces. Skylights can illuminate hallways, and stairways, where the user looks up and gets drawn naturally towards the progression of the light.
You can even use a single skylight to mark high-use areas like, dining table, or island kitchen counter. Usually transitional areas like passages, foyers, landings and hallways tend to be low-lit areas. Therefore, having a few small skylights or one big one can add both light and volume to these spaces. This will automatically set a tone of visual importance to these naturally lit, 'highlighted' spaces. Here in these examples, the key is providing a monumental skylight into the architecture below. The light above should balance the daylight coming in from the sides while emanating from a single direction to provide a visual contrast to draw the people's attention instinctively.
4. How to incorporate a skylight in your space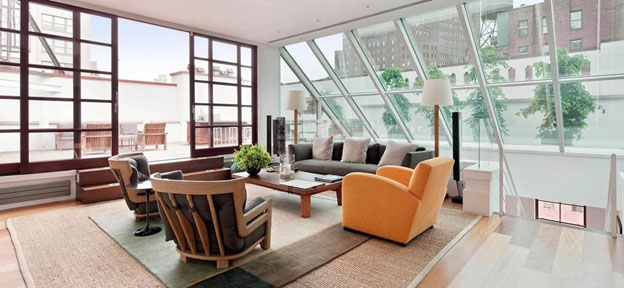 A skylight's location in a room can influence how you experience the space. While a skylight at the centre of a room creates focus, one alongside a wall can be equally dramatic.
There are different styles and designs of skylights; some have blinds, and tints such as those that block UV rays. Choosing the right treatment for the right place and space is essential.
Knowing where your house is the darkest is another way to know where you can place skylights correctly. As mentioned above, the sun and its position is important to make sure the placements are architecturally effective.
Having your windows covered maintains privacy whilst having rooftop openings allows in natural light along with a change in scenery.
Skylights can be aligned with your home's symmetry or angled, but avoid placing the street view when you want skylights in your space but your floor isn't the top-most.
Insist on hiring an architect for guidance on placement. Additionally, be sure to hire a contractor for quality assurance, as skylights are prone to defects if installed incorrectly. This will help you avoid accidents, leaks, and poor design.
Any house is sure to benefit with the addition of this architectural element. Your imagination can bring years of enjoyment of well-lit areas in your home while reducing your carbon footprint with less energy consumption - a win-win situation!
Image Sources
Image source: https://images.homify.com/c_fill,f_auto,q_auto:eco,w_740/v1533562860/p/photo/image/2667689/SHADOWS_CREATED_BT_THE_SKYLIGHT.jpg
Image source: http://velcdn.azureedge.net/~/media/marketing/us/img/before-after/bedroom-yellow-ceiling-after
Image source: https://designwork.com.tr/wp-content/uploads/Fabulous-master-bedroom-with-a-private-deck-and-luxurious-decor.jpg
Image source: http://interiordesign-tips.org/wp-content/uploads/2014/04/Dining-Room-with-skylight.jpg
Image source: http://interiordesign-tips.org/wp-content/uploads/2014/04/Living-Room-design-with-Skylight1.jpg
Ar. Mrudula Reddy
Master of Landscape Architecture