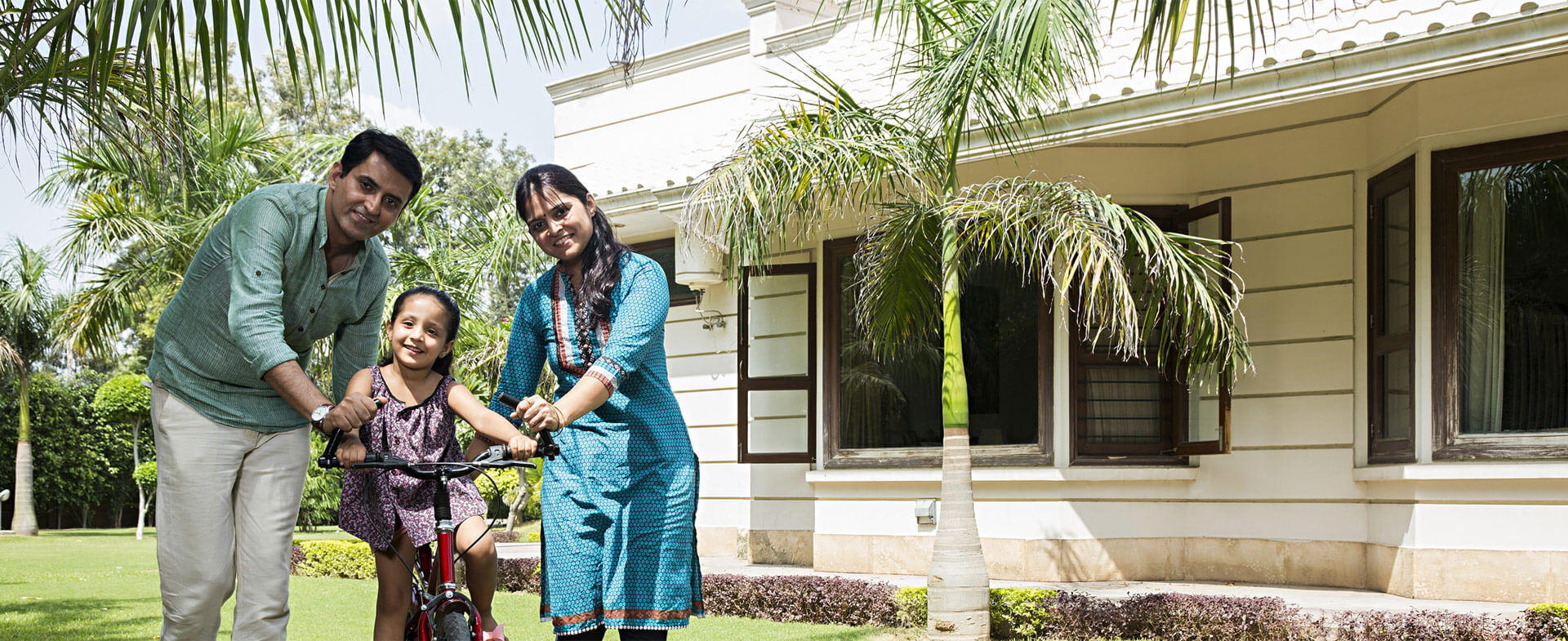 Your dream home should last for generations

use the best quality Cement.
Retro revival- 70's design trends for the modern retro
In recent times, homeowners are becoming more environmentally conscious resulting in a change in their choice of interiors. More homeowners today are choosing sustainable interiors than ever before. People in general have an overall heightened awareness of their surroundings and where most of their material is sourced from matters to them. What is more, home owners and renovators are using what is available to them. The major recession that took place in the past decade had a heavy impact on the West. This combined with political and social changes has resulted in more people being aware of the effects of over-consumerism. Now, this conscious awareness along with the trendy earthy tones of mustards, tans, ochres and browns gave rise to a resurgence of the interior styles from the 70's and 80's.
But the 1970's style is rarely associated with 'good taste' or 'great style'. Unfortunately, this decade is known as "the decade that taste forgot". So how do we take these technicolour inspired design schemes that dominated almost two decades ago and bring it into 2020? There is a great in-between space, between the full-fledged clash that is the retro style and the clean lines that the recent years are embracing. Without even realising it, we are here amidst a full on 70's revival and here is how we make that work in our interiors.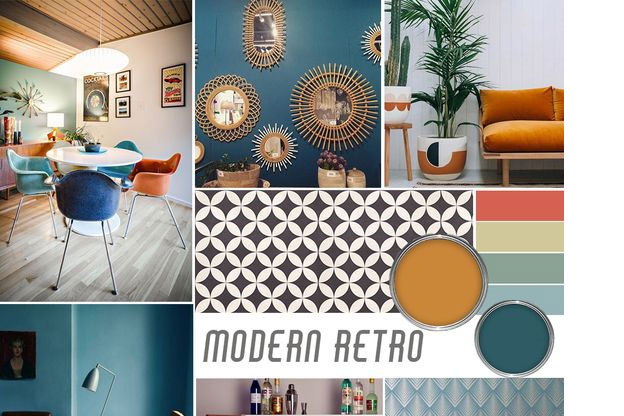 The 1970's:
This era is by far the most controversial of all the decades for its design and taste. Words like garish, tacky and kitsch were used to sum up the strong colours and patterns used.
Let's understand this era first by capturing the colour palette. Unlike the cool minimalistic trends popular in recent years, the 70's is all about mustard yellows, olive greens, chocolate browns, camel, caramels, creams and block colours for pop. These colours were layered with bold graphic patterns, twists and loops, hexagons, chevrons and other bold patterns that catch the eye.
The patterns and colours aside, the 70's had terrazzo which is colourful material made out of stone chips as well as rattan and macramé, etc. This decade has two distinct styles, boho hippie style as well as glitzy disco vibes, both of which you can work into your home with ease.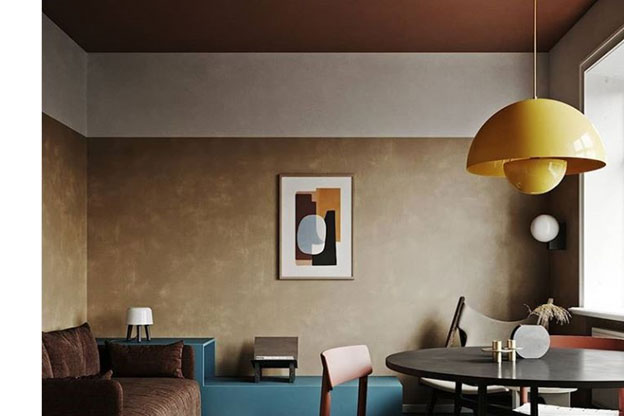 Authenticity and personality:
Since the 70's were in recession, people were very aware of consumerism. This as a result made them reuse and upcycle rather than always buying new things to populate their space. This fits in so well in today's world were authenticity is key and eco-consciousness has made people understand their part to play in protecting the environment. There are options available for you to go and buy vintage pieces and secondhand restored pieces of furniture and original pieces that cannot be replicated. And in the time of mass produced Ikea and consumer driven interior design stores, this is a welcome relief and departure from the norm.
After all, it was rare for a whole household to switch all its elements from years leading up to the 70's so you can add in some older lighting pieces like the industrial lighting pieces in the photo. This trend is not about pleasing an architectural magazine aesthetic but rather an eclectic mix that makes you; the homeowner, proud.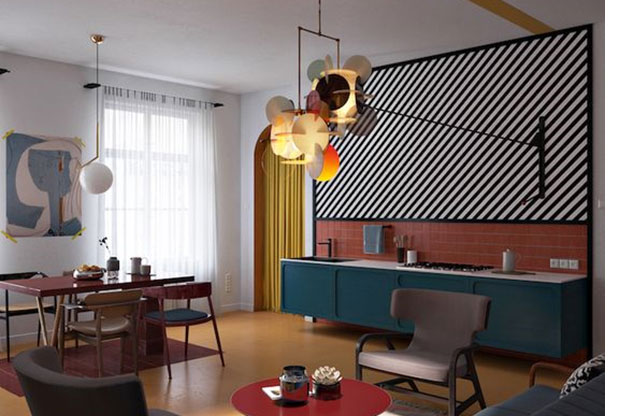 Colour and Pattern:
There is no decade more synonymous with bold splashes of colour and clashes of patterns than the 70's. In recent years, designers are embracing colour and chevron prints which are a huge throwback to the 70's. Geometric patterns, which are still going strong today, are a real popular aspect of the 70's. Romantic patterns such as florals are a big part as well as bright pops of colour that go alongside these patterns.
Next, we have ombréwithin patterns and the ever popular highlight of the 70's, the tie-dye. Wallpaper is a great way to experiment with bolder colours and patterns which would be hard to commit too otherwise. Patterns are in, bold splashes of colour alongside modern geometric designs and botanicals (another name for florals) are the tastemakers of this era's design. All these elements set the right tone of happy hues to counterbalance the gloomy economic climate of the 70's.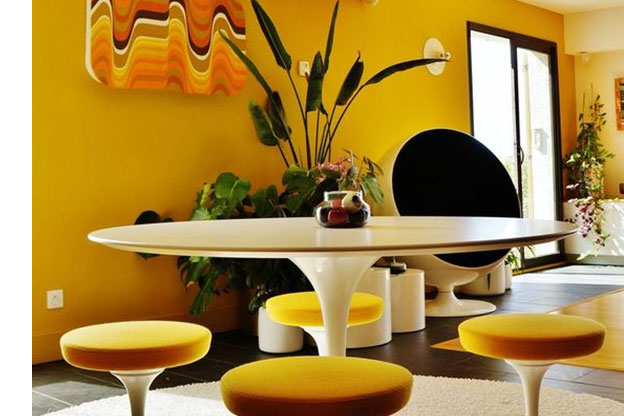 Accessories:
When it comes to accessories, the bolder the better! Experiment with bold splashes of colour and clashes of patterns that ruled in the 70's. Faux furs, macramé, velvets, you name it, the 70's has it. Try a macramé wall hanging over your bed or as part of a gallery wall. Cream coloured shag rugs are definitely in. Rattan is a defining style in the 70's. Don't overdo the rattan, but a standout piece can set your living room apart from the rest.
Let's not forget the signature motif of the 70's which has recently made a comeback in home decor. Palm leaves in gold and copper are great to use in most embellishments. Macramé knotting was very popular and this can be used in furnishings, wall hangings and it is very affordable compared to most accessories nowadays. Since they are less of an investment piece, you can go ahead and experiment with them as over the bed hanging and other surprising places like plant pot wraps. If colours are the heart of this trend then accessories are the soul. Both are a must.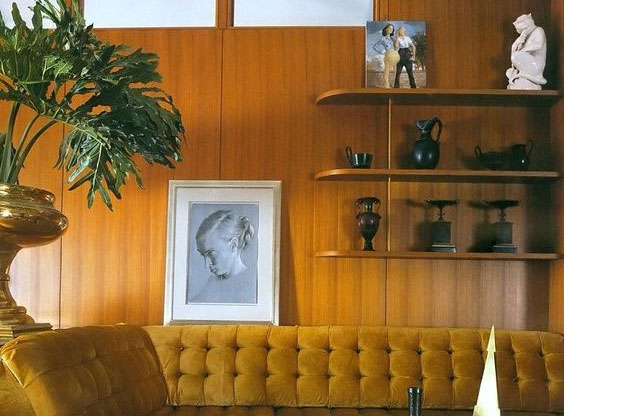 It's all about you. There is a resurgence of the 70's design aesthetic in a big way and it is pretty hard to ignore. The bold bright colours and the in your face patterns may be over the top for most but in the current trend scope of minimalists and clean design, this trend is sure to stand out. It is definitely not for the faint of heart and maybe this doesn't have the staying power that most neutral trends do, but overall what's not to love about injecting bold personality while still having some sense of environmental responsibility?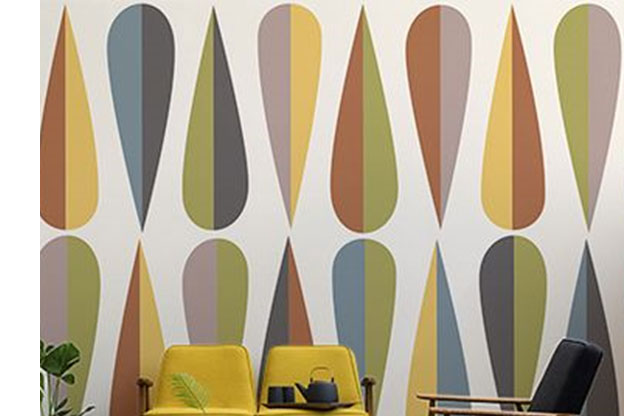 Image Source
Image source:https://i.pinimg.com/564x/21/d8/c9/21d8c912f51c814fa71d2f0a8f6d5150.jpg
Image source: https://www.instagram.com/p/Buw5uvnFm-G/
Image source: https://in.pinterest.com/pin/574771971190690954/
Image source: https://i.pinimg.com/564x/78/ac/02/78ac028f8e4d19c8035438198b44a491.jpg
Image source: https://i.pinimg.com/564x/45/9e/10/459e107bc9ce2c4184dceba68c319f09.jpg
Image source: https://i.pinimg.com/564x/23/3c/cf/233ccfdf394a4bfea9d4b6c590a37af8.jpg
Ar. Mrudula Reddy
Master of Landscape Architecture