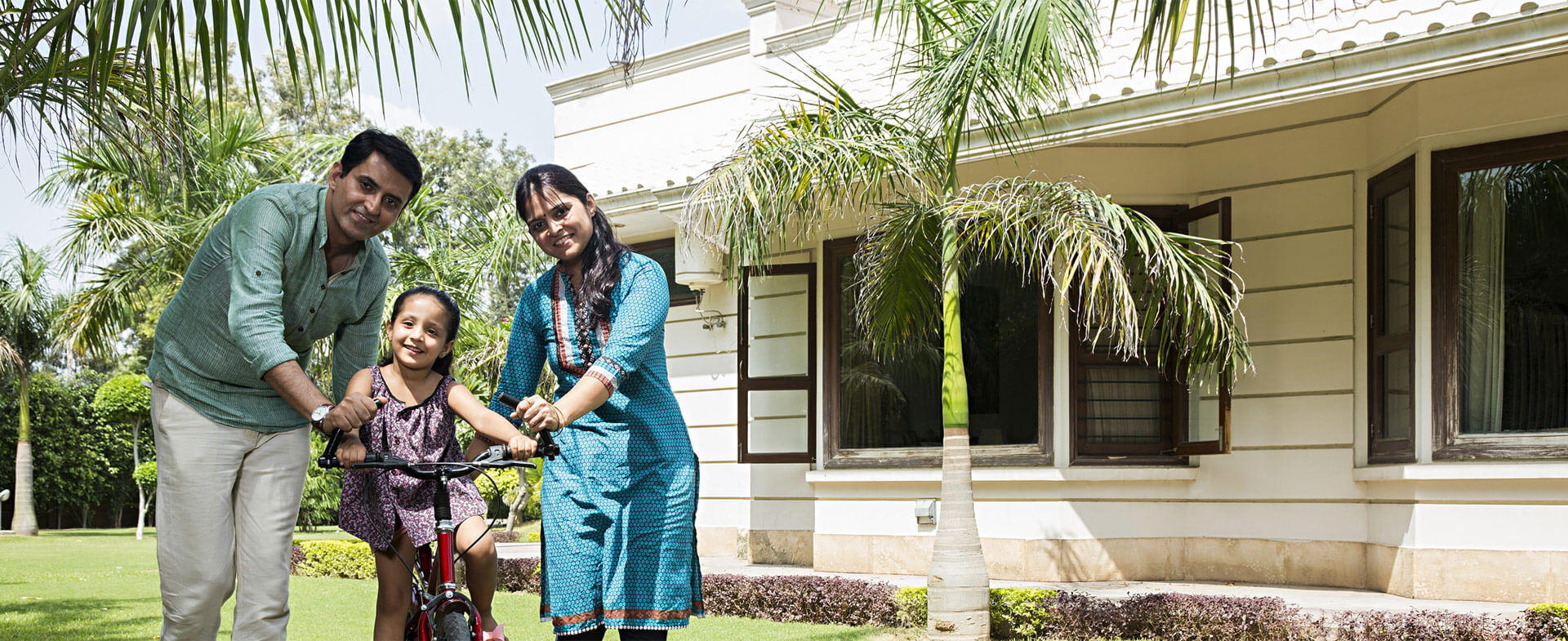 Your dream home should last for generations

use the best quality Cement.
Terrazzo after half a millennium!
'Terrazzo' is an Italian word used to describe flooring. Terrazzo flooring is the characteristic marble flooring seen in Venetian houses. Terrazzo first originated in Italy over 500 years ago. It is a sustainable material; the composite material consists of chipped marble and other stone that is set into cement. Once set, the surface is polished to a smooth finish.
Originally meant as a low-cost option for the poor to have strong flooring in their homes, modern day terrazzo is denser and more design conscious than its predecessor. Now, terrazzo takes center stage with flamboyant combinations of marble and other colorful stone. Using marble, quartz or glass chips, it is currently both, on trend and timeless. One of the hottest design and décor trends at the moment is using terrazzo for surfaces inside homes, such as walls, floors, and furniture.
1. Passing fad?
The principles of sustainability are key in the making of terrazzo. Essentially, terrazzo acts as combination of design elegance and sustainability. Recycling chipped stone, and adding your personality to it is what makes terrazzo something that will transcend generations as it already did, by enduring the better part of a millennium. Terrazzo colours from bold to soft greys and neutral tones, make a bold statement by bringing the old back to life.
Although the base material for terrazzo will often be concrete, the rest can be up to 80% recycled material. Increasingly, this adds to the versatility of terrazzo, which is key to its success; it can be styled in an understated monochrome or with bright pops of colour in a minimalist or maximalist fashion.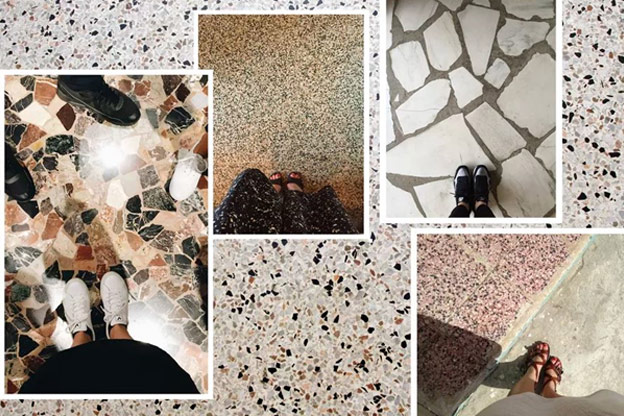 2. Mix to match
Since terrazzo comes in all sorts of shades and designs, you can shop around for the colour scheme that will enhance your space. Terrazzo doesn't need to stay traditional: you can use concrete to seal in a particular coloured marble chip, or take it a step further and submerge the marble chip in epoxy- resin for an entirely different look. With new technology, you can downplay terrazzo to suit your taste, using glass, pearl, or any other stone chips.
While traditional terrazzo is a mix of very small fragments, today one can use large and less dense fragments to create a greater visual impact.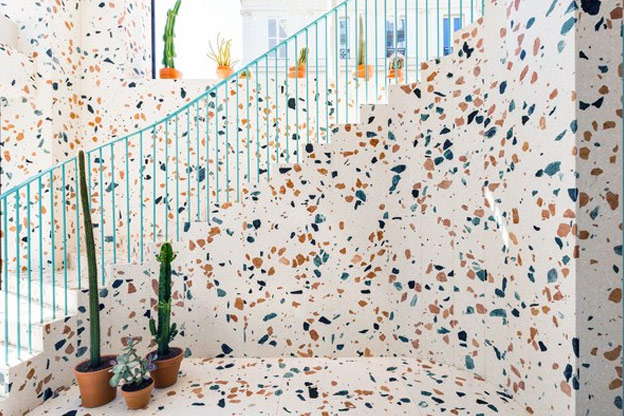 3. Use anywhere!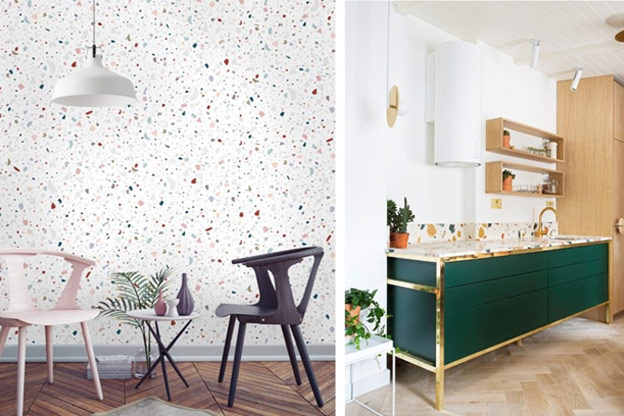 Advances in engineering mean that terrazzo is no longer limited to floors or walls. Terrazzo provides lots of options for customization, and that means that the material as a whole will survive through the ages. Today, terrazzo is also a colorful option for countertops and bathroom cubicles. Some designers have even opted to go with floor-to-ceiling terrazzo in bathrooms for a one-of-a-kind style.
Additionally, some wallpaper manufacturers have created wall patterns that mimic the original terrazzo for a quick application, low cost alternative. The beauty of terrazzo is that it can look like anything, from subtle white to bright reds. Don't think that a feature like this needs a huge stage, everything is pulled together with a well thought-out palette.
4. Accessories are your friend
A low-commitment manner in which to incorporate terrazzo into your home is through accessorising.
There are many choices popping up in lighting designs, in both the bases of table and floor lamps, or the shades of pendant lights. Terrazzo prints are also extended to throw pillows, totes, bedding and along with other textiles.
Go with an all-around toned -own style and jazz it up with a bold terrazzo standing light, or even use terrazzo printed fabric on your furniture and curtains. Making a bold statement without actually committing to the longevity of any trend makes accessorising an enjoyable way to spruce up your home. An eclectic mix is one full of fun and classic designs that have stood the test of time along with the occasional trendy must-have item that you spot in your favourite magazine.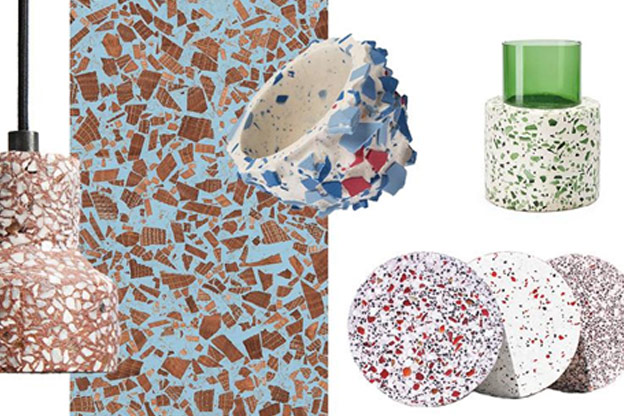 Bring back the traditional Venetian technique of terrazzo into the modern era with flare and thorough thought. As much as trends change and your tastes develop, your home is a sanctuary that should reflect the best of you. If it was good enough for 15th Century Venetians, then it's good enough for our modern homes.
Image Sources
Image source: https://cdn.vox-cdn.com/thumbor/fYSGhZE430neCoWq3SVcDQA-giM=/0x0:3504x2336/920x0/filters:focal(0x0:3504x2336):format(webp)/cdn.vox-cdn.com/uploads/chorus_asset/file/11526953/Terrazzo_6_GettyImages_157424852_.jpg
Image source: https://media.architecturaldigest.com/photos/5a9829da891f6e6a41b1222d/4:3/w_600/Maison-Kitsune-Nicolas-Dorval-Bory-1.jpg
Image source: http://www.reedexpoafrica.co.za/decorexblog/wp-content/uploads/sites/10/2018/07/Picture1-1024x671.jpg
Image source: https://cdn.shopify.com/s/files/1/2324/0401/files/Warehouse_Home_Trending_Terrazzo_5_of_the_best_terrazzo_homeware_designs.jpg?v=1517830586
Ar. Mrudula Reddy
Master of Landscape Architecture