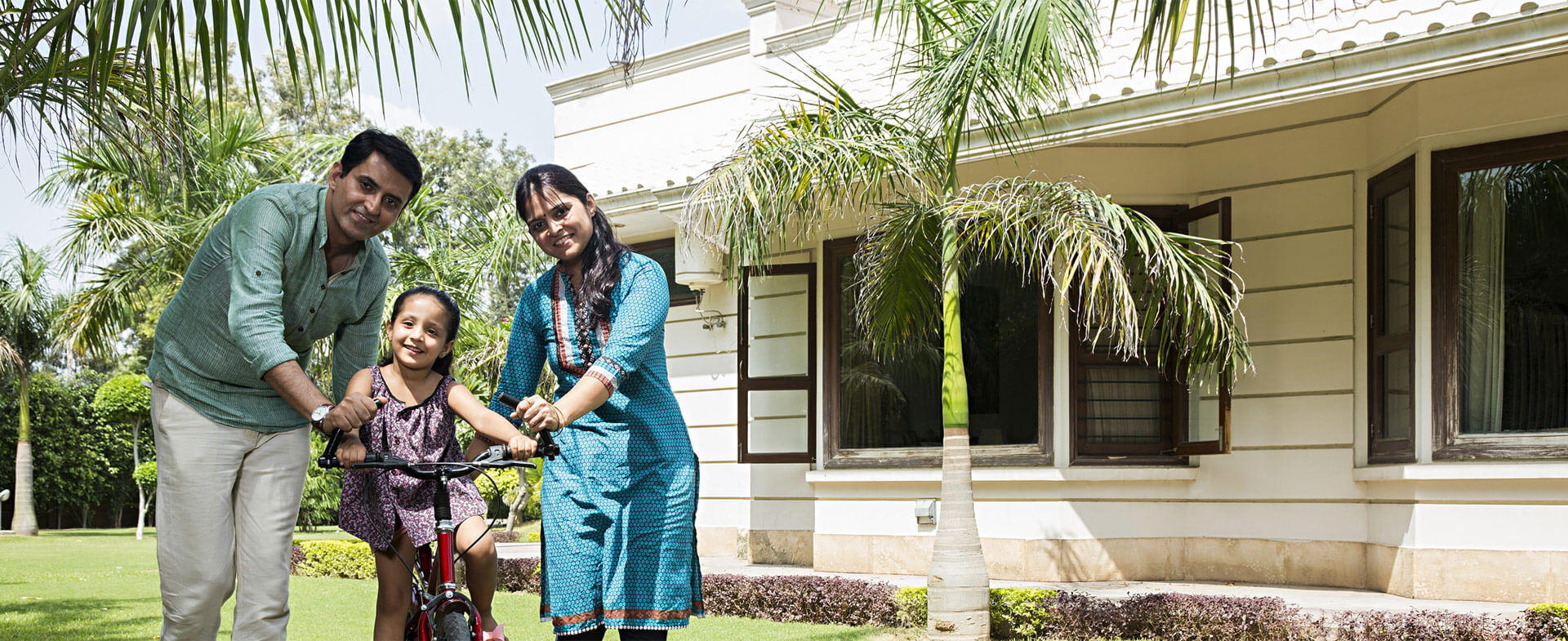 Your dream home should last for generations

use the best quality Cement.
Tips for siblings sharing a bedroom
Many considerations have to be taken into account when planning a bedroom in which children share a space. When the prospect of siblings sharing a room arises, the question becomes, 'How do you make the best choices for the shared room?' Often, the first concern that comes to mind is space. Nowadays, there are plenty of affordable and stylish options for shared rooms that will provide space for both children to peacefully coexist.
With these tips you can keep in mind the needs of each of your children, along with their individual interests and activities.
1. Bedding arrangement
Placing beds next to each other: Twin beds take up a lot of space in a room. But if you have the space to spare, using a bed with a divider in-between with a common headboard is a great way to make the room look well thought out.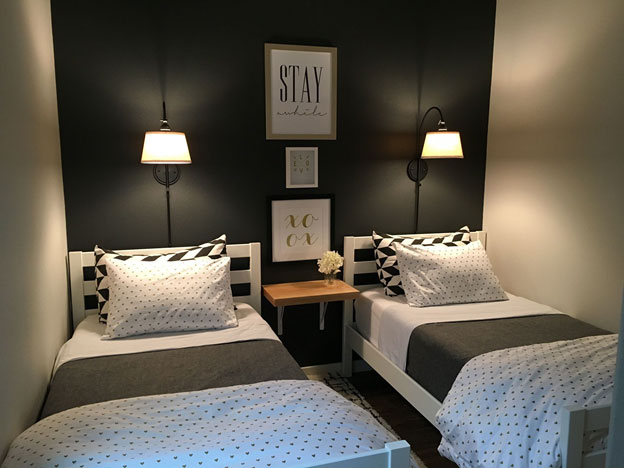 Bunk beds: An advantage of bunk beds is that they take up exactly half of the space of individual beds. Bunk beds are a great arrangement if one of the kids clearly prefers the top bunk and if you are short on space. That said, bunk beds have a tendency to look outdated quickly and are thus not a long-term bedding solution. Also, with ceiling fans being a must in Indian houses, safety is a big factor with respect to the upper bunk.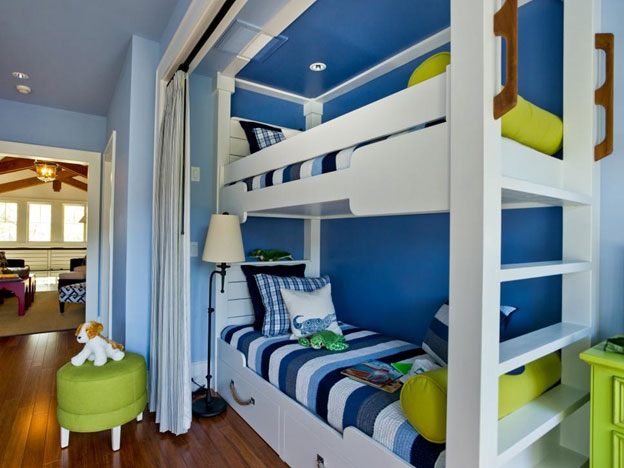 TAt L-shape arrangement: By placing two single beds against a wall each lengthwise, this setup gives both the children their own corner of the room creating a sense of ownership and individuality. Each child gets their own bed without compromising space.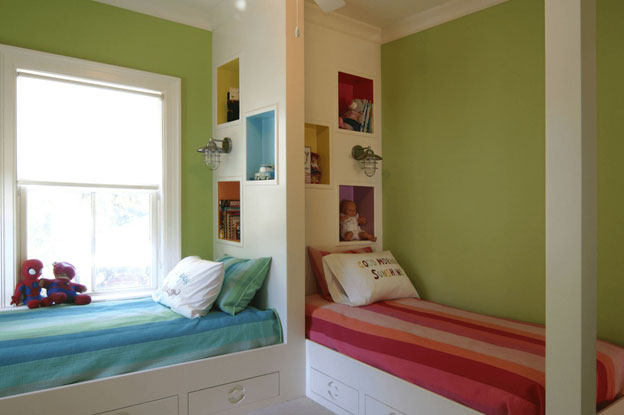 2. Colour palette
In a shared bedroom, the colour palette becomes an essential aspect of consideration. Nowadays, nurseries are not given the 'standard' blue and pink colours anymore. Gender-neutral colours are the emerging new standard for children's rooms. Thus, letting your children weigh in on the colour selection process is important. You can look at greys, or whites, or even a bold yellow which is both gender-neutral and a statement colour. Other than that, accompanying accents can be personalised, including hanging alphabets initials for each child's name. A neutral palette is a perfect canvas for a shared bedroom for a brother and sister and for their growing tastes and needs. Play it safe with all white furniture and add bursts of colour with the rugs, linens, and artwork.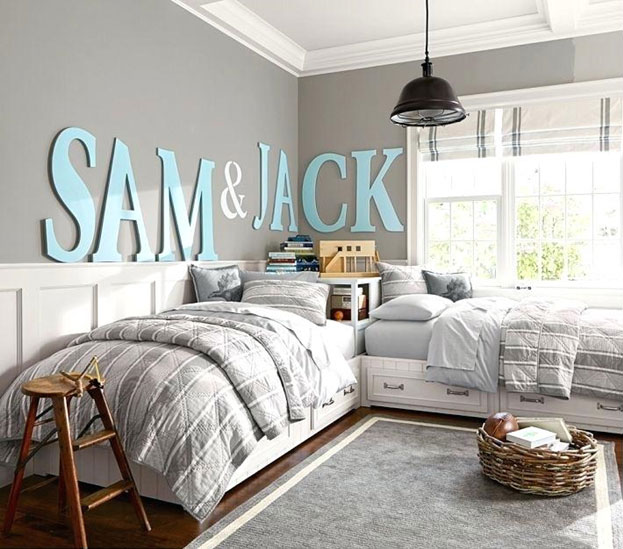 3. Get creative
When there is a scarcity of space, you need to start giving all your furniture dual functionality. If a single wardrobe is to be shared between the children, consider boosting its storage potential with extra hanging rails, shelves, and shoe racks. Each bed has its own storage underneath, which can be compartmentalised for different things like toys, books or even the children's linen. Shelves are your friend: put them on any open wall spaces available, though make sure they are concealable rather than open shelves, to keep the space looking clutter-free. For safety reasons, ensure any tall or heavy furniture should be firmly bracketed to the wall or the floor.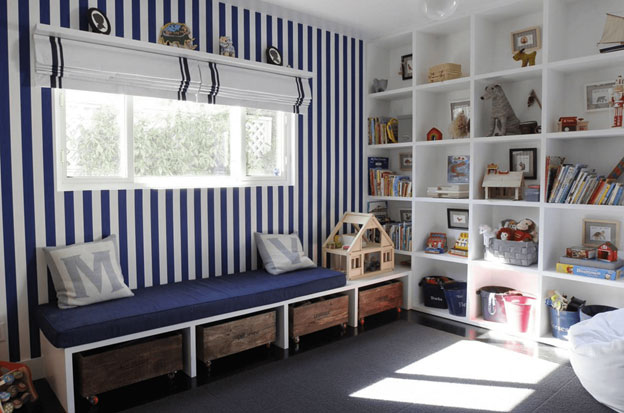 4. Lighting
Lighting is a key, if not the key, aspect of consideration in a shared bedroom. Make sure the ceiling light is on a dimmer so you can easily change the level of brightness in the room. If there are individual study spaces then, make sure there are separate light fixtures which are bright and confined to the desktop. These lights should be individually operable for each child. A bed light which is dim for each bed is also a smart idea if the individual child would like some extra light to feel safer at night. The challenge is to make sure the individually operated lights don't shine onto the other child's space: for instance, one child may be studying while one is napping; any cross-over of light might be disruptive.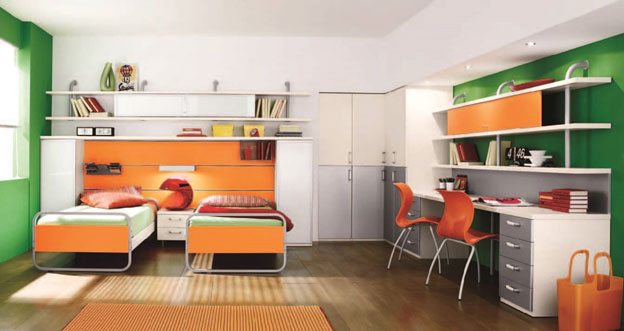 5. Display
In a shared bedroom it's important that each child has an area where they can showcase their collectibles. If there is anything kids enjoy more, it's the sense of accomplishment when they put their work on display. A corkboard or a whiteboard can help each sibling express themselves well (make sure there are different spaces for both siblings). Alternatively, unleash their creativity by letting them have a small space of the wall where they may hang whatever memorabilia appeals to them. Aim to keep the floor as free as possible as it will make the room feel larger.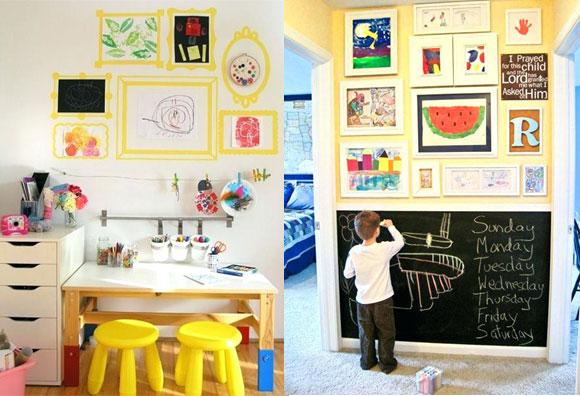 Don't forget to include your children in the process of their room. Their creativity can often lead to surprisingly beautiful results for a shared bedroom. Before you dive into any room sharing arrangement, make sure you plan out spaces and activities. Along with these tips you can expect a harmonious coexistence.
Image Sources
Image source: https://in.pinterest.com/pin/787074472350064603/?lp=true
Image source: https://hgtvhome.sndimg.com/content/dam/images/hgtv/fullset/2012/11/2/2/DH2013_Bunk-Niche-01-Wide-Hero-EPP9082_s4x3.jpg.rend.hgtvcom.966.725.suffix/1400973970429.jpeg
Image source: https://cdn.freshome.com/wp-content/uploads/2016/03/freshome-shared-bedroom-8.png
Image source: http://betweenthepages.club/wp-content/uploads/2017/12/childrens-bedroom-ideas-pinterest-great-idea-to-set-up-twin-beds-shared-bedroom-ideas-great-for-childrens-bedroom-storage-ideas-pinterest.jpg
Image source: https://cdn.freshome.com/wp-content/uploads/2016/03/freshome-shared-bedroom-13.png
Image source: http://jppolitics.info/d/2017/11/bedroom-furniture_bedroom-sets-for-boy_leather_low-profile-side-table_platform_antique-white_wall-unit_extralarge-cherry_california-king-bed_traditional_square_float-shelf-man.jpg
Image source: http://zdrasti.club/wp-content/uploads/2017/09/child-bedroom-art-kids-art-space-updated-child-bedroom-artwork.jpg
Image source: http://123cars.club/wp-content/uploads/2017/12/child-bedroom-art-kids-art-wall-childrens-room-wall-art.jpg
Ar. Mrudula Reddy
Master of Landscape Architecture