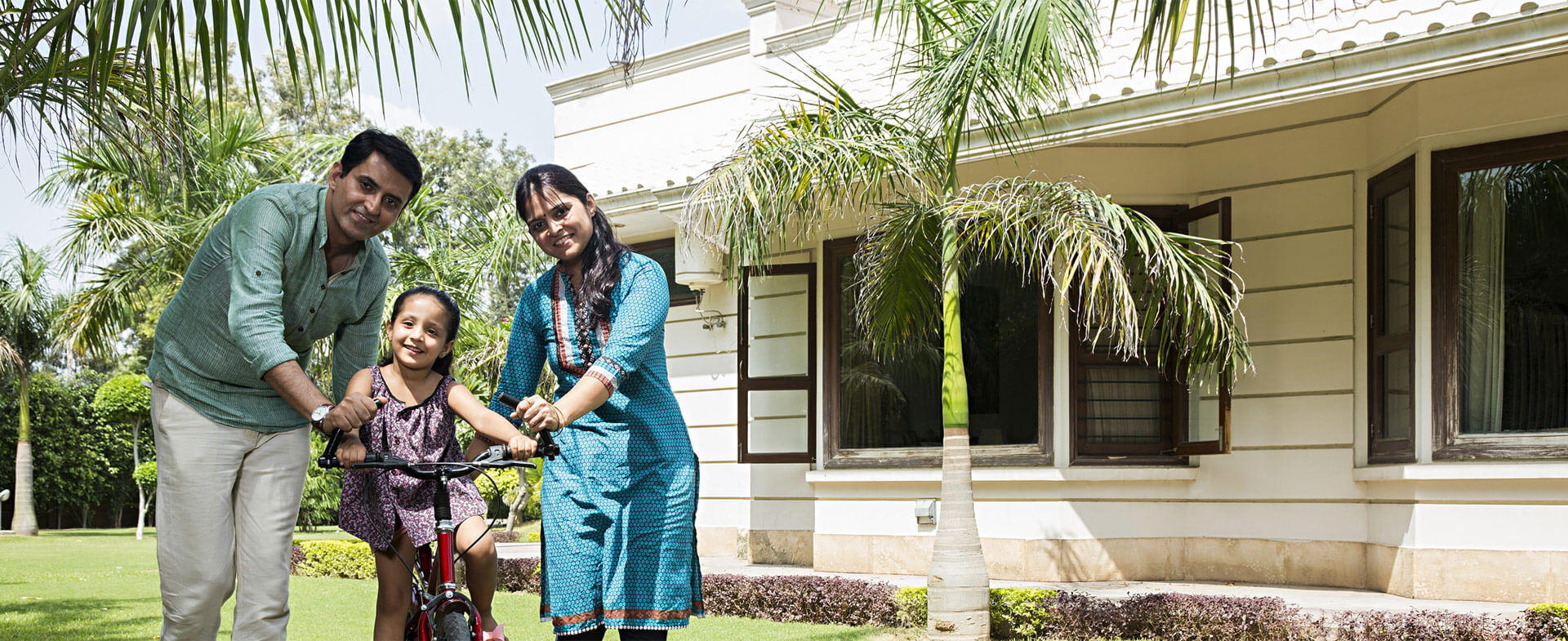 Your dream home should last for generations

use the best quality Cement.
Top mistakes to avoid when designing your Kitchen
Apart from Cooking and Cleaning, a lot of activity takes place in your kitchen. The space can also be used to eat, drink and socialise. To accommodate a functional yet beautiful kitchen is a huge task. An impractical design can make your kitchen difficult to use.
The following are some of the most common kitchen design mistakes that homeowners tend to make while planning their kitchens. Be sure to understand what you need to avoid in order to get the most out of your kitchen space.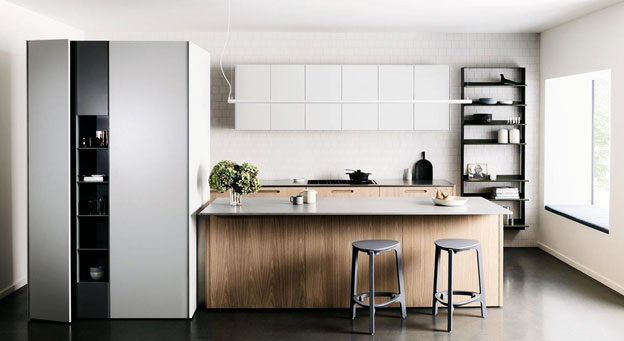 1. Storage vs. Shelving:
Kitchens tend to contain a lot of things; there are items that are not only for consumption, but also for storage and utility. Finding a place for your appliances as well as maintaining different places for the myriad of foods is essential. Built-in appliances are expensive and overall tend to be larger investments that need to be made with forethought and planning. You should make sure that these appliances are in efficient locations with appropriate power supply.
Open shelving is gorgeous, but think about how much you would display and what the maintenance will be with all the open shelves collecting dust. Utilize as much space as possible for storage. A modular kitchen is an important factor to make the kitchen design appear seamless and elegant.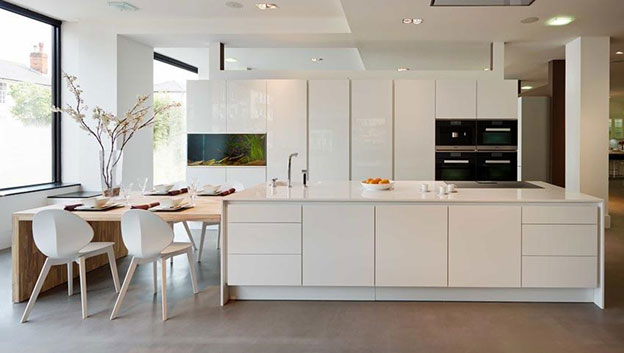 2. Counter top:
Not having enough counter top space can be frustrating and limit the functionality of the kitchen. Good countertops are expensive, but it's a good idea to invest in a good material, such as granite, which does not absorb a lot and leaves the counter easy to clean and maintain. Once the counter space is allocated, make sure you understand how many appliances you have for use on the counter.
Think through where the wet work, i.e. appliance work, wash basin and blenders are to be located. Then place sockets conveniently so that the wires are not obstructing other functions. Also, curtail areas where the dry work is the main function, like cutting vegetables, unloading groceries etc. Keeping these spaces divided is important for the counter to be utilized efficiently.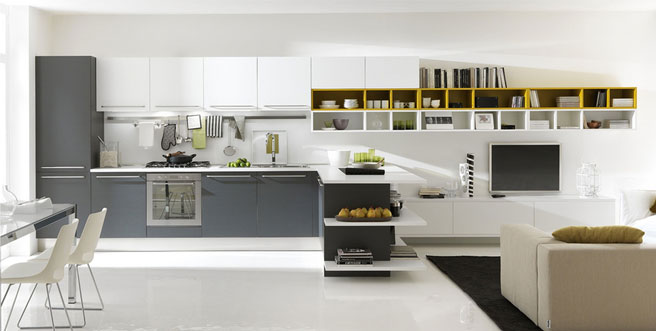 3. Waste management:
Most people do not even consider this as part of kitchen design. However, if you ask anybody who cooks, they are sure to tell you about the amount of organic and other waste produced constantly from all the groceries and food packaging. You should make sure that you have areas for segregated waste, like organic and recyclable.
The waste basket should not be kept where it is visible to all, and also, a part that can be quite tricky to implement, the waste baskets should not be placed without ventilation. Now, modular kitchens have a feature where ventilation slits are placed in cabinets that allow the bin to be placed discreetly yet correctly. A large bin must be placed outside to collect the majority of the waste and a smaller one indoors as well which may be hidden in the built in cabinets.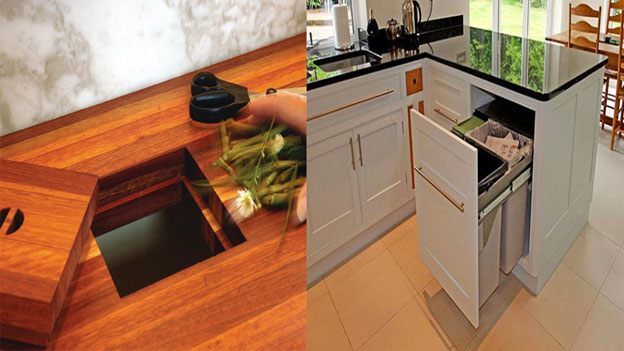 4. Backsplash:
Another overlooked feature which is essential for the functioning of the kitchen is the back splash area. When working together with elements like, water, fire and air, there is bound to be some messiness. In most modular kitchens there are overhead storage shelves as well as counters below. Now that leaves us with space between the countertop and the overhead storage shelves. Covering this entire 'in-between' space may seem like an overkill, but it's highly advised. Leaving any wall exposed may just lead to buildup of grease, especially with Indian cooking.
Cover the surface with something you can wipe clean after use, like a tile. The chimney above the hob may be stainless steel along with your appliances. Keep the backsplash classic with a tile.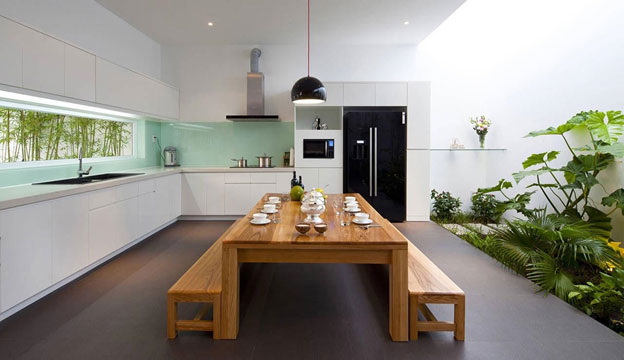 5. Lighting and Ventilation:
Natural light is great in your house, but its needed most in the kitchen where more work that requires concentration takes place. It is better to have well-lit areas with good quality indoor lighting. During the daytime, it would be great if the space was lit naturally through natural sun, but in the evening or even when chopping or cooking, it is advisable to use strong artificial indoor lighting.
Ventilation is an important factor and when it comes to the kitchen, improper ventilation can cause health issues from all the fumes, smoke and gases emitted while cooking. Install a good chimney over the hob that has a good exhaust fan. Also, place windows in the kitchen, it is not necessary to close all the windows to maximise the utility of a kitchen. Well placed windows will help bring in light as well as air ventilation.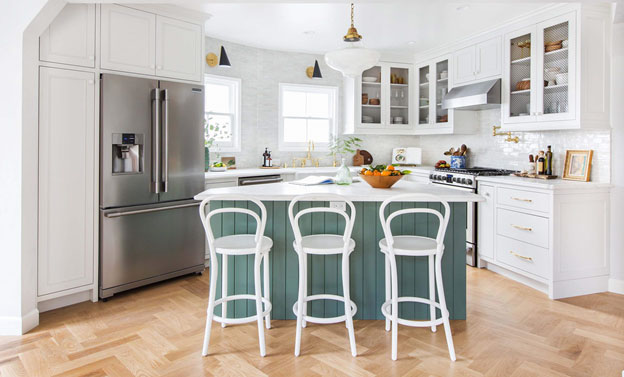 6. Architectural Integrity:
The 'kitchen triangle' is one of the most efficient layouts for your kitchen space. Yes, you need a kitchen that won't looked dated in ten years but functionality, as mentioned before, is key. The kitchen triangle involves spacing the three most used features of your kitchen, which is the sink, the stove and the refrigerator. The layout is to help ease access in between all three while still spacing them out comfortably.
There may be a few variations in the kitchen triangle design, but straying away too much can hurt the efficiency of your kitchen.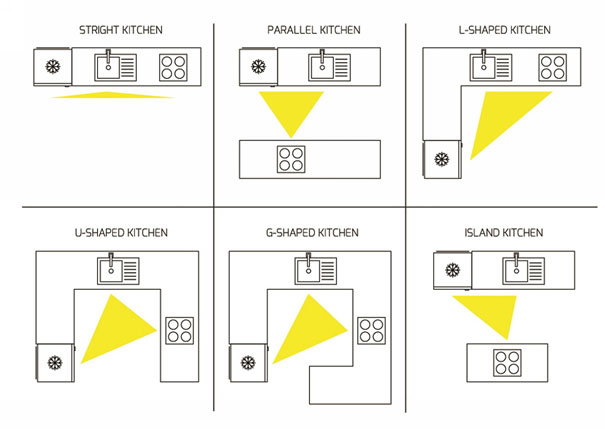 There are important aspects and considerations to make when designing a kitchen. Mistakes can be costly and stressful, and can be avoided with the right planning. Executing it the right way can minimize risk and increase the overall utility of your kitchen.
Image Sources
Image source: https://static1.squarespace.com/static/5a0920a4ccc5c5849eab0709/5a0ab5a5e4966b7f020830c9/5b4fd0fb1ae6cfa99e54f660/1532053095415/Tableau+Kitchen+System+by+Cantilever+DesignOffice+Melbourne+Australia.jpg?format=1500w
Image source: http://www.bazzaark.com/wp-content/uploads/2014/02/KITCHEN-STUDIO-DESIGN.jpg
Image source: http://beraldoleal.com/wp-content/uploads/2017/02/modern-awesome-interior-design-kitchen-with-grey-kitchen-cabinets-and-cozy-living-room.jpg
Image source: https://i.ytimg.com/vi/A05mHtlbG84/maxresdefault.jpg
Image source: http://cdn.home-designing.com/wp-content/uploads/2013/01/glass-backsplash-green.jpg
Image source: https://s3.amazonaws.com/sbeh-media-bucket/2016/12/Emily-Henderson_Frigidaire_Kitchen-Reveal_Waverly_English-Modern_Edited-Beams_121.jpg
Image source: https://weizter.co.za/images/Weizter-The_work_triangle-2.jpg
Ar. Mrudula Reddy
Master of Landscape Architecture