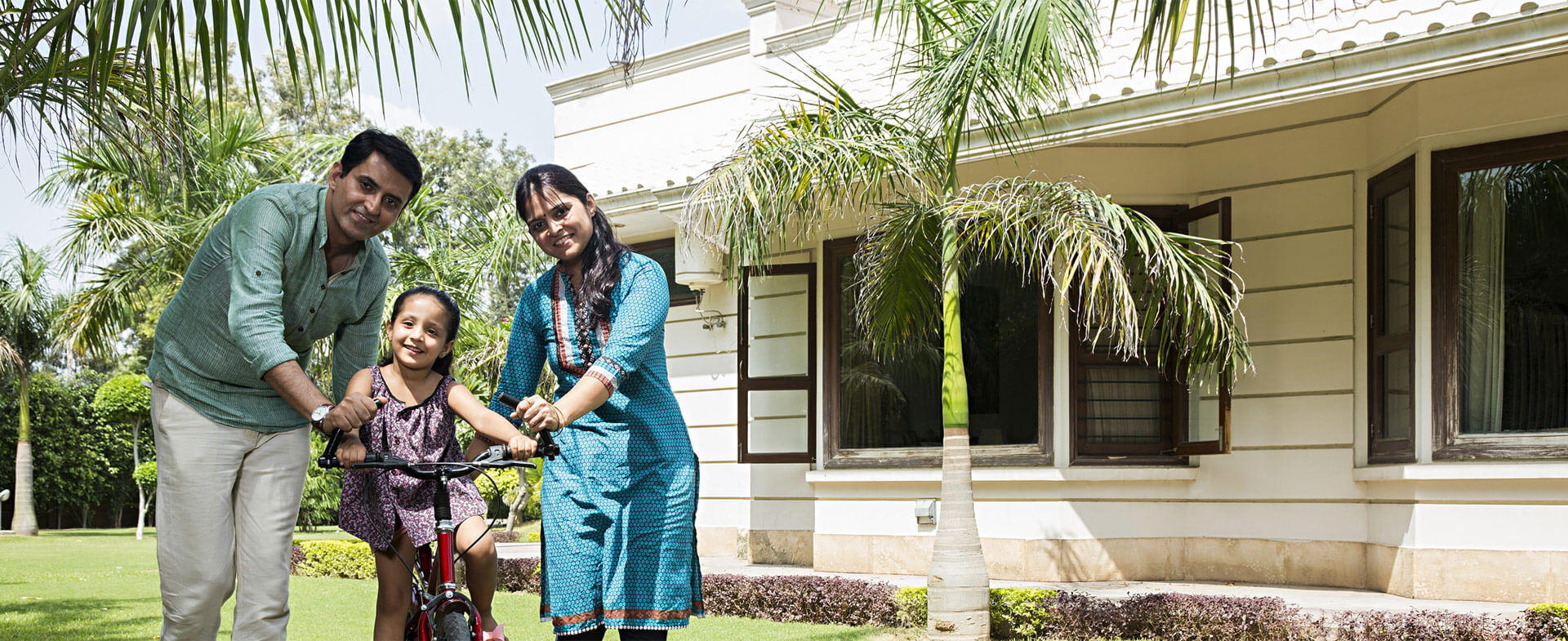 Your dream home should last for generations

use the best quality Cement.
Turn your Powder room from ordinary to extraordinary
Typically, we pay attention to all the spaces in our house or apartment, and design them to reflect our style. But when it comes to the smallest space in the house, the powder room, we overlook a design opportunity. The powder room is what your guests use and what creates an impression on them when they come over for a visit. So it is important to treat this space with a design flare to make this room shine as well.
First things first, don't treat your powder room like it is a bathroom; usually powder rooms tend to remain dry and sparingly used. You need to design a space that creates a great first impression. Here we discuss a few tips and tricks you can use to dress up a powder room and make it have its unique identity in your home.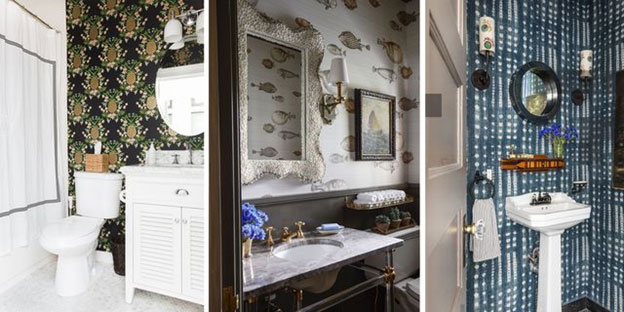 1. You are dealing with a small space and so the natural idea is to use neutral colours to open up the space. But here that notion fails to attract the kind of attention this room deserves, so take a look at some bold colours to make a big statement. Even something as simple as large tiles in bright colours can add an element of attraction to your powder room.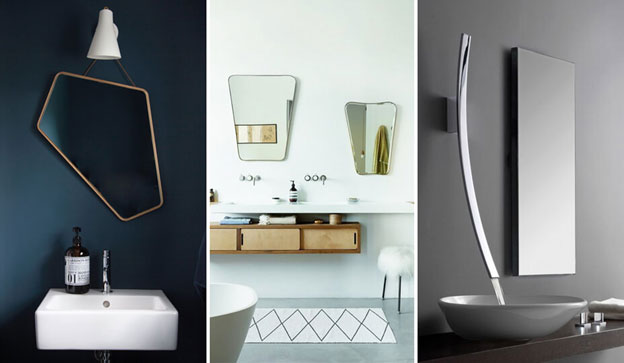 Tips:
-Treat the wall behind the mirror in a bold colour with a twist, for example, you can add a metallic finish.
-You can include the ceiling in the painting scheme and add a splash of colour there as well.
-Adding a wallpaper to complement your chosen colour scheme can do wonders to spruce up the powder room, but make sure it is water resistant.
2. Adding a mirror is a given in any powder room, consider this as an opportunity to add a touch of style and flair. Add decorative mirrors above the sink, but also as soon as you enter the powder room, the first wall across the door should have a large decorative mirror.
Since the area in the powder is limited, this element will help to expand the space.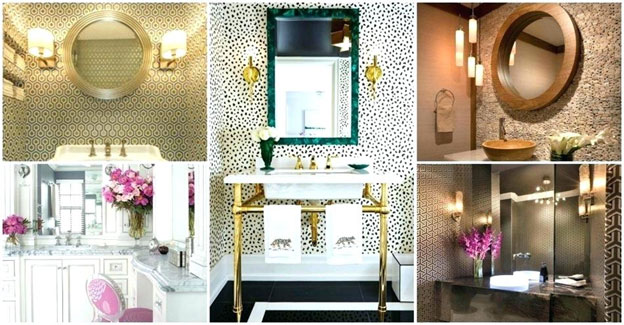 Tips:
-If your powder room has a luxe theme, then opt for a grand frame that enhances your mirror.
-If you are opting for a more contemporary or minimal look, then going frameless with a self-design in the mirror is a great option.
-Look for a mirror with unexpected details like a lattice design, or exotic shape to create a dramatic powder room.
3. Good lighting makes a difference to your half bathroom. Consider a highlight center light fixture. Also, lighting that exudes a design element feel while being a functional light, will act as a dual use element. Consider choosing a lighting temperature which is warmer and more ambient as there is no real necessity for bright lights in the powder room.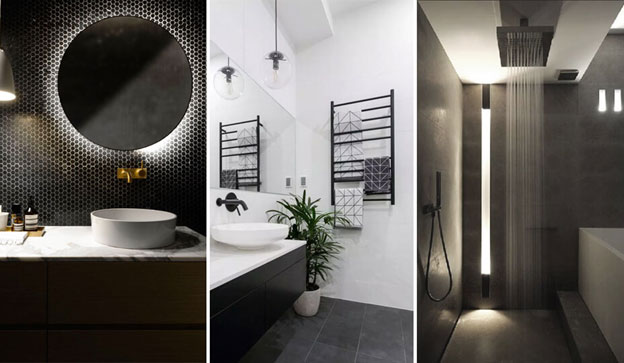 Tips:
-Don't be afraid to add hanging lights or even a pendant light to the far corner of the powder room.
-Focus the decorative lighting to one side and let it contrast against a treated wall.
-Make sure the temperature concurs with the existing lighting scheme of the powder room.
4. Now that the powder room has all of these features, look to the flooring to add a great tile. Tile is a great choice because the limited flooring area, gives you the freedom to go all out and choose a great quality tile. Go for a smooth glossy finish without the fear of slippage, as the powder room will mostly be dry.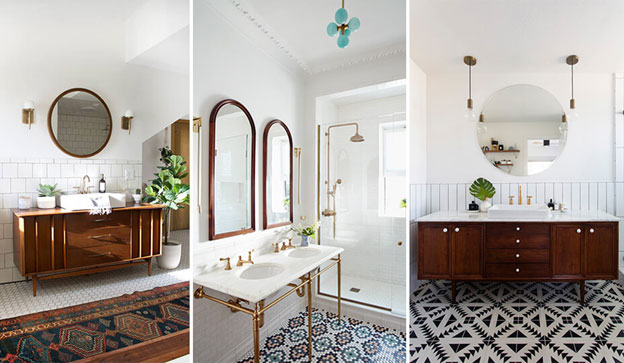 Tips:
-If you're going to splurge, then go ahead, quality over quantity means a lot here due to the small space, and you're most likely not going to put a dent in your pocket.
-Making a bold statement is usually a risky move in baths, but powder rooms call for a creative take on the mundane, so invest in a design that pops.
- Do not heed the traditional size of the tile that makes a space look large or small, go ahead and make a choice purely for aesthetic appeal.
5. Everything from the soap dish to the plumbing fixtures can be designed to adhere to a themed look. Accessories are everything, and as long as the powder room is moisture free, you can even hang framed art. Add quality accessories that create a story for the space.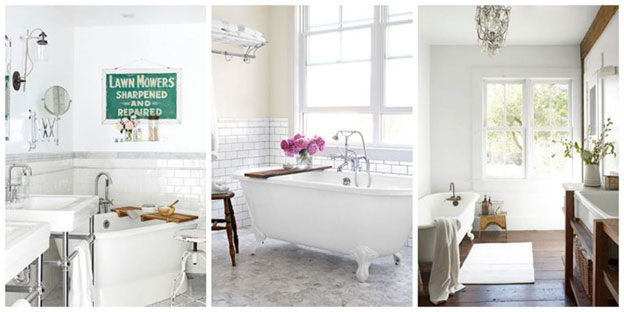 Tips:
-Change the door handles, as well as all the plumbing fixtures in the powder room.
-Soap dishes, toilet roll holders and even napkin rings add an extra touch that can make a lasting impression.
-Pull to get a soap dispenser, and hand lotion dispenser as well which have a certain luxe feel that fits into the vibe of your powder room to make an impact.
As with any major renovation project, sound planning is required. But these tricks are sure to leave a well-designed powder room that you will be proud to show off.
Image Sources
Image source: https://hips.hearstapps.com/hmg-prod.s3.amazonaws.com/images/wallpapered-bathrooms-index-1538768792.jpg?crop=1.00xw:1.00xh;0,0&resize=640:*
Image source: https://www.renoassistance.ca/wp-content/uploads/2018/08/c--ramique-g--om--trique-salle-de-bain.jpg
Image source: http://travelinsurancedotau.com/wp-content/uploads/2018/09/powder-room-chandelier-small-lighting-ideas-ceiling-light-above-mirror.jpg
Image source: https://www.renoassistance.ca/wp-content/uploads/2018/08/salle-de-bain-r--tro.jpg
Image source: https://www.renoassistance.ca/wp-content/uploads/2018/08/salle-de-bain-r--tro.jpg
Image source: https://hips.hearstapps.com/clv.h-cdn.co/assets/15/25/2048x1024/landscape-1434387144-picmonkey-collage-81.jpg?resize=768:*
Ar. Mrudula Reddy
Master of Landscape Architecture