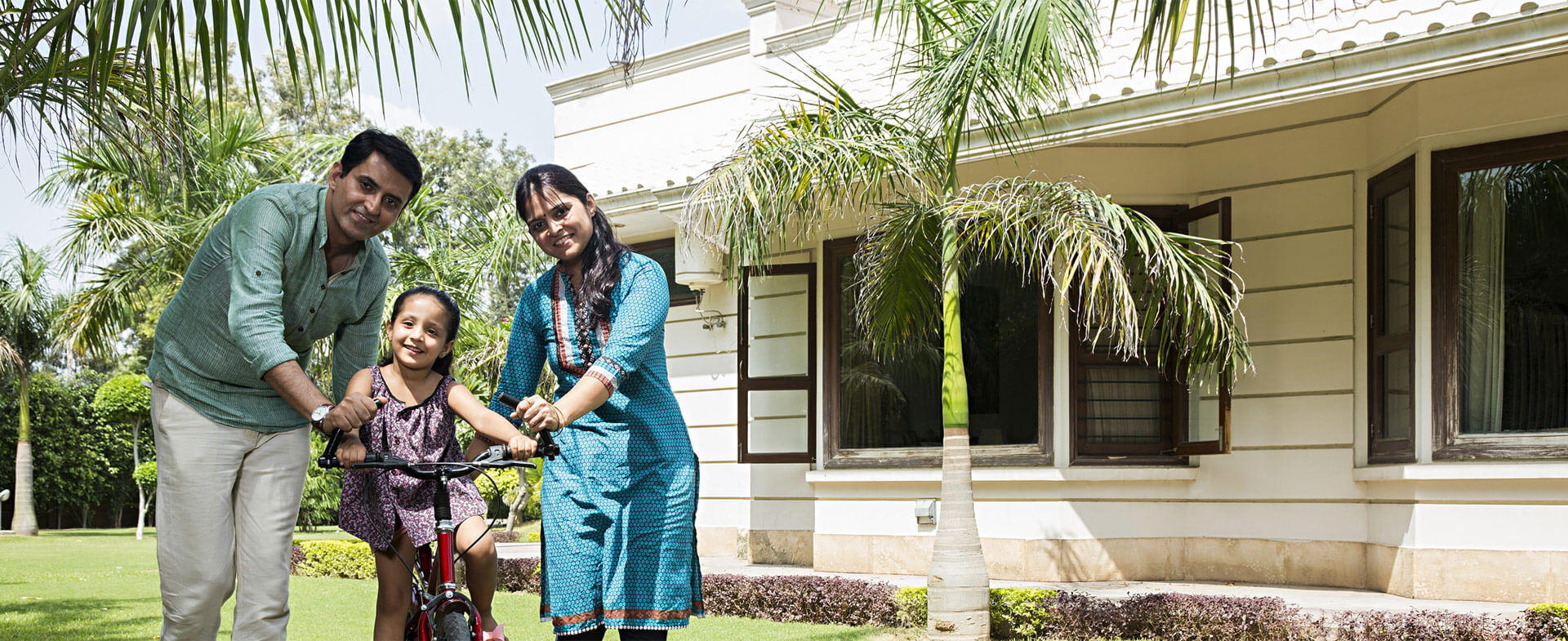 Your dream home should last for generations

use the best quality Cement.
Urban rooftop garden
Imagine honing a love for gardening and not having a backyard. Now with concrete taking over all the major urban cities, there is much left to be desired when it comes to green. So can you have your cake and eat it too? Yes. The answer is rooftop gardens. Take a look at the rooftop gardens created around the world and find inspiration to grow some fresh green right on top of your home.
Rooftop gardens are a great investment. Apart from the world of good a rooftop garden can do for the environment, they are also such a beautiful addition to any house. They are known to reduce over 30% of the heat during summers. Along with this, rooftop gardens provide sound insulation to an extent, diversify the micro habitat and most importantly create biodiversity in places that would otherwise be wasted. Maximising available space for greenery is always a good idea. You can create an edible herb garden, grow vegetables or even flowers. Here are a few ideas to get your rooftop garden started today.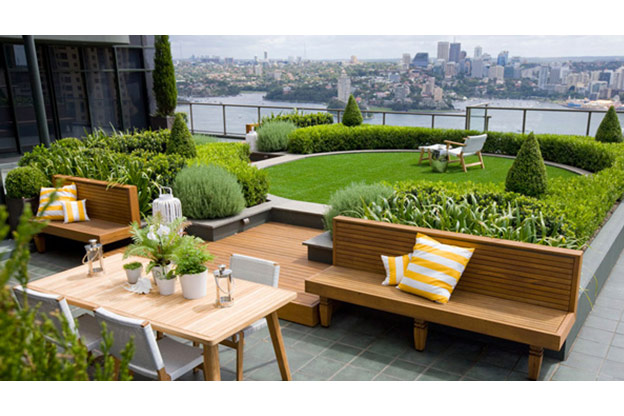 Go low maintenance:
Other than soil, fertiliser, water, plants and tools, the next most important aspect of a rooftop garden are the containers. Rooftop gardens that you do on your own may be restricted by the amount of weight your house, as a structure, can support. So you can save space and maintenance with containers.
Since containers literally contain the soil within them, there is more space for you to enjoy your roof top. Get bigger containers with large bases so they may be stable against the changing wind patterns on the roof. Consider low growing plants, since they pair well with these sorts of pots.
The sun hits the rooftop from all directions for most of the day so watering is a big aspect. Using a drip irrigation system to water your plants is also a low maintenance option.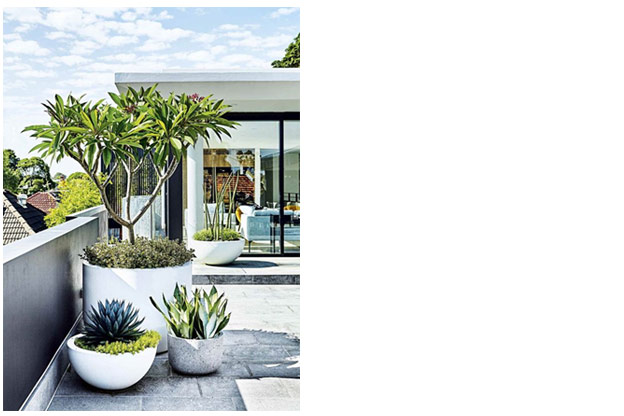 Green lawns:
When you think of gardens, you think lawns. But when most think of rooftop gardens with lawns they think maintenance. This doesn't have to be the case. You can definitely have the green lawn that you have always dreamed of on your rooftop. The process is most certainly not simple and there are a few exceptions.
Make sure that your rooftop is in good condition and the process of applying several layers such as drainage, waterproofing, growing medium and border before grass installation are followed. Then you look forward to a sprawling green that doesn't lead to leakage, mold or other horrors associated with these sorts of lawns.
The drainage layer especially is important to quickly discharge rain without collecting in puddles of excess. Geotextile fabric layer should be used to separate drainage and plants growing in the soil.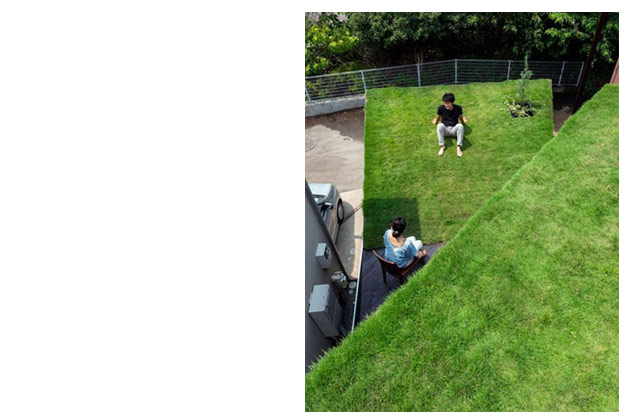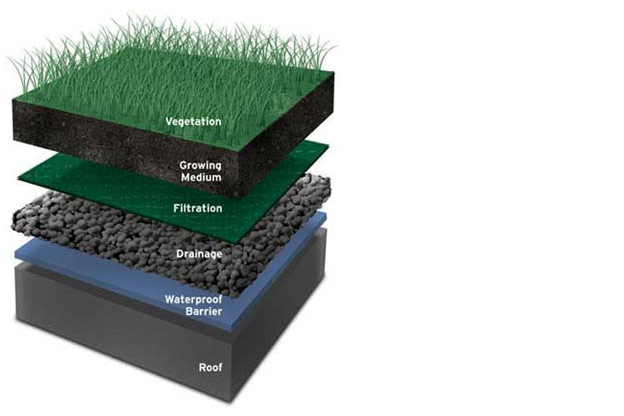 Make it edible:
Rooftop gardens can be more than just a decorative green element to your house. Sure they are beautiful to look at, but they can be functional too. Pick plant species which you use every day to make food. Herbs that grow all-round the year can be grown on living wall arrangements in small pots. Depending on the climate, you can grow vegetables that are suitable all year round by rotating the different types of plants.
Since rooftop gardens get maximum sunlight throughout the year, make sure you choose appropriate veggies and fruit plants. Aromatic plants like mint and basil are great herbs to start with. Choose plants that have similar water and light requirement and mix them together for an exceptional look. Take your garden to the next level by adding edible flowers and you will be sure to have a pretty yet practical roof garden.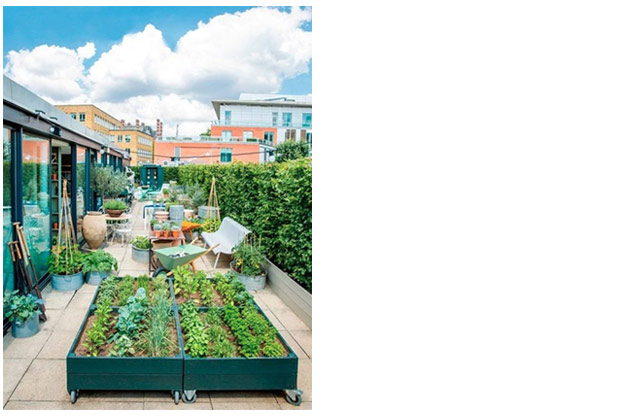 Water problem:
Along with space constraints that lead someone to a rooftop garden as a design solution, there may also be a water problem. In most urban situations, water is just as scarce as land if not more.
The great thing about plants is their adaptability. Choose species that don't require much water. Make sure you keep in mind that this means they require good sunlight at the very least. Select succulents and other hardy species. Then incorporate them into pot and containers with pebbles and matching groupings with raised beds. This is sure to be an eye catching arrangement that is both beautiful and low water consuming.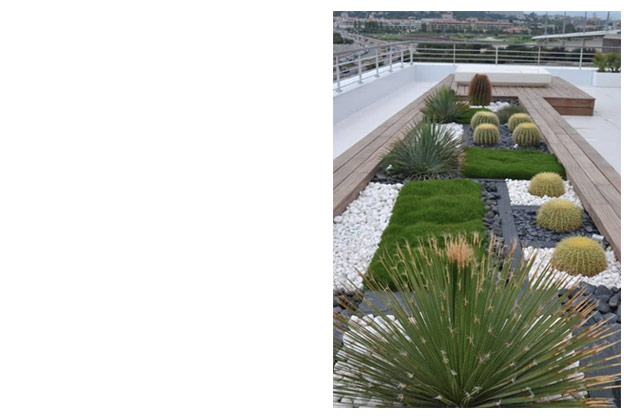 Additional tips:
Vegetation of any sort will need fertilising and watering quite a bit in the first few weeks after installation.
Always consult a structural engineer if you are planning to use the roof space as a garden.
Check structural integrity with an engineer and likewise check design integrity and species selection with a landscape architect.
Light weight material should be used, such as expanded clay granules or even polystyrene to bulk up unnecessary space in containers.
Then layering on soil for plant growth on top is optimal.
Sedum matting is often for pre-cultivated mats and is usually drought tolerant, which makes it a good option to use.
Varying depths are required for various species of plants, grasses and shrubs. (keep this in mind while planning)
The water drainage can and will cause damage even to the water proofing membrane after a period of time.
When considering weight, weigh the container, count the plant, its future growth as well as soil, when it is wet. (Which is heavier than dry)
Your roof top can be used to create a decorative garden, an edible garden or even a low maintenance vegetation space. Depending on the climate, budget and weight allowance and space, the possibilities are endless.
Image Source
Image source: https://static1.squarespace.com/static/53319e08e4b0870ba2b53baa/t/584f3721ebbd1ae235d93bdf/1481586489289/roof+garden+increase+real+estate+value?format=750w
Image source:https://i.pinimg.com/564x/e8/d0/45/e8d045dee586413677981397de219dac.jpg
Image source: Pinterest
Image source: https://i.pinimg.com/564x/cc/bc/b9/ccbcb9f69d97256c744e76e4bb51514d.jpg
Image source: https://i.pinimg.com/564x/dc/54/f8/dc54f88a1a5025a807a743ab1c1a16ca.jpg
Ar. Mrudula Reddy
Master of Landscape Architecture